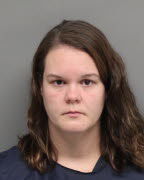 A prison employee was arrested Friday night on an allegation that she had smuggled a cellphone to an inmate.
Lancaster County prosecutors Monday charged Dana L. Johnson, 27, of Seward, with unlawful acts in the Department of Corrections.
A Nebraska State Patrol trooper said he was asked to go to the Lincoln Correctional Center at 6 p.m. Friday to arrest an employee there caught smuggling contraband into the prison.
You have free articles remaining.
Trooper Michael Thorson alleged Johnson, a caseworker, had become involved with an inmate and provided him a cellphone she smuggled into the prison. He said she also was caught on video delivering a package of drugs to another inmate.
Johnson faces a single felony on the allegations.
Today's jail mugshots