A 25-year-old man has been sentenced to 11 years and three months in federal prison in connection to 33 pounds of methamphetamine found in a search of a Lincoln house on the west end of town a year ago.
"You made a huge mistake when you chose drug dealing as an occupation. And it's going to cost you 11 years of your life," U.S. District Judge John Gerrard told Jose Marino-Meza on Friday.
Gerrard called it strong medicine, but said it is the law and the cost of doing this business. 
"That's a boatload of dope," he said.
A year ago, federal drug investigators said they and Lincoln's drug task force found the methamphetamine in a drug stash house in Lincoln and arrested Marino-Meza and 39-year-old Lucio Cruz-Guerrero.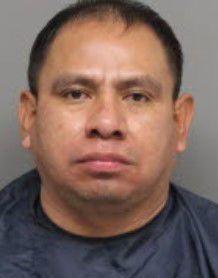 Both later pleaded guilty to possession with intent to distribute a methamphetamine mix and conspiracy to distribute it.
Gerrard in July sentenced Cruz-Guerrero to 14 years in federal prison.
According to court documents, DEA agents and members of the Lincoln-Lancaster County Narcotics Task Force on Oct. 4, 2020, searched five locations, including a home in Lincoln and Omaha and three storage units in Lincoln near the West O Street exit off U.S. 77.
At about 2 a.m., the drug task force served a search warrant at First and K streets, a suspected stash house in a drug-trafficking organization under investigation since March 2020, according to DEA Special Agent Hailey Anderson.
She said they arrested Marino-Meza, who had been sleeping inside, after finding approximately 33 pounds of suspected meth inside the home and $38,000.
At the same time, the DEA searched a home in north Omaha where Anderson said they found 3 more pounds of meth, along with hundreds of wire slips to Mexico, extensive drug ledgers, several cellphones and a large amount of cash.
Just before 2 a.m., a Lancaster County Sheriff's deputy stopped Cruz-Guerrero as he returned to Nebraska from Colorado, DEA Special Agent Andrew Winkler said. 
He said that both men had been sent to deliver meth to a confidential source or undercover officer during a monthslong investigation and described six deals in Lincoln between March and August 2020, most involving sales of a half-pound of meth apiece.
Marino-Meza and Cruz-Guerrero both have immigration holds, and are expected to be deported when they're done with their sentences.