A Lincoln judge sent a 42-year-old California man to prison for 18 to 20 years Thursday for one of the bigger methamphetamine busts in Lancaster County, despite his attorney's argument for far less time.
Defense attorney Carlos Monzón said Jose Vazquez Rios was forced by members of a cartel into trafficking the 22 pounds of meth found in his SUV because his brother got stopped by law enforcement with a load of drugs. 
"That's when all this nightmare begins," Monzón said.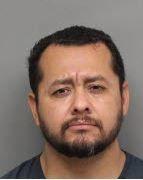 He said the cartel told Vazquez Rios what he had to do to make up for it. They took his Honda Element, put the drugs in and told him where to take it. 
On July 16, a Lancaster County Sheriff's deputy stopped Vazquez Rios on Interstate 80 near the U.S. 77 exit for driving too close to the car in front of him, asked for permission to search and found 22½ pounds of meth in a hidden compartment.
The deputy, part of the Interdiction Task Force, had noticed that the area where the windshield wipers attach appeared to have been altered and a drug dog indicated the smell of drugs.
Vazquez Rios, of Orange, California, told investigators he knew there was contraband in his car but didn't know what. He said he was doing it to help out his brother, who was in debt to a Mexican cartel. 
He later pleaded guilty to possession of methamphetamine with intent to deliver. 
At sentencing Thursday, Monzón called Vazquez Rios a scapegoat, not a drug trafficker. He said he was a family man forced into it, who turned out to be "really bad at it."
He said the cartel since has ousted Vazquez Rios' parents from their home in Mexico, and Vazquez Rios will be deported to live away from his wife and children, who are American citizens. 
Through a Spanish interpreter, Vazquez Rios said he thanked God that he got pulled over "because I don't know how far it would've gone. I was just trying to protect my family."
On the other side, Deputy Lancaster County Attorney Eric Miller said this wasn't a couple of pounds of marijuana.
"This was 22½ pounds of methamphetamine," he said, arguing for more than the 18-month sentence Monzón argued was appropriate under the circumstances. 
In the end, District Judge Kevin McManaman said Vazquez Rios knew he was shuttling drugs through the country — and Nebraska. 
"When you've got that kind of quantity of drugs, it puts the entire community at risk," he said.