A man whose car crashed into a Toyota Corolla filled with Cornhusker Marching Band members last month, killing 20-year-old trumpeter Tyler Butterfield, had been driving 92 mph just seconds before the crash, police say.
Officers arrested the driver, Waltrivelish Watson, 29, of Lincoln, Thursday and prosecutors charged him Friday with felony motor vehicle homicide in Butterfield's Oct. 26 death.
The crash happened on Nebraska 2 after a pep band performance at Blue Blood Brewing Co., the night before the Husker football team's home game against Bethune-Cookman. 
Investigators used data from an airbag control module inside Watson's car to determine how fast it was traveling before the crash and at the time of impact.
Officer Angela Sands, a police spokeswoman, said Friday that investigators determined Watson was driving his Dodge Charger 92 mph three seconds before it hit the Corolla at Nebraska 2 and Arapahoe Street.
The Corolla, driven by fellow band member Jenna McCoy, had pulled out from a parking lot west of the intersection just before 10:30 p.m. and was veering south to get around a median and so it could head northbound when the Charger hit it, according to police.
Butterfield, a 2016 Norfolk High School graduate, died at the scene. Five others suffered non-life-threatening injuries.
A witness told officers the Charger was speeding prior to the crash, but Watson and his passengers estimated his speed at 40 to 45 mph, investigators wrote in an affidavit requesting permission to photograph the inside of Watson's vehicle and retrieve data from the airbag control module.
The module — which collects speed and other information, recording it if the car is involved in a crash or hits a sharp bump, for example — determined the car was going 88 mph about 5 seconds before the crash, and 59 mph at impact, Sands said. Investigators believe Watson slowed after seeing the car, then, thinking it had stopped, began to speed up again.
You have free articles remaining.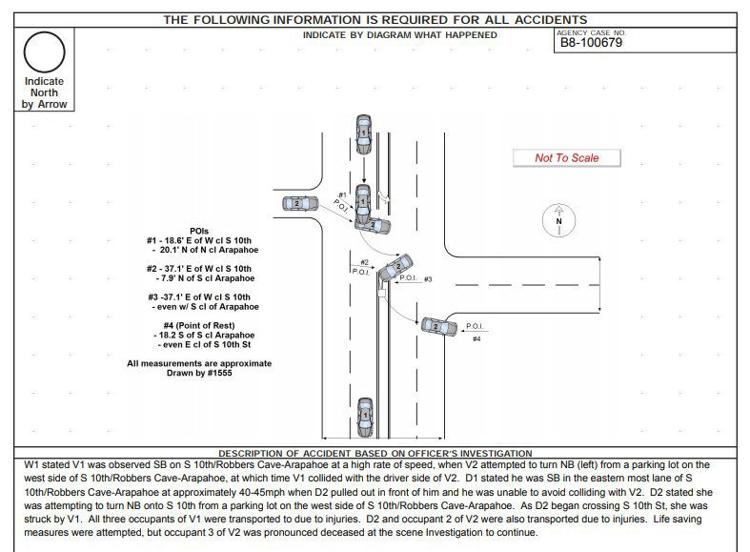 McCoy, 19, told police she, Butterfield and Eliseo Torres were leaving the performance at Blue Blood and heading back to the University of Nebraska-Lincoln campus, where she planned to drop them off.
As she prepared to pull onto the street and turn north, she looked both ways and saw the halo of a southbound car's headlights coming toward them, she told police.
She pulled out because she saw the halo and not the headlights and thought she had enough time to turn, according to the search warrant affidavit. 
Investigators do not suspect impaired driving factored into the crash.
Watson faces one count of motor vehicle homicide involving reckless or willful reckless driving. Felony motor vehicle homicide is punishable by up to 3 years in prison.
In court Friday afternoon, Lancaster County Judge Matt Acton ordered Watson not to drive while his case is pending, appointed the Public Defender's Office to represent him and set his bond at $50,000.
Following the UNL junior's death, the Cornhusker Marching Band and bands across the country honored Butterfield in their on-field performances.
At the Nov. 3 Nebraska-Ohio State game in Columbus, Ohio, the Buckeyes' marching band spelled out "Tyler" in tribute.
Last week, for Nebraska's home game against Illinois, Butterfield's bandmates wore pins on their uniforms bearing his initials and an image of a trumpet.