Lincoln's police chief and mayor say they see plenty to be optimistic about in a recent review of crime statistics for the city, which last year continued a trend of fewer major crimes.
At a presentation on the numbers Friday, Police Chief Jeff Bliemeister touted a steady, 28% drop between 2010 and 2019 in the number of FBI-dubbed Part I crimes, which include everything from murders, rapes and aggravated assaults to robberies, burglaries, arsons and thefts.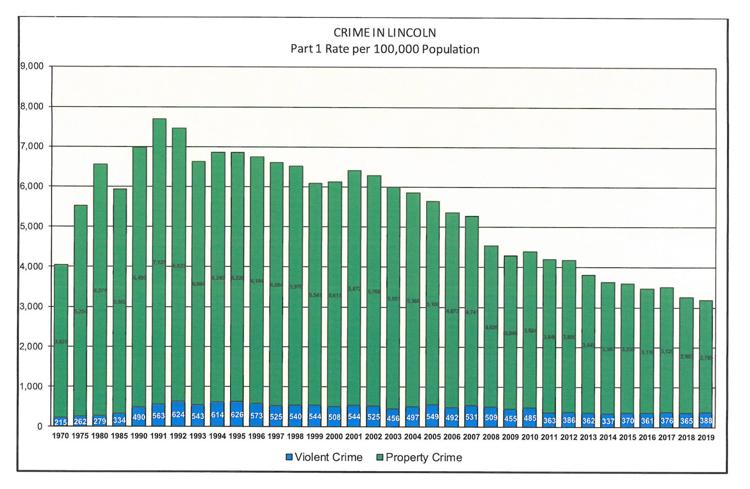 In fact, the total crime rate per 100,000 people dropped to the lowest point in Lincoln since 1970. All in a period when the city added more than 28,000 people, equivalent to the town of Fremont, and grew nearly 8½ square miles, he said.
But Bliemeister also acknowledged a troubling increase in violent crime, a subset of Part I crimes that includes things such as killings and the most serious assaults, which last year inched to their highest point since 2010.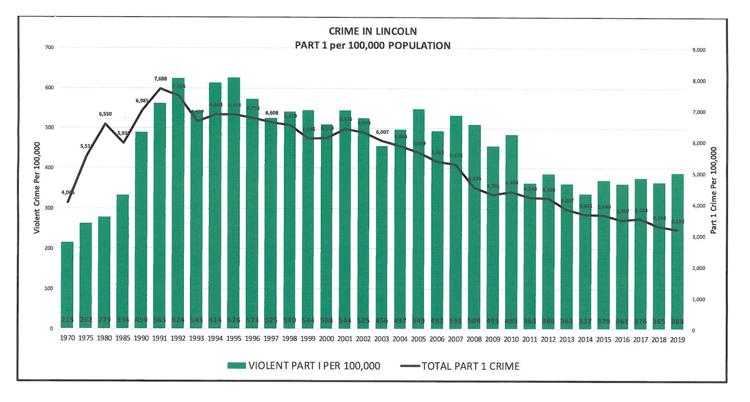 He said homicides were statistically flat. Lincoln had five last year. Six in 2018. Aggravated assaults, the biggest factor of violent crime, saw a slight uptick, too.
Still, Lincoln had only 11 shootings with injuries last year, Bliemeister said.
"For a city of almost 300,000 people, that is a small number," he said.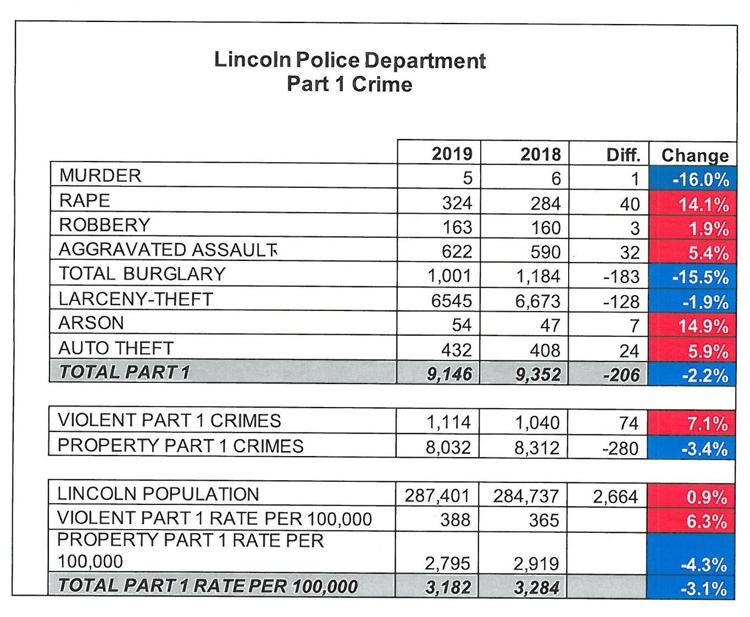 Mayor Leirion Gaylor Baird said Lincoln's crime statistics, particularly the fact that the number of homicides last year can be counted on one hand, makes the city the envy of mayors nationwide.
You have free articles remaining.
LPD's work is critical to making Lincoln a great place for people to call home and raise a family, she said, and is a shining example of using data-driven, evidence-based strategies.
"This doesn't happen by accident," Gaylor Baird said. 
Bliemeister credited the addition of 32 officers in the last decade, 29 of them since 2016, as well as the department's use of technology to make smarter use of its resources.
"It helps us. It makes us a safer community," he said. 
Bliemeister also credited community partnerships. Work with mental health service providers led to fewer people taken into emergency protective custody, despite an increase in calls for service related to mental health issues. Bryan Health added sexual assault nurse examiners so more can be on call to handle increased reports that have followed the #MeToo movement.
To address an increase in sex assault reports, he said, the department is preparing to apply for a grant, along with the Family Violence Council, to hire another full-time investigator and a victim advocate.
In 2019, police worked with leadership from Voices of Hope, the Child Advocacy Center and Bryan Health about how to best address previously untested sexual assault kits. 
Since that happened, Bliemeister said, police have reviewed 381 legacy cases and sent an additional 105 cases to the state lab for review. So far, 40 have been returned, and additional work is occurring with three. 
He said many of the cases where the kits hadn't been tested involved an issue of consent, not whether sex had occurred. 
Bliemeister said he has identified missing person cases, particularly those involving teen runaways who could be vulnerable, as an area to work on, and police are planning for a standalone northwest team down the road.
They're also working on how to better keep up with the flood of video and cellphone evidence they receive in an effort to improve clearance rates for Part I crimes that have been dropping since 2010.
Friday afternoon, Officer Luke Bonkiewicz said they tried to figure out what was behind the decrease in Part I crimes and are implementing steps they hope will improve it, particularly targeting thefts at businesses. They suspect policy changes related to shoplifting may have had an impact.
"There is always room for improvement," Bliemeister said. "But overall, the men and women of our staff do outstanding work, and I'm incredibly proud of them."
Sign up for our Crime & Courts newsletter
Get the latest in local public safety news with this weekly email.