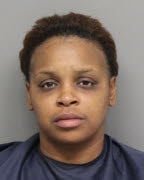 A 34-year-old Lincoln woman has been arrested for allegedly taking part in an attempt to rob a fast-food manager on the way to the bank in broad daylight nearly four years ago.
Shonda Curry, 6310 Fairfax Ave., was booked into jail Tuesday afternoon on warrants in the attempted robbery case and a separate bad check case from 2015.
Just before 10:45 a.m. Oct. 9, 2015, Lincoln police went to West Cornhusker Highway on a 56-year-old woman's report that she had left the McDonald's near the airport with cash to get change at the bank when a Lincoln Navigator ran into the back of her Jeep.
When she stopped to check for damage, a woman came up with part of her face covered, threatening to use a Taser on her, then she felt a shock to her arm. When she yelled for the woman to stop, she was shocked again, she told police.
You have free articles remaining.
A bystander driving by saw the woman being assaulted, stopped and pulled the woman off her.
But she got away in the Navigator, which police allege was driven by Curry. Its front license plate was covered, but police tracked it down a short time later and arrested Ashley Wood.
Curry had been on parole at the time. A warrant went out for her arrest in 2016.
That year, Wood got six to 12 years in prison for attempted robbery after pleading no contest.