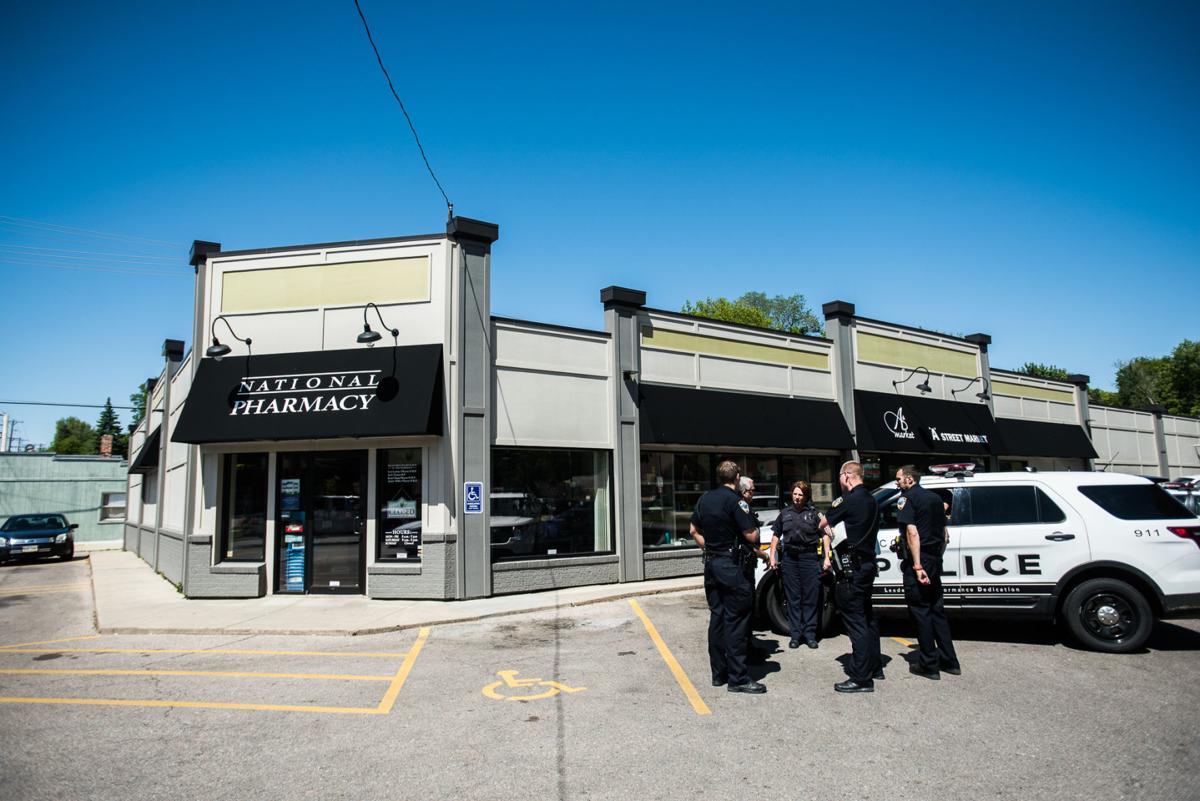 Opioid abuse in Nebraska hasn't existed in a vacuum. People from all walks of life have broken the law chasing their addictions, officials say.
They falsify their prescriptions, sell them on the street, rob pharmacists and, increasingly, drive while high, authorities say. The problem has even affected health insurance rates.
"Your mind is just racing to, 'Where am I going to go to get them?'" said Gene, a former addict who got so desperate he bought pills on the street and falsified a prescription. 
"Anything and everything goes through your head. All of your self-pride goes away."
Most people don't wake up and decide to try OxyContin or Percocet, said Lincoln-Lancaster County Narcotics Unit Sgt. Duane Winkler.
"(They) form an addiction through a prescription and then try to get it illegally," he said.
Now-retired pharmacist Charles "Chas" Lierk saw a pain pill problem brewing long before it exploded at his family-owned pharmacy in Alliance. His worries mounted as pharmaceutical companies rolled out higher-dosage opioid medication, he said.
He feared patients would get addicted, and he wondered about the consequences if pharmacists couldn't comply with their demands.
"I really thought, 'Something's going to happen,'" Lierk said.
On June 12, 2012, Andres "Andy" Gonzalez walked into Thiele Pharmacy and Gifts in downtown Alliance, wielding a 9mm handgun and an assault rifle. The 27-year-old held Lierk hostage for seven hours before the pharmacist managed to run for his life, taking a bullet as he did. Gonzalez also injured three officers before dying in a gunfight with law enforcement.
No statewide data is kept on pharmacy robberies or burglaries, but Nebraska Pharmacy Association Executive Director Joni Cover said contacts across the state say they're up.
Through Aug. 4, there have been 3,974 pharmacy robberies across the country this year, and opiates are often a factor, according to RxPATROL.
They played a central role in the Thiele Pharmacy robbery as well.
"He was very specific," Lierk said of Gonzalez.
I want morphine sulfate, 60 mg, in the blue tablet, not the white tablet.
Hours later, hostage negotiators heard Gonzalez vomiting, presumably because of all the opiates coursing through his body, former Box Butte County Attorney Kathleen Hutchinson recalled.
"We kept thinking he would pass out," she said.
Prescription drugs were stolen in seven of the 15 pharmacy burglaries in Lancaster County in the past five years, according to the Lincoln Police Department. More than half of those burglaries were this year.
A couple of pharmacies were hit twice -- Medicap near 27th and Superior and Four Star Drug on North 66th Street.
"Some pharmacies are now using certain tactics to make it harder for burglars to quickly grab the prescriptions they're looking for," said Winkler. "They're storing them in more secure places or limiting how many they have on hand at one time."
Gene, who spoke to the Journal Star about his addiction on the condition of anonymity, didn't need to resort to violence to get his fix.
The 52-year-old former welder now on disability because of a series of back and neck problems, found a way to get the pills his brain needed.
"It got to the point where a scrip for the whole month (90 pills) was lasting four to five days," he said.
At one point, he said, he had two different doctors writing prescriptions he filled in different places.
When he couldn't fill one, he'd ask around and easily find what he needed on the street.
Narcotics officers in Lincoln seized 1,665 prescription-only pills in 2015, mostly opioid painkillers, but also Adderall and Xanax.
Most of the street dealers Gene encountered filled their own pain prescriptions to supply their addicted customers, he said.
Some of the drug cases on which Chad Robacker of the federal Drug Enforcement Administration focuses deal with users, but the state's largest prescription-dealing case involved out-of-state doctors and a local business owner.
Between 2010 and 2012, Davis Patterson and employees of his business, Pat's Rental in Fremont, repeatedly went to other states to get prescriptions by fraud for oxycodone and other pain medications, according to U.S. Attorney Deborah Gilg's office.
The prescriptions were filled in Nebraska, and the medication re-distributed by Patterson and others.
Investigators uncovered the organization after probing the overdose death of an Army soldier home on leave in Omaha.
Thirty people including Patterson were indicted. Most of the defendants pleaded and have been sentenced to terms ranging from one to nine years.
So-called doctor shopping played a key role in the case, Robacker said. Associates took the out-of-state oxycodone prescriptions and filled them at pharmacies in the Omaha and Fremont areas, sometimes filling the same scrip at different pharmacies.
James Quiggle of the Coalition Against Insurance Fraud said doctor shopping is a big concern.
The typical doctor shopper costs insurers $10,000 to $15,000 a year, according to a report from the coalition.
Lowie Christie, a 52-year-old North Dakota woman, was recently sentenced to 15 months in jail after she visited hundreds of medical facilities around the country, including in Nebraska, to get prescription drugs. She submitted about 1,830 claims to Medicare within six years and told the court she had an addiction.
Lincoln doctors and pharmacies have cut back on opioid prescriptions and keep an eye out for people seeking relief from "really vague" conditions, said Winkler.
Federal and state officials say Nebraska doctors haven't fueled opioid overuse as much as their counterparts elsewhere.
In the past three years, only 11 Nebraska physicians or pharmacists have surrendered federal certification allowing them to dole out controlled substances like opioids, Robacker said.
"I think that the doctors here are being a little bit more ethical," he said.
That doesn't mean doctors aren't getting in trouble because of the drugs though.
A 2015 report from Nebraska's U.S. Attorney said federal investigators often refer cases to the state Department of Health and Human Services, which oversees medical licenses.
A look at recently filed state disciplinary actions against medical professionals paints a picture of opioid issues creeping in on other levels.
More and more nurses, paramedics and pharmacists with access to the drugs are getting caught stealing them to feed their own addictions.
* An Omaha doctor fired from a hospital for taking tramadol from patients for his own use in 2014 is on probation until 2019. He asked patients to bring their medication to appointments, then either skimmed doses or took entire containers, saying it was being discontinued.
* A Lincoln doctor is on probation for issuing 31 prescriptions for fictional patients to get pills for himself and later was charged with felonies for acquiring a controlled substance by fraud.
* A registered nurse was fired from her job in an Omaha intensive care unit after she was unable to speak coherently and was unsteady on her feet during a shift last year. She later admitted she took fentanyl from patient IV bags three or four times and injected it in an employee bathroom.
* A registered nurse was fired in Lincoln for stealing dozens of tramadol tablets three times last summer.
Identifying and stopping dirty doctors and patients who doctor shop might be easier in Nebraska after a comprehensive prescription drug monitoring program begins Jan. 1, health officials say.
For years, the state has been monitoring more than 200 Medicaid patients who were getting prescriptions for controlled substances like opioids from multiple doctors and filling them at various pharmacies.
Through the program, pharmacist Marcia Mueting helps oversee a team that locks these patients into a single prescriber and pharmacy so their pain care can be appropriately managed, she said.
It's not about cost-savings, she said. It's about safety.
"Is this person driving on the same streets as my kids?" Mueting asked.
It's becoming more common for law enforcement to arrest drivers who are under the influence of opioids, and in Nebraska, drug recognition experts like Lancaster County Deputy Jeremy Schwarz know them well.
Schwarz is one of 101 officers in Nebraska trained to determine whether a motorist is high or having a medical emergency.
In one Lincoln case, he said, a motorist called police after seeing a car swerving on the road and hitting curbs. The driver was taken to The Bridge, where Schwarz and another officer spent more than an hour talking to him and going through a 12-point checklist to determine what he had taken.
The man was able to talk coherently, but he couldn't stand up straight and often appeared as if he was about to fall asleep, Schwarz said.
Officers understand many people drive every day while on medication, he said, but they're looking to pull over those who are abusing drugs or are unable to drive while on them.
Looking back on the dozens of times he lied to pharmacists and doctors to score more opiates, Gene counts himself lucky.
He could have found himself in jail and his house swarmed by police after he got caught altering a prescription.
Now five years into recovery, he's glad he got caught. And he'll never forget what his pharmacist, who didn't press felony charges against him, said.
"I had a feeling it was coming this way."