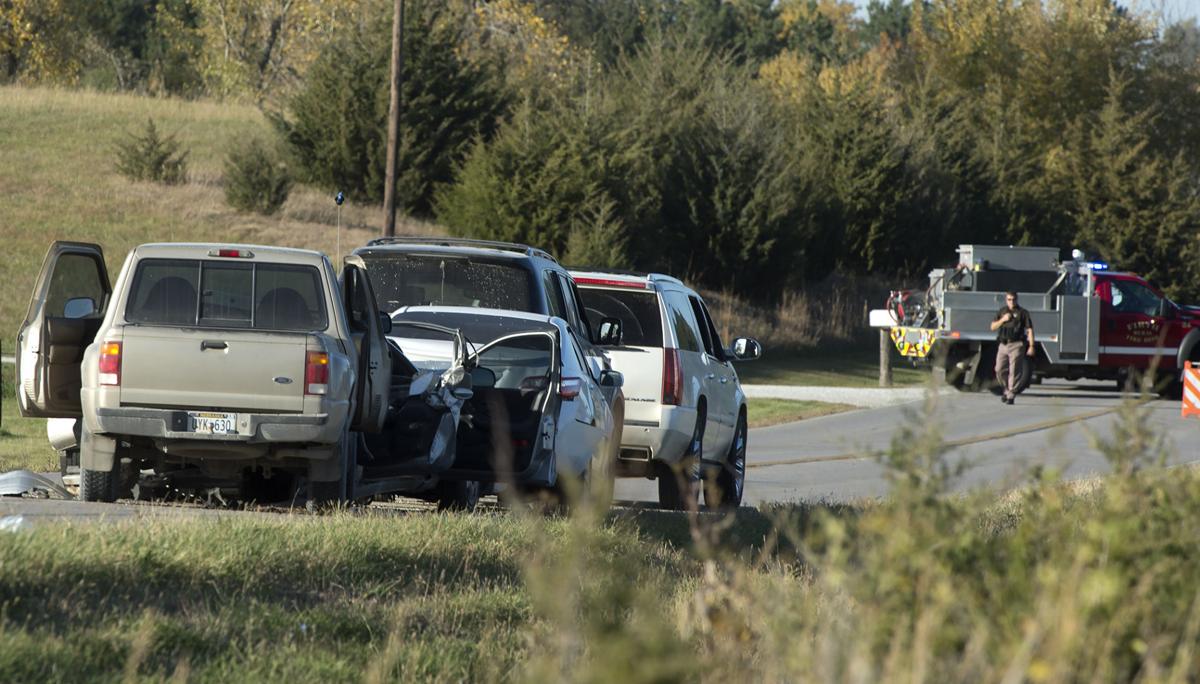 A 13-year-old Norris student died after being injured in a chain-reaction crash north of the school district's campus Wednesday afternoon, according to the Lancaster County Sheriff's Office.
Sheriff Terry Wagner identified the girl as Ryan Post, who was pronounced dead at Bryan West Campus on Thursday afternoon.
Post was one of three people inside a Pontiac Grand Prix damaged in the chain-reaction crash, according to the sheriff's office.
Norris Superintendent John Skretta said Post was an eighth-grader and longtime district student. Her parents are Colleen Lovett of Hickman and Jeramie Post of Beatrice.
An older sister, Riley Post, is an 11th-grader at Norris, and a 10th-grade sister, Raelyn Post, attends school in Beatrice, Skretta said.
"We're all grieving the loss of Ryan," he said.
Counselors were available to students Thursday and will be at the school south of Lincoln again Friday.
Skretta said Ryan's friends described her as "outgoing, boisterous, exuberant and an uplifting person to be around."
He said she was involved in club cheerleading and her friends said they always felt better around her.
"She always had a wonderful dimpled smile on her face."
The chain-reaction crash Wednesday that led to Post's death began with a two-vehicle collision that stopped traffic a mile north of the Norris School District campus.
Approximately 100 people gathered on the side of the road following the chain-reaction crash as school nurses tended to the injured and buses shuttled people out of the area, Wagner said.
"It was a pretty chaotic scene," Wagner said Thursday morning.
At 3:39 p.m., a car stopped on South 68th Street waiting to turn left onto Olive Creek Road was rear-ended by another vehicle, Wagner said.
Seven minutes later and a half-mile south, a vehicle sitting in the backed-up traffic facing north tried to turn around using a private driveway on the west side of South 68th Street, Wagner said.
South 68th Street has no shoulders in the area.
As other cars waited on that vehicle to turn, the Pontiac in the line of backed-up traffic rear-ended the Toyota in front of it, causing a chain-reaction crash involving four vehicles, he said.
Moments later, a Ford Ranger driving north over the hill on the 55-mph road collided with the Pontiac and extended the chain-reaction crash to five vehicles, the sheriff said.
The passengers in the Pontiac were the only ones taken to a hospital, including Post, who was flown to Bryan West Campus with life-threatening injuries, Wagner said.
The driver, Post's sister Riley, was at Bryan West on Thursday with non-life-threatening injuries.
A second passenger, who was not identified, was taken to a hospital for observation and released, Wagner said. All the Pontiac's occupants were Norris students.
Sixteen people were involved in the crash involving five cars, and 14 were Norris students of all ages, Wagner said. All 16 were wearing seat belts.
The driver of the Ford Ranger was not identified and the sheriff's office said the investigation is ongoing. No citations have been issued.
Two minutes after the series of crashes on South 68th Street, a Norris student rolled her vehicle a mile west, at South 54th Street and Princeton Road, Wagner said.
She got out of the vehicle and was OK, the sheriff said.
Skretta praised the response of his staff and the sheriff's office, who rushed to the scene to help.
In the rural school district on the county's southern edge, students are resilient, and counselors are trying to help them maintain a sense of normalcy after Wednesday's events, Skretta said.
He doesn't recall a similar chain of events since he started at the district in 2004. The crashes might indicate a need to widen South 68th Street to add shoulders to move traffic safely through the area, the superintendent said.
In the meantime, travelers headed past Norris around the start and end of school should be prepared for heavy traffic, the sheriff said
"Drivers need to expect the unexpected," Wagner said.
The youth organization Campus Life has scheduled a prayer vigil Friday at 7 p.m. at Norris Middle School.