Lancaster County Sheriff's Sgt. Jason Mayo wishes he'd had the department's brand-new portable X-ray scanner a few months ago.
Over the summer, Mayo got a tip that a specific car — a late-model Infiniti — was rolling west down Interstate 80 with about $160,000 in suspected drug money hidden inside.
He spotted and stopped the car, but after getting the go-ahead to search it, his hunt for hiding spots hit a snag: He wasn't sure he was seeing indicators of a false compartment or trap door.
"I do not want to mess up this brand-new Infiniti," Mayo recalled thinking. So he halted his search and let the car go.
Days later, DEA officials in Michigan told him their wiretap of someone in the car confirmed he'd missed the money.
Authorities in Ohio later found the same car with a false compartment filled with six kilograms of cocaine, believed to have been purchased with the money Mayo missed, he said.
The Heuresis HBI-120 X-ray Imager brings an expedient detection tool to drug interdiction, a process that includes a lot of failure over the course of hundreds of traffic stops, Mayo said.
Mexican cartels and other drug traffickers go to great lengths to hide drugs and drug money for cross-country transport, installing false compartments and trap doors opened only by special sequences.
With the seven-pound backscatter imager, Mayo can see organic materials inside the area he's scanning and find them. It detects cash and hard drugs such as methamphetamine, cocaine and heroin, but isn't as good with marijuana, he said.
Mayo and a counterpart, Sgt. Michael Vance of the Seward County's Sheriff's Office, say the scanner and another like it being used in Seward County have saved them time and helped them avoid tearing cars apart in search of contraband that isn't there.
"You don't want to do something that goes too far, and you want to be sure about what you're doing," Mayo said, noting bad searches can wreck cars and could put the county on the hook in tort claims.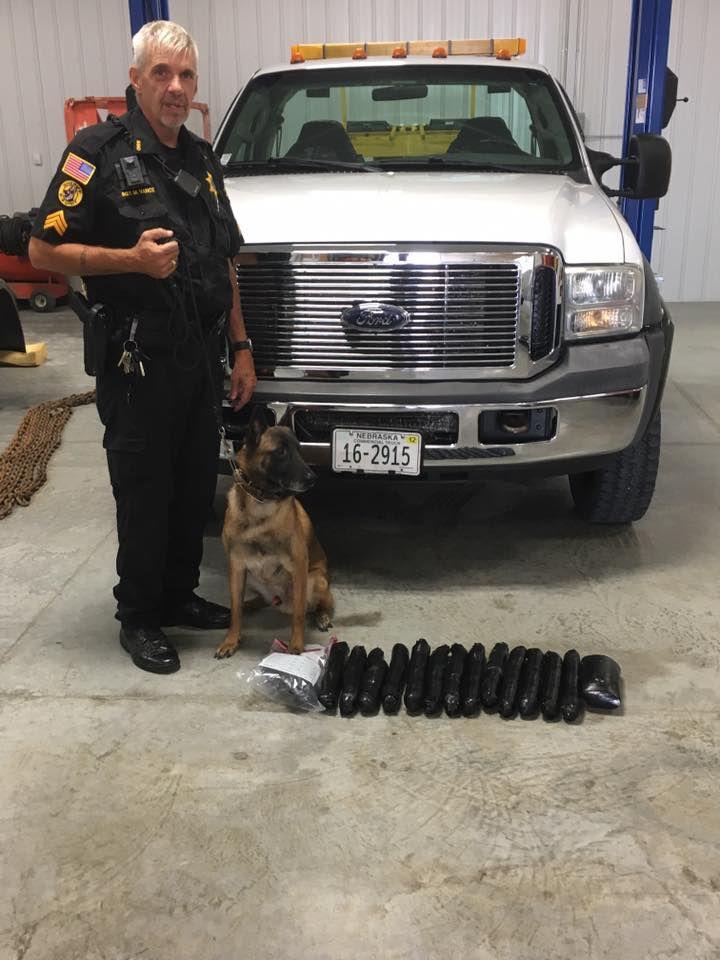 Both Vance and Mayo have strict instructions for use of the scanner: They must either have consent to search the vehicle or probable cause to search from a drug dog alert on the car.
The scanner does not work on moving vehicles, and Mayo said it will not be used to scan passing traffic.
The scanner arrived last week. It cost $42,000, paid for with money from the Lancaster County Sheriff's Office's forfeited assets fund, which is comprised of seized drug money.
Before Mayo's scanner came, Seward County allowed him to use the model that office has owned since late summer.
The scanner can save Mayo 45 minutes during a stop, he said, which is crucial when he's on the side of the busy interstate.
Vance finds the scanner particularly helpful when he stops 18-wheelers. During one semitrailer stop, the machine alerted him to baggies similar to cocaine packaging inside boxes in the trailer. The baggies looked different than the truck's other cargo — food, he said.
Sure enough, he found 11 pounds of cocaine inside. And this week during another stop, Vance used the scanner to find 10 pounds of meth.
Many of the drugs and drug proceeds seized in Nebraska are simply passing through on their way to larger communities, but some are destined for the Omaha metro area, a regional distribution point, Mayo said.
Deputies doing drug interdiction in Nebraska are part of a nationwide network of investigators, he said.
Vance's place in the bigger picture was evident during his first stop with the scanner, when he detected a compartment near the firewall inside a car driven by two Californians.
"It was a good feeling to get 25 pounds of heroin off the street."