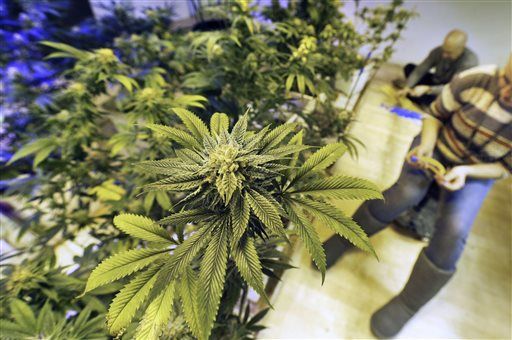 Rejected by the U.S. Supreme Court, Nebraska Attorney General Doug Peterson and his Oklahoma counterpart are trying a different strategy to halt legal marijuana in Colorado.
This month, the two states asked to be added as plaintiffs in a case being considered by the 10th U.S. Circuit Court of Appeals in Denver.
That appeal combines two separate cases: one brought by a group of county sheriffs from Colorado, Nebraska and Kansas, and the other on behalf of a Pueblo County couple who own land near a recreational marijuana growing facility.
Nebraska and Oklahoma argue they have "unique sovereign interests" in preventing marijuana from crossing their borders, and that they shouldn't be left out as the court considers the issue.
Those interests wouldn't be represented by the current plaintiffs, who are focused on "removing marijuana from the streets of Colorado," Peterson and Oklahoma Attorney General Scott Pruitt say in their motion to intervene in the appeal.
"Because the people of Nebraska and Oklahoma have determined that marijuana is harmful and should be illegal, Nebraska and Oklahoma have a duty to protect their citizens from the continuing harms resulting from Colorado's illegal activities, by taking action to ensure that Colorado marijuana does not enter their sovereign boundaries," the states' lawyers wrote.
The court has given no timeline for addressing the request, but allowed lawyers for Nebraska and Oklahoma to make merit-based arguments in briefs due May 23.
That means the states can argue the marijuana issue itself, almost as if Nebraska and Oklahoma were already part of the case, rather than restating their reasons for wanting to join as plaintiffs. 
"When they said we could be heard on the merits issue ... that's what we wanted to hear," Peterson said Thursday.
It's a different response than the states received from the U.S. Supreme Court last month when it rejected Nebraska and Oklahoma's case without considering the merits.
Then-Nebraska Attorney General Jon Bruning and Pruitt had petitioned the high court to intervene in 2014, the same year Colorado launched recreational marijuana sales.
Lawyers for Pueblo County, named as a defendant in the 10th Circuit case, wrote in response to the new request that Nebraska and Oklahoma are trying to bypass standard procedure and "short-circuit the process" after being denied by the U.S. Supreme Court.
Peterson, who took office in 2015, said the potent pot being imported from Colorado is stronger than the strains people used in the 1960s and 1970s and comes in forms ready-made to market to children, such as candy and cookies. That burdens Nebraska law enforcement and endangers young people, he said.
His office would rather join an existing case than file new action that could get stuck behind an ongoing appeal, Peterson said. 
"To me it's a matter of judicial economy. ... It just makes sense."