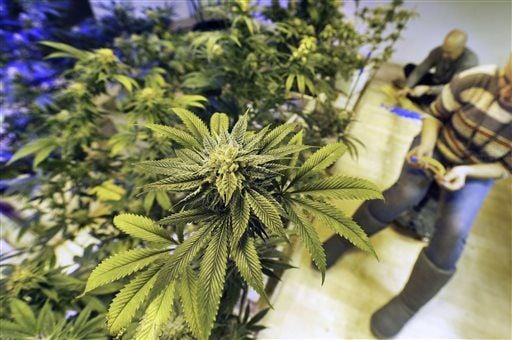 Marijuana arrests in western Nebraska climbed after recreational use of the drug became legal in Colorado, a new study by the University of Nebraska at Omaha found.
The study confirmed reports from sheriffs and prosecutors that more people were being arrested and jailed for marijuana after the change in Colorado law, but the researchers said they couldn't conclude whether the change was solely responsible for the uptick in arrests.
The increase could be the result of increased enforcement efforts by Nebraska authorities, they said.
"Obviously the decisions and the enforcement by the local law enforcement agencies has a very large impact on these numbers," said Ryan Spohn, director of UNO's Center for Justice Research.
Overall, Nebraska's marijuana arrest rate increased by 11 percent between 2013 and 2014, when pot became legal in Colorado, the study says.
And Nebraska spent an estimated $10.2 million enforcing marijuana laws, an 11 percent increase over the previous year, the study found.
Most of that spending came in counties along Interstate 80.
Counties along the Nebraska-Colorado border, in the Nebraska Panhandle and along the interstate corridor had the highest marijuana arrest rates for the state in 2014, the study found.
If Colorado's policy change was the sole cause, the researchers would expect the arrest data in border counties to be similar, he said, but the rates went in different directions in Deuel and Banner counties.
Banner County, which borders Wyoming, had a pronounced increase while Deuel County had a decrease, even though Interstate 76 comes into the county from Colorado, the study found.
"There's no question that there's some sort of impact" from legalization, Spohn said.
Marijuana possession and sales arrests both increased in the period, but most of the arrests were for possession, the researchers found.
Possession arrests had been stable before Colorado legalized marijuana but reached a six-year high in 2014, the study found. Sales arrests had been trending downward before increasing in 2014.
Among border counties, marijuana sales arrests increased 39 percent from 2013 to 2014.
The study is a follow-up from a 2015 report examining the effects on Nebraska of Colorado's decision in 2000 to legalize medical marijuana.
Researchers last year found the fallout was less drastic than some expected.
The seven Nebraska counties bordering Colorado saw the largest increases in marijuana-related arrests and jailings, but interstate counties saw only moderate increases and some non-border counties saw marijuana offenses decrease.
The updated study's findings were presented to a legislative subcommittee last week.
"Our research thus far doesn't show the sky is falling or that Colorado is going to lead to Nebraska going to hell in a handbasket, but there does seem to be an impact," Spohn said.
Since legalization in Colorado, Nebraska officials have tried to halt legal recreational use there in court.
Earlier this year, the U.S. Supreme Court declined to hear a case brought by the Nebraska and Oklahoma attorneys general arguing Colorado's legal weed violated each state's "unique, sovereign interests" in preventing marijuana from crossing within their borders.
State officials have since filed briefs asking to join a federal case on appeal in U.S. Circuit Court of Appeals in Denver. The case combines a lawsuit brought by a group of county sheriffs from Colorado, Nebraska and Kansas and another on behalf of a Pueblo County, Colorado, couple who owns land near a recreational marijuana-growing facility.
A spokeswoman for Nebraska Attorney General Doug Peterson said he has read the UNO report and will continue to track the researchers' findings.
But Peterson believes the policy change is responsible for increased marijuana use in Nebraska and cited a recently released study by the Rocky Mountain High Intensity Drug Trafficking Area that found traffic stop seizures of Colorado marijuana by police outside of the state increased 37 percent after legalization.
There were 21 seizures in Nebraska in 2015, according to that report.
Sign up for our Crime & Courts newsletter
Get the latest in local public safety news with this weekly email.