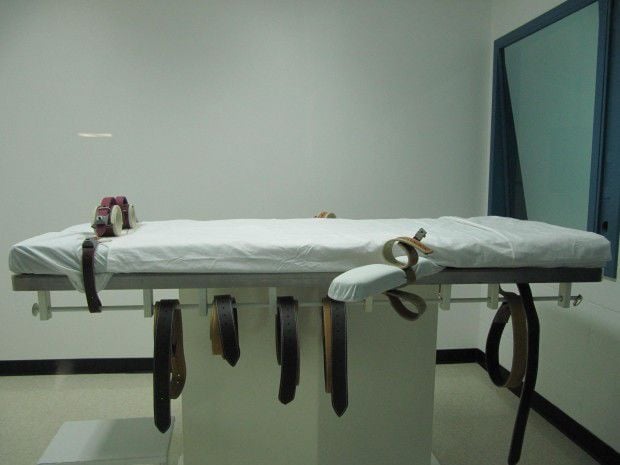 When the Nebraska Department of Corrections announced Nov. 3 that it recently had purchased two batches of sodium thiopental made by a pharmaceutical company headquartered in Switzerland, Director Robert Houston said his department was ready once more to proceed with its statutory obligation to carry out capital punishment.
But 15 days later, the CEO of the pharmaceutical company Naari wrote a letter stating the company wants its drug returned.
"Naari did not supply these medicines directly to the Nebraska Department of Correctional Services and is deeply opposed to the use of the medications in executions," CEO Prithi Kochhar wrote in a letter addressed to Nebraska Supreme Court Chief Justice Michael Heavican and also sent to Nebraska Attorney General Jon Bruning.
Houston and state Attorney General's Office Spokeswoman Shannon Kingery said in statements to the Journal Star on Monday that the 485 grams of sodium thiopental purchased for $5,411 and received Oct. 25 were legally obtained.
According to Kochhar's letter and an article published recently in an Indian weekly news magazine, a Calcutta, India-based middleman, Chris Harris, agreed to provide the 485 grams of sodium thiopental to drug officials in Zambia, where it would be used as an anaesthetic. Believing Harris would purchase a larger order of sodium thiopental, Naari gave him the vials of the drug toward the end of September, according to the article published in the December edition of Outlook.
Rather than provide it to Zambian officials, Harris sold the drugs to Nebraska officials for $5,411, according to the letter.
"He was not authorised (sic) to sell the product to the Nebraska Department of Corrections or to anyone else in the USA," Kochhar wrote in the letter.
A spokesman for Naari told Outlook, "We're not in the business of helping to execute people. We were lied to and cheated."
Maya Foa, an investigator with the London-based anti-death penalty advocacy group Reprieve, was first to notify Naari officials that their company had been named in a Nebraska Department of Correctional Services news release as the manufacturer of the state's supply of sodium thiopental.
She said staff with whom she dealt were outraged that the drug, which was intended for medical use in a third-world country, could be used to execute Nebraska death-row inmates.
"They don't want to be in the business of killing," Foa said.
"This is an awful situation for us and we are trying to see what we can do to support Reprieve and work together with anyone who can help us prevent this from happening," Kochhar said in an email to the Journal Star. "We never intended for the product to reach the US and definitely not be used for executions."
Regarding Kochhar's concerns about Nebraska's use of the drugs Naari manufactured, Houston said in an email sent Monday evening that "we focus on Nebraska state law in carrying out our responsibilities."
Said Kingery, of the AG's office: "The sodium thiopental received by NDCS was approved for legal export by the government of India and approved for legal import by the regulatory federal agencies of the United States (DEA and Customs). It has been tested and positively identified as sodium thiopental."
One of three drugs in Nebraska's lethal injection protocol, sodium thiopental has been in short supply since last year, when the only U.S. manufacturer, Hospira Inc., said it was ending production because of death penalty opposition.
Earlier this year, the DEA ruled that Nebraska had illegally imported 500 grams of sodium thiopental from Kayem, an Indian company.
The recent batches of sodium thiopental were acquired Oct. 25, according to the state's Nov. 3 news release.
The news release did not mention Chris Harris, described as the middleman in Kochhar's letter and the Outlook article.
But Jerry Soucie, an attorney with the Nebraska Commission on Public Advocacy, referred to Harris' role in procuring the earlier shipment of the drug that the DEA said was illegally imported in a May 2011 filing on behalf of death row inmate Carey Dean Moore.
Moore, convicted of killing two men, was scheduled to be executed June 14, but the state Supreme Court issued a stay of execution while Soucie challenged the purchase of the drugs in Douglas County District Court.
When the news about the acquisition of the Naari-manufactured sodium thiopental was released earlier this month, Bruning asked the Nebraska Supreme Court to set an execution date for convicted murderer Michael Ryan.
Soucie has until Wednesday to file documents regarding the execution of Ryan, who was convicted of killing James Thimm during a ritualistic torture at a farm near Rulo in 1985.
Soucie said he read the Outlook article Sunday and is trying to corroborate some of the information detailed in the story. He declined to speak further about the article.