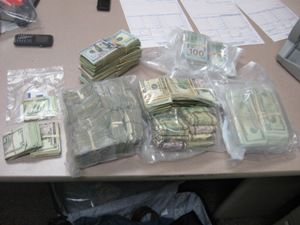 Local law enforcement will continue to seize suspected drug money and arrest those caught smuggling it, but they're no longer sure what will happen to the cash after the U.S. Attorney General all but killed a program that allowed federal and local authorities to split the money.
A week after U.S. Attorney General Eric Holder barred local and state police from using federal law to seize cash, cars and other property in certain cases without warrants or criminal charges, local officials say they're still trying to get more information about what to do.
"We're looking for guidance," said Seward County Sheriff Joe Yocum, echoing the Lancaster County Attorney's Office, the Nebraska State Patrol and other law enforcement officials. "We want some clear guidelines about how to proceed."
U.S. Attorney Deborah Gilg in Omaha said her office is reviewing Holder's order and plans to meet with local law enforcement agencies to give them the new lay of the land. 
In the meantime, local authorities are defending taking money and other property that they say, if not seized, would have fueled the drug trade.
Lancaster County Chief Deputy Jeff Bliemeister said his deputies do civil asset forfeitures right, and wants to keep doing them.
Bliemeister said his office has checks and balances in place to make sure deputies aren't gunning for cash and other valuables when there's no tie to crime: Supervisors and command staff review any stop involving an asset seizure to make sure it's legit, and they work to ensure prosecutors can make a criminal case.
Lancaster County Sheriff's deputies have made 50 cash seizures totaling $4.7 million since they started their highway interdiction program two years ago, Bliemeister said. They arrested suspects in 48 of those incidents.
"We were charging people and are going to continue charging people with a crime," he said. "We truly think we're impacting criminal activity in Lincoln and Lancaster County and across the nation."
Since 2008, thousands of local and state police agencies across the country have made more than 55,000 seizures of cash and property worth $3 billion under the Justice Department's civil asset forfeiture program called Equitable Sharing, the Washington Post reported.
Part of that program, known as "adoption," enabled local and state police to seize money and property and then have it "adopted" by federal agencies, which shared in the proceeds. It allowed police departments and drug task forces to keep as much as 80 percent of the proceeds of adopted seizures for doing the investigative legwork, with the rest going to federal agencies for signing off on them.
Holder's order covers only adoptions, which make up 14 percent of the civil forfeitures in the Equitable Sharing program.
Civil asset forfeiture isn't new, but in recent years, the practice has become a perversion, said Lincoln civil attorney Matt Catlett.
"I don't think this has anything to do with investigating crime," he said. "It's almost like an enterprise."
Nebraska State Patrol troopers took the life savings of Hugo Soto when they seized $45,000 he was taking to Riverside, California, to complete the purchase of a Mexican restaurant, Catlett said.
They stopped Soto's westbound 2001 Itasca Suncruiser motor home on Interstate 80 outside of Lincoln for failing to properly signal a lane change, court documents show.
By the end of the stop, they took his cash and RV and dropped Soto and his passengers off at a motel, said Catlett, who represented him in the seizure case.
Soto was not charged with a crime.
The seizure triggered a two-year legal fight to reclaim the money the government had taken using civil asset forfeiture.
The two sides settled in May 2014: Soto got $30,000 of the $45,000 back. The government kept the remainder and the RV.
That kind of seizure appears to have been on Holder's mind when he issued his order.
A Justice Department official, who spoke to the Washington Post on the condition of anonymity, said Holder "also believes that the new policy will eliminate any possibility that the adoption process might unintentionally incentivize unnecessary stops and seizures."
Lincoln defense attorney John S. Berry Jr. said he and colleagues at Berry Law Firm have seen an evolution in the Interstate 80 drug cases they've worked in recent years.
Five years ago, he said, about 90 percent of the cases they worked were strictly drug interdiction stops by police. Now, it's about half drug interdictions, half cash seizures, he said.
Holder's decision might mean that smaller law enforcement agencies in more rural Nebraska counties make fewer cash seizures because they won't necessarily have the same amount of support from a federal prosecution standpoint, Berry said.
"Are (fewer) people going to be stopped on the interstate because of this?" Berry asked. "No, I don't see that happening."
The interdiction stops seem to have proven lucrative, he said, and perhaps more people will be arrested and charged under state law with possessing drug money.
"The state gets a pretty good piece of the action."
Often, clients stopped in Lancaster and Seward counties are criminally charged, but motorists stopped in Douglas County are not, he said.
In those cases, they have to prove they earned their money on the up and up to get it back, Berry said.
"It's gone beyond what I think the original purpose was," Catlett said of the civil asset seizures.
He understands the need to fight terrorism and interstate and international drug trafficking, he said, but seizing money from people who haven't been charged with or convicted of a crime doesn't seem to aid that public good.
"This is a way for these guys to really help themselves, and at the end of the day, it strikes me that it's not really helping anybody other than the agency."
Although Holder's new policy prohibits the federal government from adopting cash and vehicle seizures, states can still make civil asset seizures under their own laws.
But that changes the rules of the game, especially in Nebraska courts, where prosecutors have to prove beyond a reasonable doubt that what they seized was facilitating drug sales.
That burden of proof is much stricter than what's needed if the seizure goes federal, where prosecutors only have to muster a preponderance of evidence and prove only that a seized item was tied to drugs, Catlett said.
Not only is the burden of proof generally lighter for federal forfeiture cases, but Nebraska law enforcement have much better payouts if they get the seizure adopted by the feds.
State law says that if a law enforcement agency gets the money or vehicles, half of the money must go to the state's public education fund and the rest to a drug enforcement and education fund in the county where the forfeiture originated.
The change announced by Holder won't affect seizures stemming from joint operations of both federal and state authorities or seizures from warrants issued by federal courts, he said in a news release.
Local officials can use their share of that money to support investigations and law enforcement operations, cover overtime costs, pay for officer training, education, equipment or facilities, U.S. Justice Department regulations stipulate.
A 1999 Nebraska Supreme Court ruling determined that charging a suspect with a drug crime and taking his or her suspected drug money is double jeopardy, but the federal government's Equitable Sharing program operates in a separate court system, which lets local prosecutors pursue drug charges against people while the U.S. Attorney fights to take their money.
If the latter avenue disappears, local prosecutors will have to decide whether to try to put traffickers and dealers in prison or take their cash.
That's fine if someone is busted with a couple of kilos of cocaine sitting next to stacks of $100 bills, said ACLU of Nebraska Legal Director Amy Miller, but some law enforcement officers use the civil forfeiture process to take money from cars with no evidence drivers are involved in drugs.
For example, she said, ACLU of Nebraska represented a traveling minister from Florida who was stopping at half a dozen churches in Nebraska to preach and had about $4,000 in his car from passing around the plate when he got pulled over for driving too close to the center line.
Officers jailed him for several hours and seized his money, including the $3 in his pocket for lunch, Miller said.
ACLU lawyers represented him and got his money back after three months, but it shouldn't come to that, Miller said.
"In a criminal case, it's up to the government to prove we're guilty beyond a reasonable doubt. But civil forfeitures flip that presumption, and the property owner has the burden to prove their cash is innocent.
"Having cash isn't a crime."