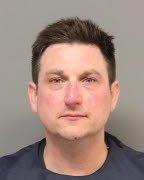 Lincoln police arrested a local radio personality on suspicion of domestic assault early Saturday.
Prosecutors on Monday charged Matthew Rydberg, 41, who is known as Matt McKay on KFRX-FM's morning show, with strangulation, a felony.
At his first court appearance, Rydberg appeared on video from jail, shaking his head and mouthing "no" as Deputy Lancaster County Attorney Jan Lipovsky read the charge against him and asking to talk to his lawyer, Sean Reagan, when asked if he understood the possible penalty of three years in prison.
"The allegation is that Mr. Rydberg was intoxicated at the scene. There was violence that was committed in front of the children," Lipovsky said, asking Lancaster County Judge Joseph Dalton to set Rydberg's percentage bond at $50,000.
Reagan argued that somewhere between $7,500 to $10,000 would be sufficient given that Rydberg has very little criminal history, has been a resident of Lincoln since the '90s and "does a lot of work in the community."
The judge ultimately set Rydberg's bond at $25,000, meaning he would need to come up with $2,500 to be released.
Rydberg was arrested at his home near 84th Street and Old Cheney Road just after 2:30 a.m. Saturday, according to police records.
Officer Angela Sands said police went to Rydberg's home on a report of a domestic assault witnessed by two children. A 46-year-old woman reported she went to sleep in her children's room after an argument with her husband, who had been drinking, when he became angry.
Sands said the woman told police Rydberg pushed on her neck and she couldn't breathe, pushed her face, bit her nose and shoved her. She had redness and scratches.
Outside the courtroom, Reagan declined to comment further on Rydberg's behalf.
Julie Gade, general manager for Alpha Media, said McKay is on leave from the radio station.