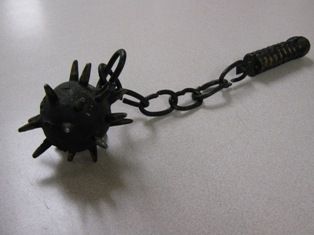 Lincoln police officers responding to a report of a suspicious person near 48th and Pawnee streets early Monday ticketed a man for concealing a weapon, in this case, a mace.
"The mace is a medieval club," reads the Lincoln police incident report regarding the concealed weapon report ticket.
The report says the man, 29, was riding a bicycle at about 2:30 a.m. Monday when police contacted him. An officer noticed something in the pocket of his hooded sweatshirt, the report said. It turned out to be a spiked, black mace or morningstar about 2 feet long, including the chain.
Police took the weapon, and the man was cited and released for carrying a concealed weapon after he told police he was carrying it for protection.
From what kind of knight, the report did not say.