A Lincoln Police officer shocked a 27-year-old man with a Taser on Monday after the man allegedly threatened three teenage girls with a pocket knife in central Lincoln.
Police were called at about 4 p.m. to the area near 12th and F streets, where Trevor Wilson had threatened three girls with an open blade, Lincoln Police Sgt. Chris Vollmer said.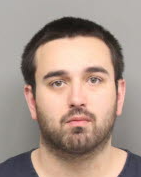 As officers arrived, Wilson fled on foot toward a nearby alley as an officer, who Vollmer did not identify, gave chase, the sergeant said.
The officer caught up with Wilson, who then shoved the officer and started to run again.
The officer then shocked Wilson with his Taser and restrained him until help arrived.
Wilson was taken to a local hospital and medically cleared before police arrested him on suspicion of terroristic threats and resisting arrest.
While police interviewed witnesses in the area, they encountered another man threatening neighbors with a knife, according to court filings.
Joseph Welsh, 39, pointed a knife toward two men and told them to mind their business as officers were canvassing the area, investigating the previous threat, Lincoln Police Officer Lee Dalhgren said in the affidavit for Welsh's arrest.
Police heard the commotion from around the corner of 1202 F St. and arrested Welsh at the scene. Prosecutors charged him Tuesday with two counts of terroristic threats.
Both men were later taken to the Lancaster County Jail.