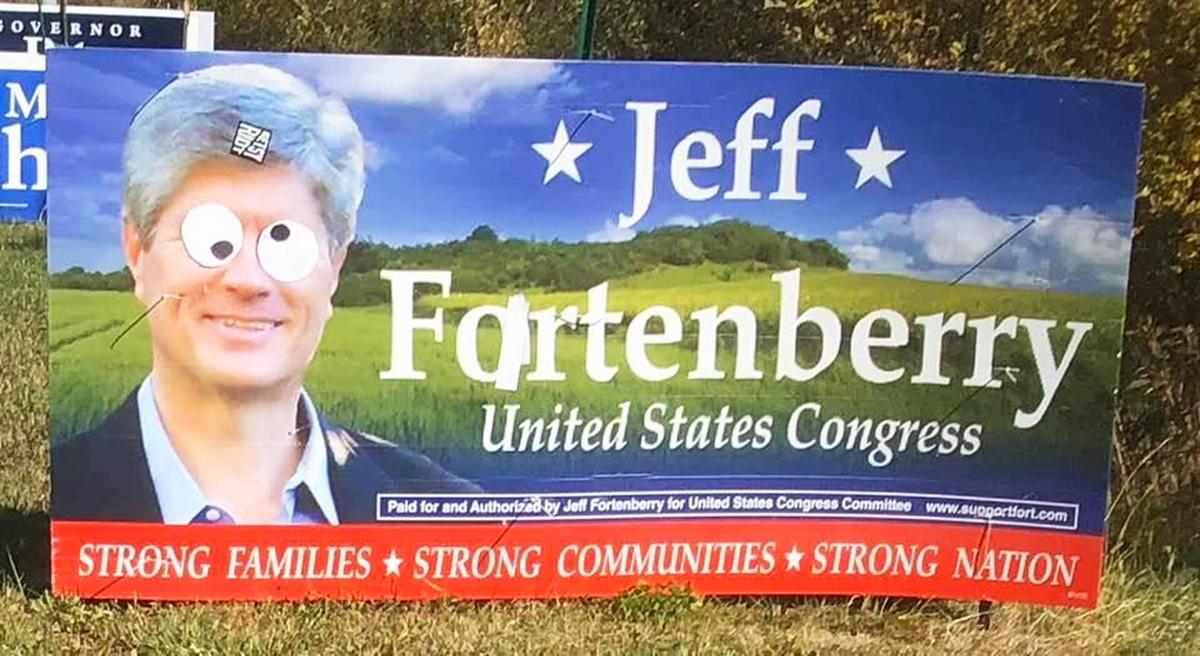 Lincoln police identified their suspect in the vandalism of Rep. Jeff Fortenberry's campaign signs in November, but they didn't ticket her until after the congressman confirmed he wanted the case prosecuted last week.
Patricia Wonch Hill's fingerprints were found on stickers on the defaced campaign signs, police said Wednesday when confirming tickets were issued to the University of Nebraska-Lincoln researcher.
Following criticism that police wasted resources in its investigation, department spokeswoman Officer Angela Sands released a timeline to push back on what she called a "false narrative."
"When a crime meets the statutory definition, probable cause exists, and the victim wants to press charges, the Lincoln Police Department will issue a citation regardless of political affiliation, the identity of those involved or their respective professions," Sands said in a statement Friday.
Sometime on Oct. 21, two Fortenberry signs, including one near his home, had googly eyes affixed on the congressman's likeness and were altered with a strip of tape to make his name into a sophomoric joke.
A sticker added to the sign indicated that Betsy Riot, a neo-suffragette, punk-patriot resistance movement, was responsible for the mischief. That same day, Sen. Deb Fischer's office in Lincoln also reported Betsy Riot stickers were placed on the door.
Fingerprints on the stickers placed on the signs and the office door identified Wonch Hill as the culprit, Sands said.
Wonch Hill was ticketed with three counts of vandalism this week. Charges for the misdemeanor offense haven't been filed, but she was given a court date.
Each call to police in October took about 30 minutes for an individual officer to gather relevant information and process the scene for evidence, Sands said in presenting a timeline of the investigation.
That included documenting latent prints — impressions produced by the ridged skin on fingers — present on the stickers, she added.
Police protocol mandates officers assess whether a crime scene has fingerprints of evidentiary value.
In 2018, the department's officers lifted nearly 2,700 fingerprints in cases ranging from disturbing the peace and vandalism to murder, Sands said.
Prints are submitted if they are on a surface where they can be accurately analyzed and if police have the permission of the victim to lift the prints, a process that can damage the surface.
In her time as a patrol officer, Sands said she submitted fingerprints from a note left on a car berating a driver's parking job and threatening violence if it didn't improve.
"There doesn't have to be a homicide," she said. "It's very normal to (finger) print most scenes."
On Nov. 12, the department's fingerprint analysts completed their examination of prints taken from the stickers, and the next day they were run against a national fingerprint database, Sands said.
The prints were a match to Wonch Hill, according to police.
In May 2018, Wonch Hill, a research assistant professor of sociology and a political activist, was fined $500 in Virginia for vandalizing the home of a National Rifle Association lobbyist.
About two weeks after police in Lincoln identified a match on the prints, an LPD detective spoke with a city attorney about the three cases and conferred on whether this met the legal definition of vandalism, Sands said.
The city prosecutor agreed it did and that the City Attorney's Office would pursue the case if a ticket was issued, she added. 
On Nov. 29, the detective tried calling Fortenberry, but he was busy and didn't call back, Sands said. Several more contacts were attempted without success. 
Fortenberry ultimately called back on Feb. 15 and said he wanted to press charges. Fischer also told police that she wanted to proceed.
Vandalism is a city misdemeanor, with a possible penalty of up to six months in jail and/or a $500 fine.
Wonch Hill did not respond to a request for comment from the Journal Star this week.
Police said Wonch Hill is being looked at in other cases of vandalism.
The alterations to the Fortenberry campaign signs were highly publicized and followed a July 3 incident at the Nebraska Republican Party's Lincoln office where a window was shattered with a brick and "Abolish ICE" was spray-painted on the sidewalk.
That case remains unsolved.