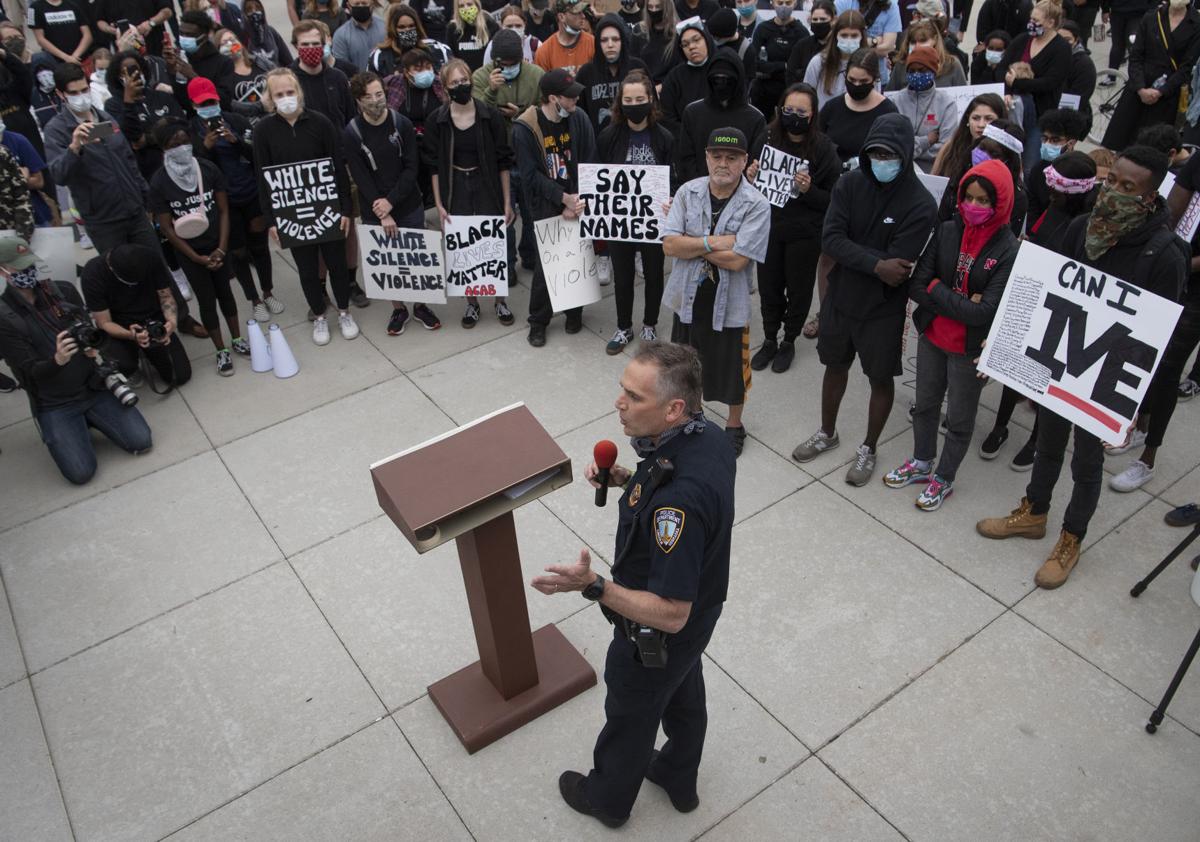 Chief Jeff Bliemeister will leave the Lincoln Police Department for a job at Bryan Health after leading Nebraska's third-largest police force for the last four years. 
In a news release, Lincoln Mayor Leirion Gaylor Baird thanked the chief for work the past few years to increase the size of the police force and for his exemplary service and leadership in a challenging year.
"Chief Bliemeister increased efforts to strengthen relationships with our community by improving transparency in police practices, connecting with our communities of color, and embracing accountability measures," Gaylor Baird said. "We will miss his contributions to our city team, but I know his dedication to keeping our community safe will continue in his new role." 
Bliemeister expressed gratitude for the opportunity to serve the city and the county over the past 24 years, first at the Lancaster County Sheriff's Office and then with LPD.
"I was fortunate to work with so many talented and passionate individuals," Bliemeister said. "I am proud of them, as I saw the positive impact they made."
Bliemeister will serve as Bryan Health's safety and security manager and begin his duties there next month.
"We're thrilled to have him here," said Bob Ravenscroft, the hospital organization's vice president of advancement.
Bliemeister's last day at the police department will be Jan. 8. 
In 2016, then-Mayor Chris Beutler selected Bliemeister, chief deputy sheriff for Lancaster County, from a field of six candidates identified in a national search to succeed retiring chief Jim Peschong.
Former Police Chief Tom Casady was the city's public safety director at the time, and he recruited Bliemeister to apply.
"He rose to the top in a field rich with talent, and I was never disappointed," Casady said. "I think he's done a fantastic job."
Since he took the job, Bliemeister has worked to increase the size of the police department, overseen the launch of the department's body camera program, the expansion of the school resource officer program and overseen a series of high-profile investigations ranging from a fatal southeast Lincoln house explosion to the disappearance of Sydney Loofe. 
In a news release, Lincoln Police Union President Brad Hulse congratulated Bliemeister on his new position and said officers in the department will miss his leadership and dedication to public safety.
"For the last four years, he has worked tirelessly to increase our staffing levels, ensure that we have the necessary equipment and training to protect and serve the Lincoln community, and educate the public about the challenges that Lincoln police officers face every day," Hulse said.
But 2020 brought perhaps the most tumultuous year for the department under Bliemeister, as police responded to rioting and unrest arising from protests against police brutality nationwide in late May and early June, the shooting death of Officer Mario Herrera in September and a lawsuit filed in November alleging a toxic work culture against women. 
Herrera, who was fatally shot while trying to arrest a suspect, was the first Lincoln police officer killed in the line of duty in 52 years.
As chief, Bliemeister provided essential support for the police department in the wake of Herrera's death, the mayor said. 
Bliemeister had recently announced with the mayor a new effort to increase the department's diversity and had worked with the T.R.A.C.E. initiative and Hold Cops Accountable group on policing reforms and measures to improve relationships between the community and officers.
City policymakers and police oversight officials had praised Bliemeister and the department for its review of the actions taken by law enforcement in response to unrest stemming from the killing of George Floyd in Minneapolis.
"He doesn't dig his heels in when he's confronted with difficult situations," said Citizen Police Advisory Board member Scott Hatfield, adding that Bliemeister's "head and heart are in the right place."
But the chief has also been criticized. In late November, a former Lincoln officer sued the city, alleging a toxic culture toward women there and retaliation against those who report it.
Sarah Williams said when she raised concerns to supervisors all the way up to the chief, nothing was done. Williams, now with the Omaha Police Department, said she was pressured to name another female officer who told her she'd been sexually assaulted by a male officer, but that the department did nothing to investigate it.
Her attorney, Kelly Brandon, said Bliemeister and other high-ranking officials within the department and the city "have known about the pervasive discrimination of female officers at LPD for years and have done nothing to protect female officers or provide a safe and non-discriminatory work environment for them."
In a statement, the chief said: "The Lincoln Police Department does not tolerate discrimination and will continuously work toward creating an environment where our employees feel safe."
Asked Tuesday for comment on any link between the lawsuit's allegations and Bliemeister's departure, city spokeswoman Diane Gonzolas said "there was no connection." 
Bliemeister is the second local law enforcement leader this year to leave his post for a private sector position after former chief deputy Lancaster County Sheriff Todd Duncan left for a job with the Omaha Public Power District earlier in the year.
Fanchon Blythe, who organized pro-police rallies this summer and is critical of the mayor, said Bliemeister's departure comes as more than a dozen police chiefs in metropolitan police departments across the country have resigned, retired early or left their jobs. 
She called Bliemeister a dedicated man who was respected by his law enforcement peers and city residents.
"He has endured a lot," Blythe said.  
Assistant Chief Brian Jackson will serve as acting police chief as the city looks for a permanent leader. He served as acting chief immediately prior to Bliemeister's hiring.
With Bliemeister's departure, Gaylor Baird will have stand-in chiefs atop the city's two public safety agencies following the retirement of Lincoln Fire Chief Micheal Despain. Lincoln Fire & Rescue is currently led by interim chief Dave Engler. 
Gaylor Baird plans to evaluate the fire chief position in the spring, the city has said. 
"This is going to be difficult for the city," said Casady. "They had two standouts in Mike Despain and Jeff Bliemeister. Both of them will be hard acts to follow."
BLIEMEISTER'S TENURE AS CHIEF: