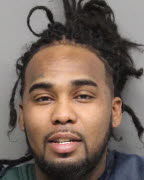 Two Lincoln men have been charged on allegations they robbed a man in the parking lot of The Office Gentlemen's Club at closing time Oct. 2.
Ryan G. Long, 29, and Chelan Garcia Sr., 25, both are charged with robbery.
Police arrested Long on Tuesday and Garcia on Thursday.
In court records, police said they were called at about 2:30 a.m. Oct. 2 on a 27-year-old Lincoln man's report he had been beaten and robbed by two men as they left the club near U.S. 77 and West Van Dorn Street.
He told police the men punched and kicked him before leaving with his wallet.
Investigators said they ran down tips, reviewed surveillance video and identified Long and Garcia as suspects.
Today's jail mugshots