A 34-year-old Lincoln man who shot another man in the head during a drug deal in Grand Island last year was sentenced Wednesday to 35 to 60 years in prison for it.
Antoine Johnson will have to serve at least 26½ years before he's eligible for parole, given mandatory minimum terms and credit for time served.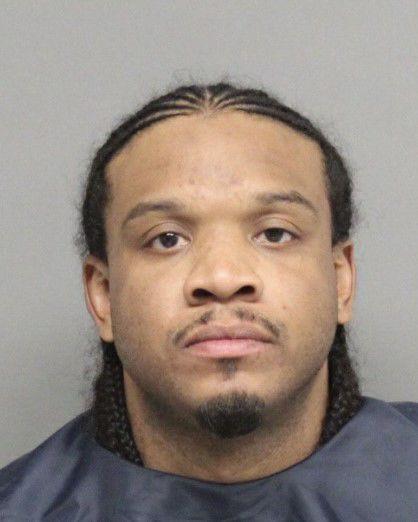 In May, a Hall County jury found him guilty of attempted murder, first-degree assault, discharge of a firearm and three other weapons charges for shooting 32-year-old Gary Zierke of Lincoln early May 28, 2020.
At trial, Johnson said it was self-defense. But the jury rejected the theory.
At sentencing, the prosecutor said Johnson thought he had been ripped off and shot Zierke because he was mad.
"Not out of self-defense, not out of fear. But out of anger and retribution," Deputy Hall County Attorney Billie Gallagher said. 
She said Johnson's concern was primarily with himself, not the victim. 
"Gary's going to suffer with significant cognitive deficiencies for the rest of his life," Gallagher said. 
And his brother now expects to take care of him for the rest of his life.
"The state would ask that the court consider the many other people that were impacted by the defendant's actions in May of 2020," she said, asking for at least 40 years in prison. 
Johnson offered an apology of sorts, saying it "really hurts" to see Zierke in the shape he is now.
"I feel like the whole thing was caused by him, and I was mad at him for a long time, angry with him," he said. 
Now, Johnson said he regrets what happened.
"I wish I could take it back. I'm not trying to make excuses or anything for what happened. The whole situation was a mess. I shouldn't have been there in the first place. I had no reason for being there," he said. 
In the end, Hall County District Court Judge John Marsh said Johnson's record was fairly substantial but not extensive in violent conduct before this. But he also considered that the gunshot wound had devastating consequences to Zierke.
And he meted out the sentence. 
In an affidavit for Johnson's arrest, Grand Island police said a 911 call sent them to Sycamore Street and Oklahoma Avenue, where they found Zierke lying in the street. 
He'd been shot once in the head.
Law enforcement quickly started looking for a red SUV that witnesses had seen speeding away with the suspected shooter in the back seat, according to scanner traffic.
A State Patrol trooper spotted a red Chevrolet Trailblazer headed east on Interstate 80 near the Aurora exit. When the trooper stopped it, the man in the back seat, Johnson, ran.
Later that day, troopers found Johnson in a ditch about a mile south of I-80 and arrested him.
In court records, Grand Island Police investigator Bruce Collamore said the driver of the Trailblazer had driven Zierke and Johnson from Lincoln to Grand Island for a drug deal at a home. While there, Johnson ran over to Zierke and shot him once, then ran back to the SUV, according to the affidavit for his arrest. 
Lincoln police said Johnson was in downtown Lincoln early March 15 when Timothy Montgomery was shot and killed in a disturbance outside the Main Street Bar.
Johnson was charged with failure to comply for refusing to give his name and date of birth after he was seen running from the area right after the shooting.
Another man, Marcus Winston, is accused of first-degree murder for that shooting. His trial is set to start Wednesday in Lincoln.