Police have arrested a 32-year-old Lincoln man on suspicion of felony child abuse resulting in the death of a 22-month-old boy, who died Friday morning after he was hospitalized Sunday, according to authorities.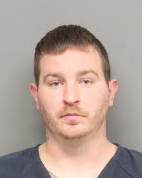 Police arrested Tackett on Tuesday for the weapons charges, both felonies, and cited him Friday on suspicion of the child abuse charge, the Lincoln Police Department said in a news release.
In court records, investigators said the child's mother, a 30-year-old woman, brought the unresponsive boy to a Lincoln hospital with "numerous bruises and injuries to his body," Sunday afternoon.
Hospital staff later told police that the boy had suffered "significant injuries" and was taken by helicopter to an Omaha hospital in critical condition. He died of his injuries Friday, LPD said.
The boy's mother told police she had noticed numerous bruises and injuries on his body since she began dating Tackett in January, investigators said in court records.
Tackett is not the child's father. He lived with the boy, his mother and three other children — who have since been taken into state custody — at an apartment near Seventh and G streets, according to criminal and juvenile court filings. 
It's unclear if the boy's mother will face charges.