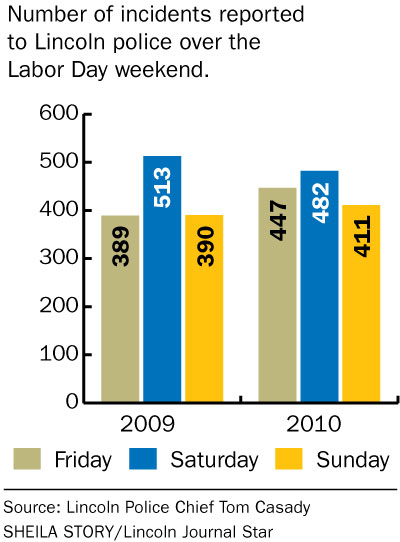 Apparently felons don't follow the fair.
Grand Island Police Chief Steve Lamken said his officers had a pretty run-of-the-mill Labor Day weekend, despite the thousands of people in town for the Nebraska State Fair.
And Lincoln Police Chief Tom Casady's officers -- who dealt with the Husker season opener on Saturday -- saw no shortage of work over the three-day weekend.
"Actually, we were busier this year without the State Fair than the same three days last year," Casady said on his blog on Tuesday.
As usual, the first football Saturday was a big day: Lincoln cops responded to 482 incidents.
That's down slightly from the same day last year, when 513 incidents were reported. But Friday and Sunday both saw increases -- from 389 and 390 in 2009 to 447 and 411 this year.
The Nebraska State Patrol, the agency in charge of state fair security, doesn't keep count of the numbers of minor incidents it handles at the fair, spokeswoman Deb Collins said.
Grand Island-area Capt. Chris Kolb said 72 troopers worked five-day stints at the fair, most coming from the troop areas elsewhere in the state. Those from out of town stayed at the state's Law Enforcement Training Center about five miles from the new fairgrounds.
They mostly responded to fights, disturbances, thefts, lost children and medical calls, Kolb said.
Lamken said few to none of those incidents spilled out into the rest of the city.
"I don't think we can really say we saw much of an impact," he said.
Four to six extra police officers were on hand during the fair, he said.
"They were pretty much dedicated to traffic control," Lamken said.
"We made some changes on the fly, had to adjust some lights and traffic controls as we went along. ... It was definitely a learning year."