For the most part, Lincolnites made it through the Fourth of July holiday safe and sound.
Lincoln Fire Chief Micheal Despain said crews responded to one significant injury Wednesday, but no serious injuries were reported to the department Thursday.
A lit firework tipped over and went straight at a 65-year-old man watching from his driveway Wednesday night, sending him to the hospital with burns to his right arm and chest, according to Lincoln police.
The legal firework was an artillery shell that someone lit in the 600 block of West Burt Drive about 10:15 p.m., said police Capt. Todd Kocian. Rescue workers took the man to a hospital, but his injuries were not life-threatening.
It's the fourth straight year at least one person in Lincoln has suffered a significant injury because of fireworks, Despain said.
The fire department Friday didn't have an estimate of total damages to homes and buildings, but Despain said it's expected to be far less than in years past because there were no significant structure fires as a result of fireworks. Crews responded to 15 minor fires Thursday, most of them dumpster fires or grass fires that did not cause damage to homes or buildings.
Only one home in the Lincoln area sustained significant damage from the impact of a firework, but it did not cause a fire, Despain said.
You have free articles remaining.
Keep reading for FREE!
Enjoy more articles by signing up or logging in. No credit card required.
In total, fire crews responded to 88 calls for service Thursday, but Despain said many of those were for respiratory issues because of warm temperatures.
Lincoln police had a busier day Thursday than in recent years, as the department responded to 424 calls for service, which is a five-year high. Of those, 144 were for disturbances and 80 were fireworks-related complaints, up from 65 the year before and 49 in 2017.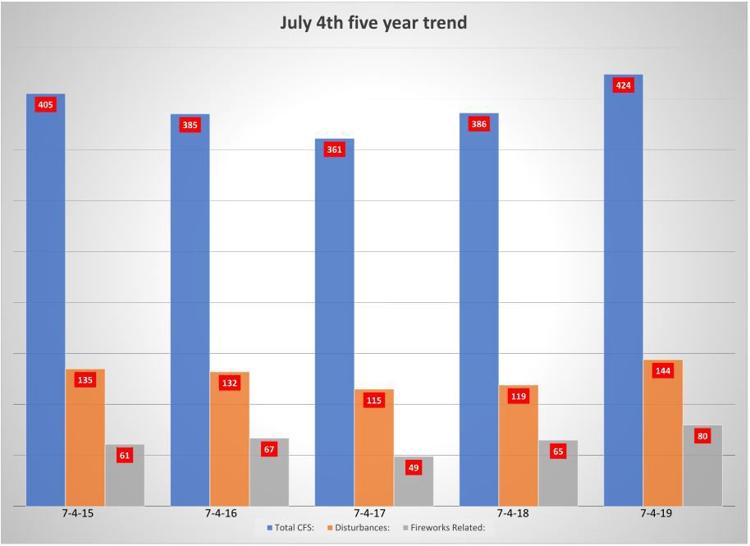 Friday, the fire department accepted unused fireworks in the parking lot at Oak Lake Park, something it's done for the past several years.
"Fireworks deteriorate over time, so we want to give people a chance to get them out of the house, get them out of the garage," Chief Fire Inspector Bill Moody said. "I know they're expensive, but the risk of losing your home is not worth it."
Lincoln's Fourth of July festivities