Heavy rains did not deter a small group of death penalty protesters who gathered outside the Nebraska State penitentiary Tuesday in opposition to the state's first execution in 21 years.
About 20 people gathered in a portion of the parking lot cordoned off for those opposed to the execution of Carey Dean Moore.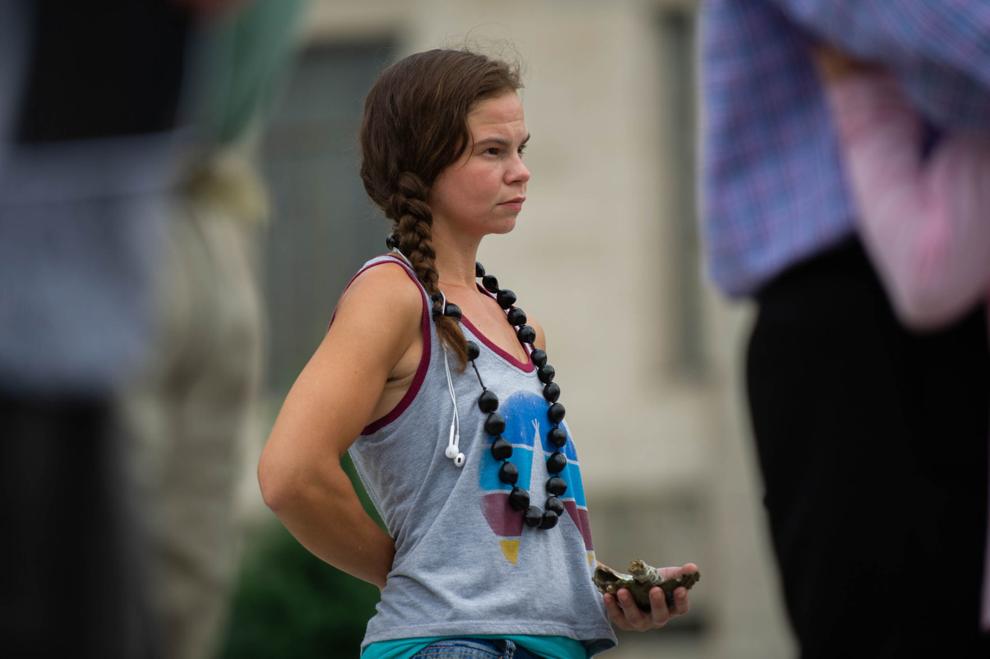 They prayed or held signs, stood quietly or answered reporters questions.
"As a citizen of the state I object and protest this and every other execution in our state," said the Rev. Royal Carleton, a chaplain with Omaha's Inclusive Life Center. "I just think we're doing an injustice today."
Moore, who had been on death row for 38 years for killing Maynard Helgeland and Reuel Van Ness Jr., two 47-year-old cab drivers, had stopped fighting his execution, though others continued legal efforts to stop it.
State officials set up two areas — one for death penalty opponents and one for supporters — separated by an area for law enforcement in an effort to avoid the circus-like atmosphere of previous executions.
But the area for death penalty supporters remained empty Tuesday, and for much of the morning the parking lot was filled primarily with reporters -- including a crew filming a documentary -- and Nebraska State Patrol troopers, Lancaster County Sheriff's deputies and Lincoln police officers. A helicopter circled overhead.
Though nearly all those who came Tuesday did so to protest the execution, Terry Pace stood on the grass outside the cordoned off area for a different reason.
He said he'd been there in 1994 when the state electrocuted Harold Lamont Otey, the first man executed in the state since the death penalty was reinstated in 1976.
Pace came Tuesday, he said, "pretty much in protest that it takes 40 years to do this."
In 2016, the state's voters overwhelmingly supported reinstatement of the death penalty after the Legislature had voted to abolish capital punishment in the state.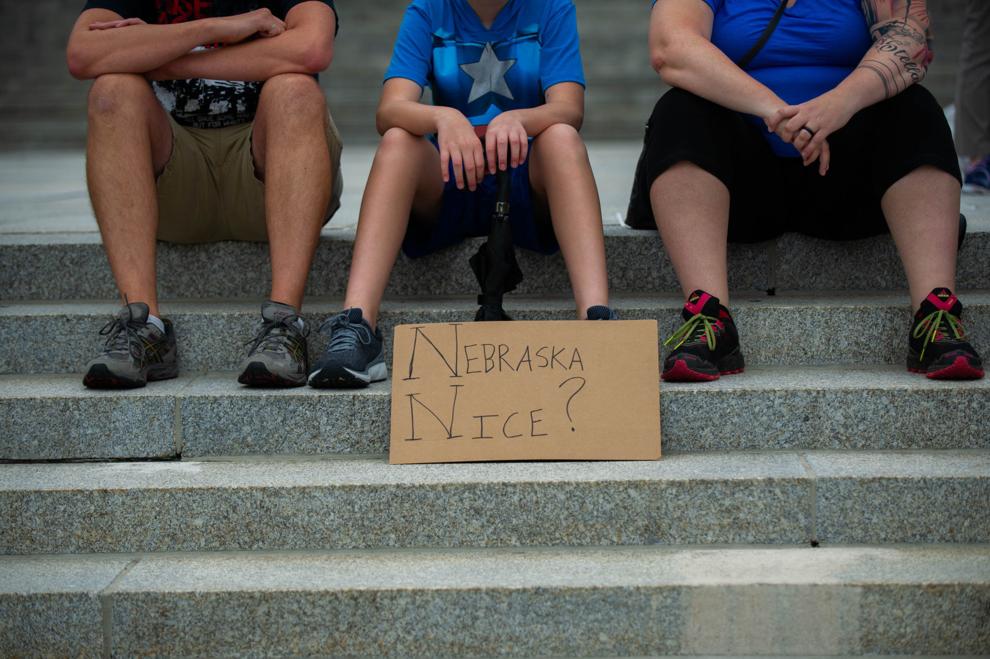 Those who came Tuesday to the State Penitentiary felt differently.
Matthew Rehwaldt, who held a sign saying "Not in My Name," said he'd been at the last three executions and was here Tuesday to register his opposition to the state using his tax dollars to execute someone.
He was among those who said the atmosphere outside the prison was much more subdued than other executions.
Terry Werner, who has visited men on Nebraska's death row for more than 20 years, said he knew that Moore did not want people to gather outside the prison, but he told him he would be there anyway.
"I think it's very important for me to be here to support him and to support the men still alive," he said.
Emily Daniels of Bellevue brought her two boys, who she home-schools, because they've been studying the history of the death penalty.
"I'm hoping the death penalty will be eliminated," she said, "and it's an important thing for them to see."
She said she and her boys have differing opinions. She supported it at one time, but came to believe it's imposed unfairly and is an overstepping of government to kill one of its citizens. Her 10-year-old son thinks it's OK in very limited circumstances, her 12-year-old son does not.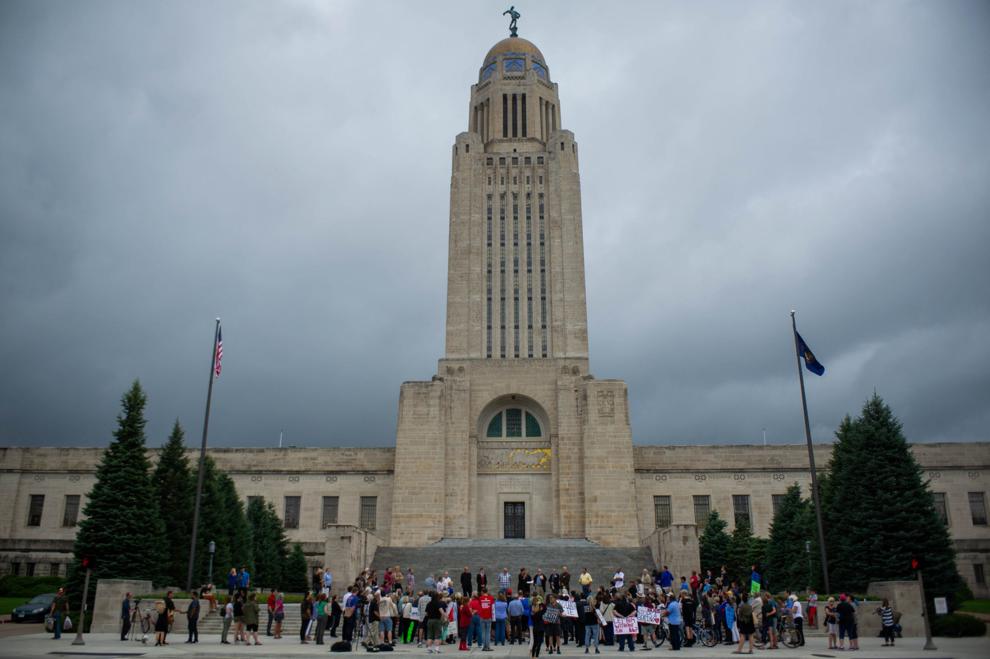 Catherine Baker-Coleman, also with Omaha's Inclusive Life Center, said she's always been a victim's rights advocate but does not believe execution is a deterrent.
"I don't think killing a killer brings any kind of peace to anyone," she said.
Lauren Garcia and Tom Venzor from the Nebraska Catholic Conference were there, they said, to pray for Moore and his victims and for the end of the death penalty in Nebraska.
The execution was scheduled for 10 a.m., and just about that time it began to rain. Some of the death penalty protesters moved closer to the prison and stood silently, some with their heads bowed in prayer.
When reporters tweeting from inside the prison said it would take another 45 minutes, the protesters stayed, despite what had become a heavy rain.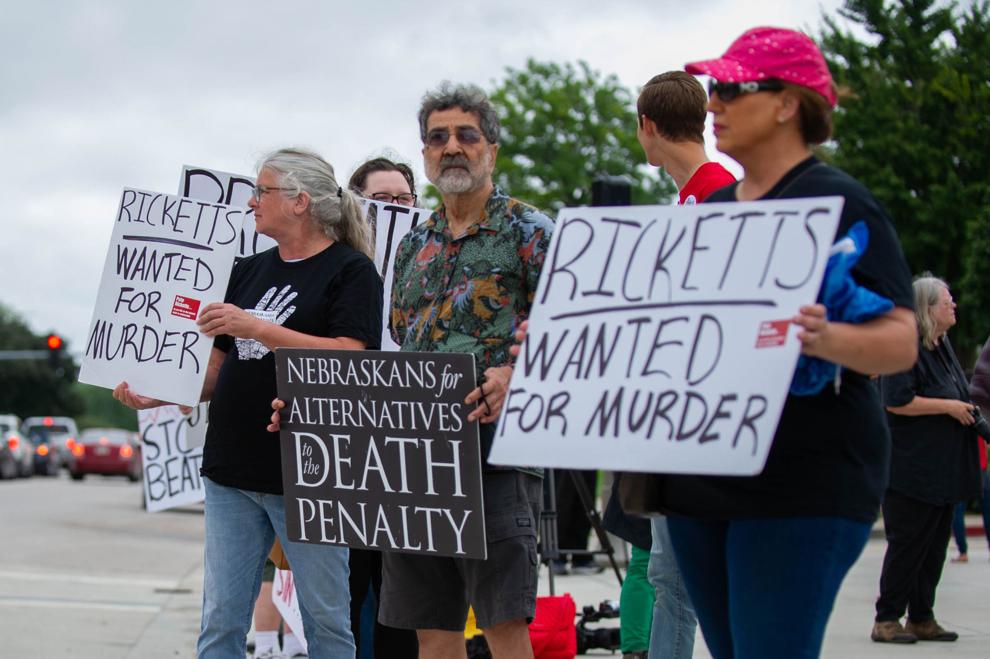 When reporters confirmed Moore had died, the drenched protesters hugged and left quietly a short time later.
Matt Maly, with Nebraskans for Alternatives to the Death Penalty, said a rally planned for later Tuesday would be at the state Capitol, where the decision-makers debate the law and can fix what is a broken system.
"This isn't about Carey Dean Moore," he said. "It's about the death penalty."