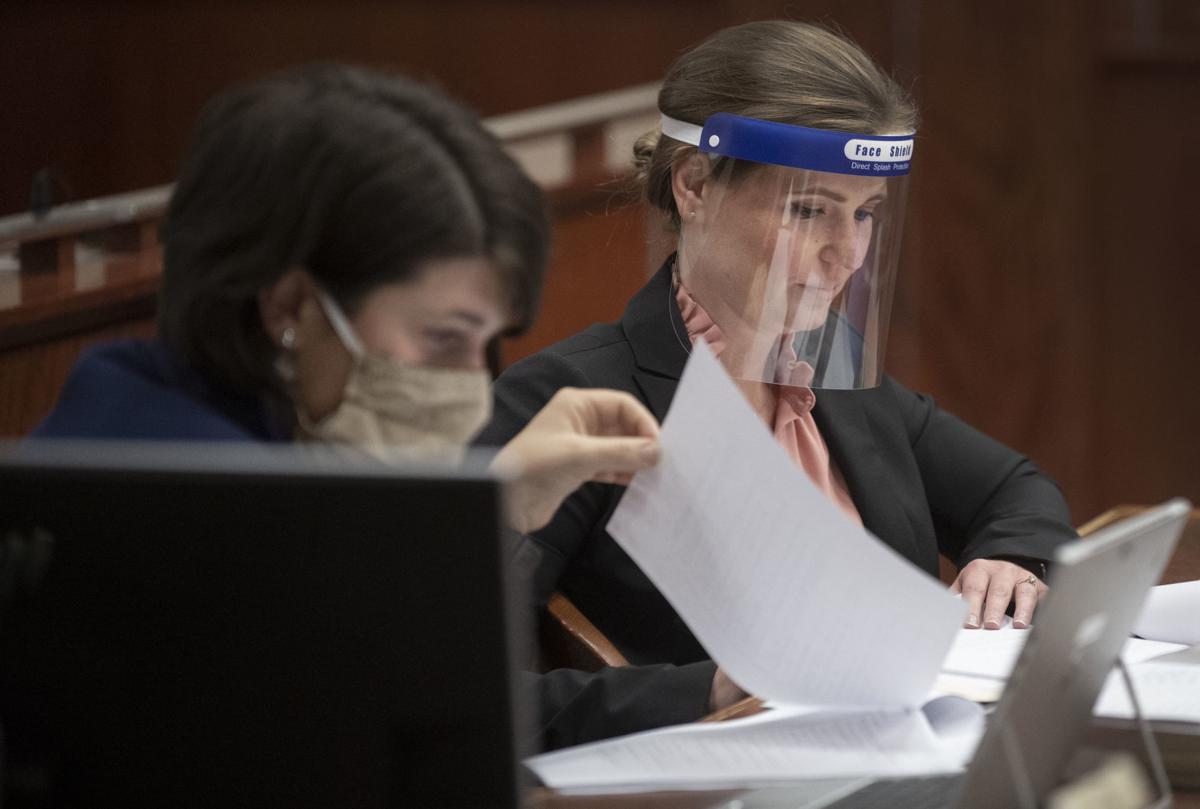 Thirty-eight prospective jurors headed to the Lancaster County Courthouse this week for jury selection in the first jury trial since COVID-19 sent most court hearings online and delayed in-person trials for months.
Prospective jurors, attorneys and the judge all wore clear face shields or masks Wednesday afternoon and met in two first-floor classrooms at the Hall of Justice, usually occupied by police recruits in training, to allow for social distancing.
"The global pandemic requires us to take extra measures and do some things differently than we ordinarily do," Lancaster County District Judge John Colborn told the group when they started.
For instance, when they came in the building, someone checked their temperatures. And all of their chairs were 6 feet apart. An overflow group in another classroom watched what was happening on a TV screen.
"This is new for us," Colborn told the jury panel.
A work-group of judges, the court administrator, bailiffs and others worked for weeks to hammer out the logistical details. Where they would stage jury panels, pick juries, even when and where to hold the trials. 
On Thursday morning, a day after the 38 were pared down to a jury of 12 plus an alternate, they reported to Courtroom 30, the largest of the third-floor courtrooms, for opening statements in State v. Marvin Rivas-Villanueva.
In the case, a 20-year-old Lincoln man stands accused of motor vehicle homicide for allegedly causing the death of 23-year-old Jared J. Williams, his backseat passenger, on March 29, 2019.
That rainy day, Rivas-Villanueva was behind the wheel when he lost control of his 2002 Mercedes-Benz, fishtailed and spun into a Yukon and a CRV stopped at the light on the opposite side of O Street at Lyncrest Drive near Gateway Mall.
Williams died of his injuries.
Deputy Lancaster County Attorney Erica Pruess told the jury Villanueva had been going so fast — around 65 mph in the 40-mph zone — the impact sent the stationary cars moving close to 20 mph.
"It wasn't a momentary lapse of judgment," she said. "It wasn't a second taking your eyes off the road."
Pruess said his recklessness caused the crash and resulted in Williams' death.
Villanueva's attorney, Tim Noerrlinger, called it a tragic event. But, he said, the key question for trial was whether this was reckless driving, careless driving or some other lesser violation, What law had he violated, he asked, other than speeding?
At this trial, the jurors aren't listening from the jury box where they usually would. They're bench seating 6 feet apart in back, which usually is open for courtroom spectators. Counsel tables are on either side.
Reporters and other members of the public can watch the trial online by Zoom. 
At the end of the trial, the jury will deliberate in the jury lounge, a large room near the third-floor elevators that usually is open to the public, to give them space to spread out. 
A second jury trial is set to start Friday, where it all will start again with a new judge and jurors. 
Photos: Lincoln during the pandemic
Sign up for our Crime & Courts newsletter
Get the latest in local public safety news with this weekly email.