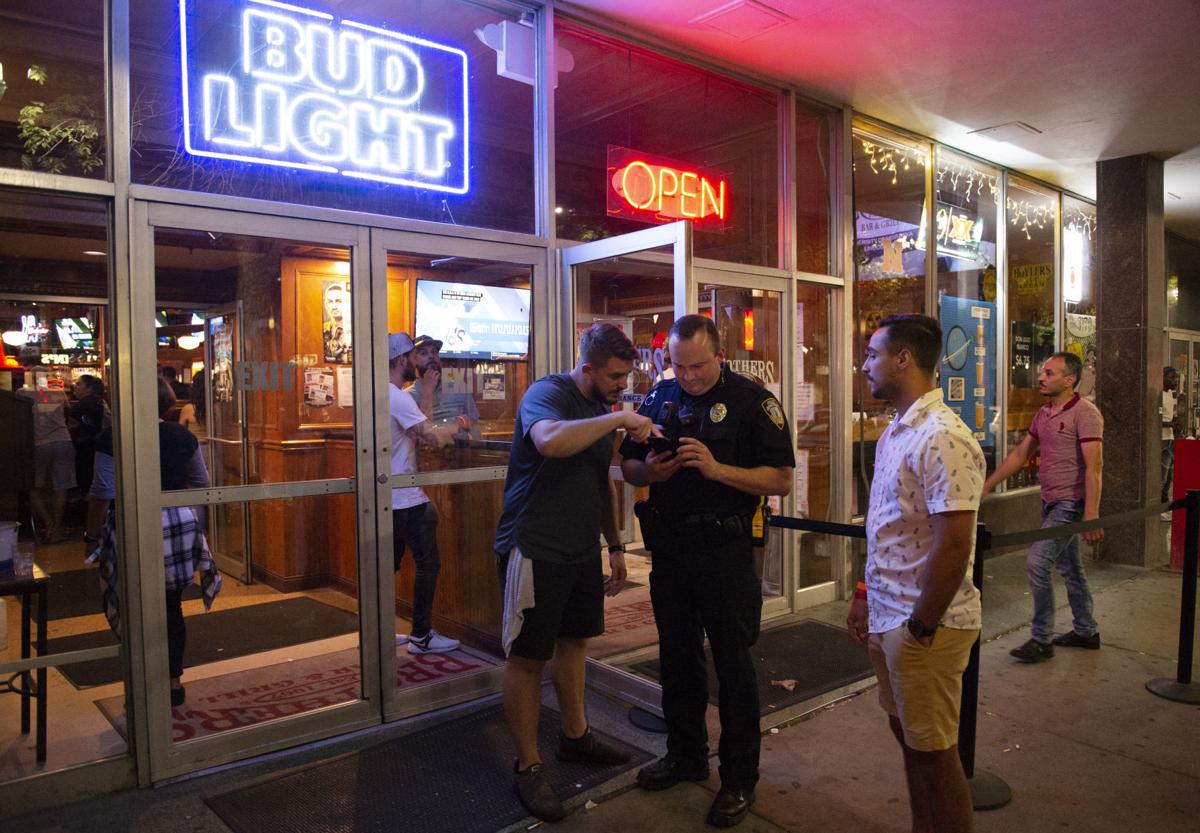 It's just after 1 a.m. on a Saturday night in late July, and the bars surrounding the 14th and O streets intersection are hopping.
Lincoln Police Officer Andrew Vocasek stands just off the corner with a smile on his face, watching as hordes of buzzed and drunk patrons cross the streets.
Some of them wave to him, but most try to walk past without attracting his attention. But something does catch Vocasek's attention, and he moves through the crowd toward the Main Street Bar.
It turns out to be nothing, although he can't help but take a moment to get down to the beats thumping out of the building, much to the delight of everyone in the vicinity.
"I love to dance," he says, laughing. "This is a great shift to work. I have all kinds of fun out here."
It's a shift Vocasek has been on for seven years, and his enthusiasm and work while on the late-night "bar break" beat earned him recognition from the Lincoln Police Department when he was named LPD's Officer of the Year in June.
"Officer Vocasek doesn't just stand on a corner watching the crowd. His selective time is spent walking through the crowds where he quickly engages parties demonstrating disruptive behavior or those that have done so in the past," the department said in a news release announcing the honor. "Officer Vocasek's approach and ownership of 'bar break' greatly contributes to the safety and security of the community."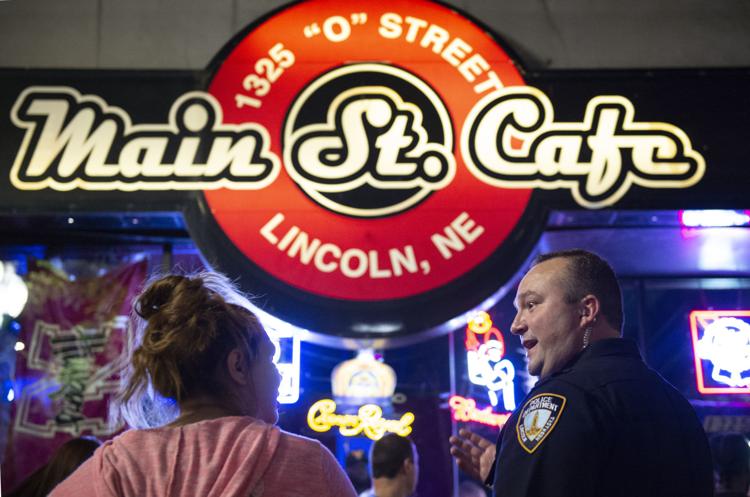 Recognizing the regulars and getting to know the transient population that frequents the busy area is important to Vocasek, who sees his role as an officer to act as a voice of reason in an often-chaotic environment rather than a hard-line law enforcer.
"Everyone is down there to have a good time and enjoy themselves," he said. "We walk among the crowd and if people start to get unruly, it's our job to prevent crime and disorder. If people get chippy, I try to mediate rather than just throwing handcuffs on and writing tickets."
In one instance last month, a transient man who had spent most of the night outside Brothers Bar & Grill alerted Vocasek to a young man sitting slumped over on the sidewalk.
"We try to maintain a good relationship with the transient population around here," Vocasek said. "I try to learn their names and work with them. Downtown is a community. When you build that relationship, you involve the community and they will help solve some of the problems. They're part of the community just like everyone else here."
Vocasek squatted down next to the severely intoxicated young man and talked him through the situation, eventually working with two other officers to get him a ride home and avoid going to detox.
"Detox is awesome and I'm glad we have it, but at the end of the day, we just want someone to enjoy themselves and go somewhere safe," Vocasek said. "Getting home safely has become a cultural thing with the Omaha taxis coming in, and all the ride-sharing apps make us taking to detox a less-common thing."
But sometimes situations go beyond simply being able to talk it out and walk away without incident. With Lincoln being home to six colleges and universities, the downtown bar scene attracts a younger crowd than other areas of the city. Vocasek said adding alcohol to a large crowd of young adults can cause problems.
"At that age range, your brain isn't fully developed until you're 25. Impulse control is lower than it should be and you add alcohol to the mix and pride gets in the way," he said. "People strut around trying to prove they're the top dog."
Law enforcement wasn't in Vocasek's sights when he arrived at Kansas State University as a theater student more than 20 years ago.
You have free articles remaining.
Though he succeeded in the improv troupe on his college forensics team and found his niche in school, he began to doubt his future after K-State.
"I realized that I had no idea what I was going to do with my life," he said. "And then during my sophomore year between summers I went home and hit it off with the lady who's now my wife. Well, she decided she wanted to go to Oklahoma City for mortuary school, so I left college to chase her around."
Eventually, they found themselves in Albuquerque, New Mexico, and it was time for Vocasek to find a job.
"The Albuquerque Police Department was hiring at the time, and I needed a good job," he said. "It was out of necessity."
But after five years with the department, it was time for a change for the couple, and Lincoln appealed to them.
"Albuquerque wasn't providing what we were looking for. We'd both been to Lincoln as kids and thought it was a nice town," he said. "And either Lincoln's lying about its quality of life, or it really is just a good place to live. We've really enjoyed our time here."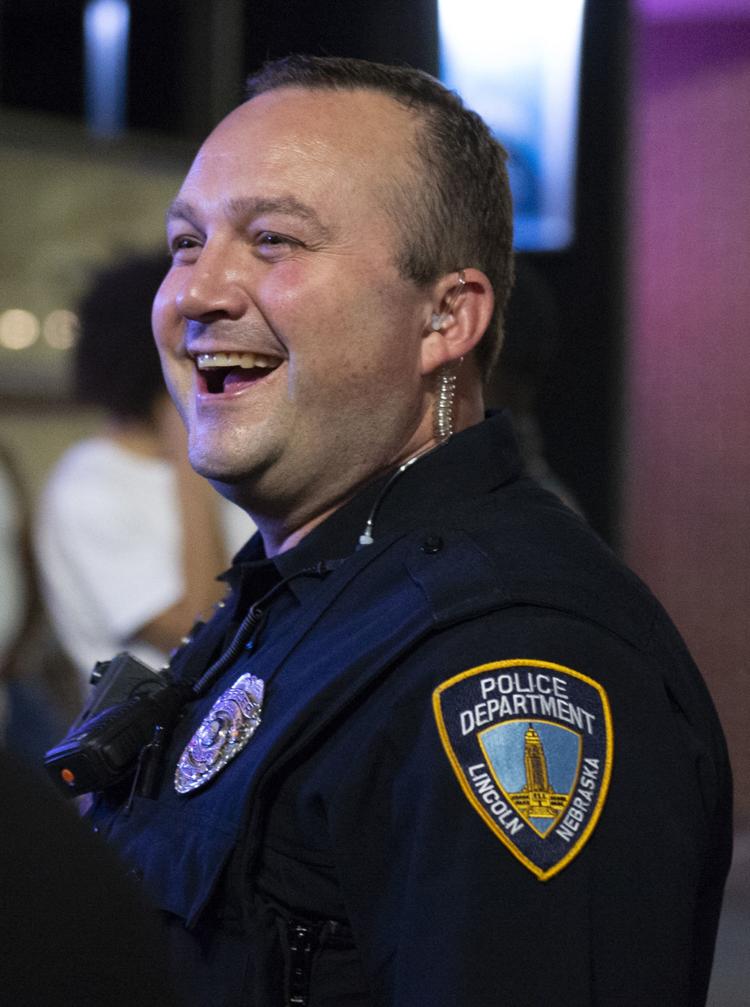 A father of two sons and a daughter, Vocasek said his night shifts gel with the rest of his family's schedules.
"Usually I get home when they're getting up to go to school and work, and by the time I get out of bed I have time to spend with them before I go to work when they're going to sleep," he said. "It's a really good schedule."
Despite enjoying the morning bedtimes and working around the bar scene, Vocasek also described the beat as a different challenge where moral gray areas, sometimes scary ones, can pop up frequently.
"A speeding violation is cut-and-dry. You hit someone, it's assault. But a lot of what we're interacting with is transients, bar owners, doormen and patrons," he said. "Every little area has its own cultural set of rules about how it operates. Figuring out the gray area can be hard. On a Husker gameday, you have to think about all the thousands of people there, and we don't have the resources to arrest every person who causes a problem.
"You have to be able to manage and work with people to control the chaos."
Working closely with the community is tied directly to Vocasek's approach to policing, which he said helps the community perceive him as a positive peacekeeping force.
He said citizens often have a negative perception of their local police because most contact the average person has with an officer is during a low point.
"That's unfortunate that that's the perception people have. But the ability to walk around and talk to people and smile allows you to have that positive police contact outside of something bad happening," Vocasek said. "It's not something you can do overnight, it's a generational thing."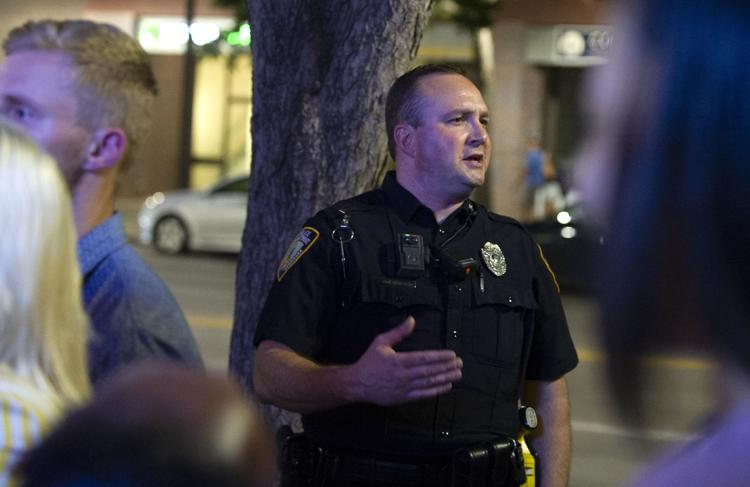 That approach allows him to express his personality with the people he interacts with, be it dancing or talking to people about how their night is going.
"I'm a father of three. I'm a husband. I go to basketball and football games. I do all those things. When I take this uniform off, I'm just a guy," Vocasek said. "The community has entrusted me with this job, but it's just a job. You're still a human being."
And while he said it was nice to be recognized by the department for his policing over the past year, all the satisfaction comes from working with his team and enjoying what he does.
"I work with a fantastic team and the guys and gals I work with are incredible," he said. "It's what I do. It's a lot of fun, and it's not for everyone. I like the night time; it's really just a different world at night."