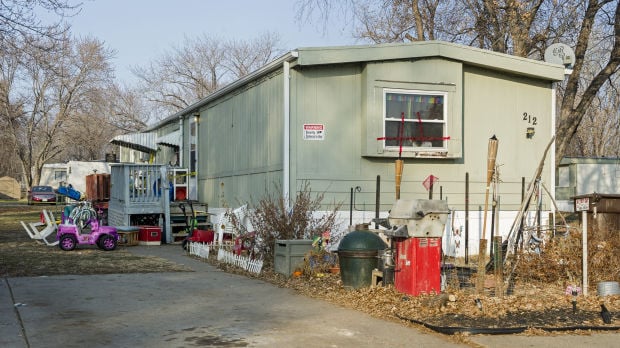 Kelsey Miller refused to shoot her husband when he asked her to early Thanksgiving morning, so he hit her with a baseball bat and shot her three times, prosecutors said at Kevin "Mike" Miller's plea hearing Wednesday.
Miller, 34, then cut her body up in the shower of their mobile home and stowed it in his Suburban until he could get into a storage unit he asked a friend to rent, said Deputy Lancaster County Attorney Janice Lipovsky.
The details of 28-year-old Kelsey Miller's death emerged at the hearing at which her husband pleaded no contest to first-degree murder and use of a firearm to commit a felony. In exchange, prosecutors dropped several other charges against him.
"The state will not be seeking the death penalty," Lipovsky said in outlining the deal.
Miller, who appeared in court with a beard and a shaved head, wearing glasses and a blue jail uniform, refused to look toward his late wife's family when a relative shouted at him in the courtroom.
In response to questions from District Judge Lori Maret, he said he has colon and stomach cancer.
After the hearing, the dozen or so family members met privately with prosecutors and the lead detective in the case, then declined to comment, as did Chris Eickholt of the Public Defender's office.
Mike and Kelsey Miller had been together for eight years and raised three children. The younger Miller children are in foster care.
Kelsey Miller sought help from a domestic violence crisis center Nov. 26, saying her husband assaulted her after she refused to help him kill himself. The crisis center put her in an apartment and then called police the next day when she disappeared and stopped answering her phone.
Police contacted Mike Miller Dec. 1, and he told them he didn't know where she was. On Nov. 27, the two had fought after she had shown up at their home drunk demanding the children, Miller told investigators.
He also called her aunt and told her his wife was missing and that he had put his hands on her neck.
On Dec. 4, police tailed Miller to a discount store and watched him buy odor-eliminating sprays and scented candles.
Three days later, the friend who had rented the storage unit for Miller on Dec. 1 called police to say he was suspicious, so he broke into the unit and saw 5-gallon buckets and 30-gallon totes that appeared to have body parts in them, Lipovsky said.
Several hours later, police arrested Miller, who told them he had shot his wife in the left arm, head and chest, then cut her into pieces, Lipovsky said in court Wednesday.
Prosecutors charged him with first-degree murder, use of a firearm to commit a felony, illegally possessing a gun, child abuse, possession of meth and illegally disposing of human remains.
In exchange for his plea, they dropped all but the murder and firearm charges.
Miller is set to be sentenced to life in prison on June 2.