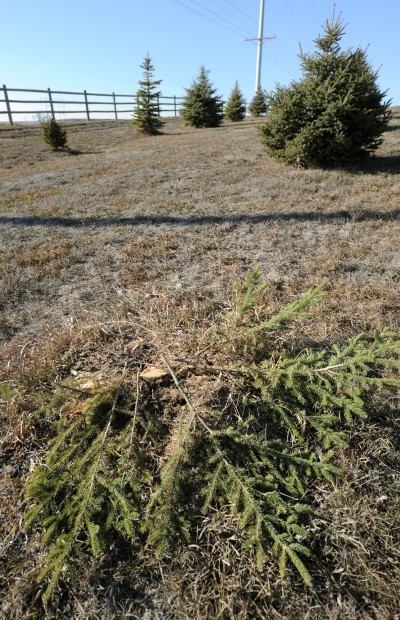 The homeowner fell asleep thinking the burst of noise outside probably was just a kid and a car, tearing up the gravel road.
He woke to find a stump where his tree used to be.
"They had a chainsaw, and they sawed it off and away they went. Cut it off about 6 inches above the ground."
Their daughter had found a deal on the spruce, and they planted it on their acreage near Roca, maybe 100 feet from South 38th Street. They nurtured it and watered it and watched it grow up, from 10 inches to more than 7 feet.
It was a fixture in their yard for nearly 15 years.
Now, it's someone's Christmas tree.
Tough life, country living. Coping with illegal dumpers, metal pickers, mailbox vandals and, this time of the year, people poaching trees.
Every year, the Lancaster County Sheriff's Office fields a handful of reports of evergreens taken from acreages, presumably destined to wear tree skirts.
But it doesn't clear many -- if any -- cases.
"It's very difficult," Sheriff Terry Wagner said. "Even if you have a suspect, how do you say this tree came from that stump?"
Judy Leif was watering her new trees near Raymond on a recent Tuesday afternoon when she noticed something missing: a 7-foot spruce.
"It was part of a shelter belt. Right now, there's a gap in it. You can see where the tree is missing."
She first thought a deer had damaged it, but then she saw the sawed-off stump.
The Leifs have about 200 trees on their land. Trees they protected with wood chips, nourished with fertilizer, quenched with water.
"It's hard to grow them out here, I'll tell you what, with the crappy, crappy soil we have. A lot of care, a lot of care. That's what's so disheartening. They take so long to grow."
This is their first loss. But for years, the trees were too short to be targets. They're maturing now.
"So I worry about what will happen next year."
She takes no consolation knowing her tree will be the center of another family's Christmas. She gladly would have bought the thief a tree, because it would have been cheaper.
Replacing a 7-foot spruce costs about $400, including the tree and the planting, said Judy Vieselmeyer, owner of Oak Prairie Nursery, which has lost some of its own trees in the past.
"It's a shame that in a season for giving, someone has to steal."
A homeowner's best defense: Spray a few drops of fox urine on the trunk.
The treatment is fairly odorless outside in the cold, said Dave Allder, a city parks supervisor.
"But when they take it inside, they would definitely get the full benefit of the fox urine."
Every holiday season, the city buys four gallons of fox urine from a trapping supply company in Crete, mixes it with glycerin and water and sprays hundreds of evergreens in its parks.
"The fox urine smells like skunk. And this year, we added a little bit of skunk essence to it, so it's a really good batch," Allder said.
The city also posts warning signs -- and it hasn't lost a tree this year.
The sheriff recommended it for the private sector, too.
"If there was a sign that said, 'Hey, these trees have been sprayed with fox urine,' nobody in their right mind would ever take it into their house," Wagner said.
For years, the Roca-area homeowner who lost his 15-year-old spruce would post warning signs, although he never actually sprayed.
But then his tree got big -- 4 to 5 inches at the base -- so he didn't think it would fit in a Christmas tree stand. He stopped planting the sign.
"I just hope they enjoy it, if you know what I mean. I hope their conscience bothers them a little bit."