Prosecutors last week charged a 45-year-old Hickman man with his second felony stalking charge in three months after he repeatedly followed a Waverly woman from the parking lot at her son's school, which he staked out on a regular basis for nearly a week, deputies alleged in court records.
The 40-year-old woman was granted a protection order against Jeffrey Dieken in early December, but he was charged Dec. 22 with felony stalking after he showed up at her job and outside her house and had followed her friend's car in the days following the order, according to court records.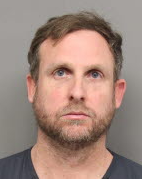 Now, Dieken has been charged with a felony again for similar behavior, Lancaster County Sheriff's Deputy Joanna Dimas said in the latest affidavit for his arrest, filed Wednesday.
Even after he'd been arrested, jailed and charged with stalking the woman, Dieken began staking out her son's school in late February and twice followed her from school grounds after she had picked up her son, Dimas said in the affidavit.
Then, on March 14, the woman contacted deputies and said Dieken was following her again, this time near 84th Street and Old Cheney Road in Lincoln.
Dimas responded to the area herself and saw Dieken driving his silver Chevrolet Malibu nearby, stopping in several parking lots before fleeing south after the deputy arrived, according to the affidavit.
He was arrested March 15 and taken to the Lancaster County Jail.
In his previous case, Dieken paid $2,000 to be released on bond Dec. 23 but was arrested again a week later for violating the conditions of his bond.
Judge Laurie Yardley then set a second percentage bond in that case at $150,000, requiring Dieken to post a total of $15,000 to be released, according to court filings.
Dieken paid the sum in mid-February — 10 days before he is alleged to have started stalking the woman again.
This time, Yardley set Dieken's percentage bond at $300,000. He must pay $30,000 to be released.