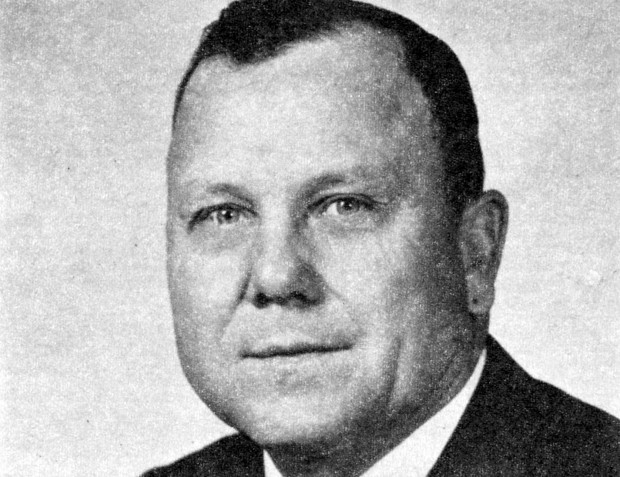 Frank Soukup rolled into the cramped room at the Midtown Motel to bust up a sophisticated check forging ring Dec. 16, 1966.
His 26-year-old partner, Roger LaPage, and a third detective, Paul Jacobsen, went in behind the Lincoln police detective, a 10-year veteran.
Once inside, Soukup, 53, asked the five Californians for identification. Lying on the bed was 32-year-old Donald Rodgers, his hands behind a pillow. LaPage demanded he show his hands.
"The next thing I know, I see this revolver come out from behind the pillow," LaPage said Monday, recalling the incident. "He fired a shot -- one."
That shot hit Soukup square in the chest. But before it did, the detective unleashed a flurry of shots that would kill a would-be gunman rushing to the bathroom for a .25-caliber handgun. LaPage said he fired about three shots; Jacobsen probably another half dozen. All in all, the four shooters sent 14 bullets flying through the small room filled with eight people.
From near 24th and P streets, Jacobsen rushed outside to get backup, in the days before police radios. The motel room's door locked behind him, leaving LaPage to hold his dying partner in one arm while keeping his gun trained on the three suspects who were still alive.
"It seemed like forever," LaPage said.
Soukup died in LaPage's left arm.
The Lincoln Police Department will honor Soukup at noon Tuesday on the east steps of the Justice and Law Enforcement Center, 575 S. 10th St., along with the five other Lincoln police officers who died in the line of duty during the past century.
They are: Capt. Charles Hall, Special Duty Patrolman Marion Marshall, Officer Richard Leyden, Detective Paul Whitehead and Motorcycle Officer George Welter.
"It's one of the inherent risks in doing the job that we do," Lincoln police Capt. Jim Davidsaver said. "We're very fortunate very few of us in Lincoln have been killed in the line of duty. Still, unfortunately, it's always a possibility."
You don't have to tell Soukup's son, Allen, a part-time police officer for the Lincoln Airport and a retired 37-year veteran of LPD.
You have free articles remaining.
He remembers fishing and hunting with his father, who enjoyed baseball and working in his garden.
Oh, and he was jokester. He'd stick a snake in a detective's desk drawer or toss a firecracker into a quiet room, LaPage said.
One time, his son echoed, Frank Soukup drilled holes into an apple and stuffed it with hot peppers before giving it to one of his fellow detectives.
"He loved fun," LaPage said.
Soukup also loved teaching, which is what made him seem so approachable to a rookie half his age.
"He didn't seem older than me. He treated me like an equal."
There were no police academies in the early 1960s, LaPage said. Rookies trained for two weeks in one-hour sessions.
"Then, pretty soon, 'Out on the street. You're a cop.'"
Soukup took the gumshoe under his wing and taught him policing 101 -- how to direct traffic, what to do in this or that type of investigation.
The two became partners 10 months before Soukup's death. Their wives were friends; Soukup would bring LaPage tomatoes, cucumbers and peppers from his garden, and he'd have his younger partner over when his wife served up one of his favorite lunches: duck dumplings and sauerkraut.
"It was just straight-up best friends," LaPage said.
LaPage doesn't plan on attending Tuesday's annual ceremony. The department has sent him invitations over the years, but he's never gone. That's just not his sort of thing. He stuck close with Soukup's widow and kids after the shooting, going over to their house, hanging out, playing cards -- interacting with the people who knew and loved Frank.
"There's just a big void that never could be filled," LaPage said. "For them and me both."