CLAY CENTER — Dozens of investigators spent hours Tuesday combing roadside ditches and the edges of cornfields in southeastern Clay County, searching for evidence in the death of Sydney Loofe a day after remains believed to be hers were found in the area.
A Nebraska State Patrol helicopter circled above while investigators marked locations a half-mile apart or more.
Loofe, 24, disappeared nearly three weeks ago. Her mother reported her missing Nov. 16 after she missed work in Lincoln.
For the first time Tuesday, law enforcement officials said they found evidence of foul play in the case. But they provided no further details on what might have happened. An autopsy has been ordered.
"We are indeed conducting a very thorough investigation to ensure we can provide an accurate account of what happened to Sydney," said Randy Thysse, special agent in charge of the FBI field office in Omaha, during a news conference in Lincoln.
Two people identified by law enforcement as persons of interest in the case — Aubrey Trail and Bailey Boswell — remained in custody late Tuesday at the Saline County jail in Wilber. Neither had been charged with a crime related to Loofe's disappearance or death.
Police have said Loofe was last seen Nov. 15 in Wilber, after apparently going on a date with Boswell, whom she met through the online dating app Tinder.
Trail, 51, and Boswell, 23, live in Wilber but left the state after Loofe went missing. They were arrested last week in the Branson, Missouri, area.
"We're continuing to speak with Aubrey Trail, and we'll continue to do so as long as he's willing to do that," said Lincoln Police Chief Jeff Bliemeister, who declined to say whether Boswell was also cooperating with investigators.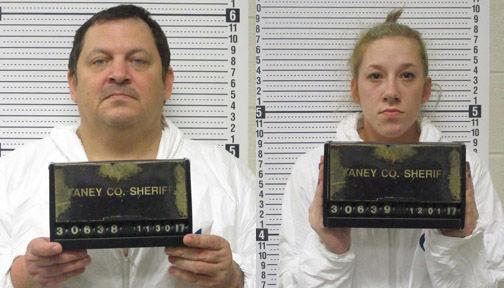 Trail and Boswell have denied their involvement in Loofe's disappearance through a bizarre trio of videos posted last week on social media. While both had active arrest warrants for unrelated charges, Trail said he isn't just a criminal. He said he deals antiques throughout Southeast Nebraska.
"Not saying I'm a nice guy. I'm a crook, I'm a thief — have been all my life. OK? But I'm not what you're trying to make me out to be," Trail said in one video.
In an earlier video, Boswell claimed she and Loofe drove around Lincoln, then smoked marijuana at her apartment in Wilber before she dropped Loofe off at a friend's house. Boswell said she hadn't heard from Loofe since.
Bliemeister on Tuesday said investigators have explored the claims in the videos extensively.
"The investigative efforts have not been able to confirm those particular details," he said. "We'll still work toward that end, but again, the analysis of the (digital records) was what led us to the discovery of who we believe to be Sydney."
Lincoln police and the FBI are jointly leading the investigation. FBI officials ask that anyone with information related to the case call the dedicated tip line at 402-493-8688 option 1.
Loofe, a Neligh native, moved to Lincoln after graduating from high school in 2011 as part of a transfer in her employment with Menards, according to her mother, Susie Loofe.
Sydney Loofe's coworkers and family said it was out of character when she didn't arrive for her shift as a cashier at the north Lincoln Menards. When her family couldn't get ahold of her, they reported her missing.
The Loofe family took to social media in the following days to raise awareness about Sydney's  disappearance in hopes of aiding the search.
Her picture appeared on billboards along Interstate 80 in Omaha and in central and downtown Lincoln, and her case became a front-page story for newspapers and led the evening news.
Her family learned shortly after 5 p.m. Monday that remains believed to be Sydney's had been found, her father told the Neligh News and Leader.
In an interview with that paper Monday night, George Loofe expressed gratitude to those who prayed for their daughter, posted fliers, spread word on social media and "everyone that had anything to do with the search for Sydney."
"The entire state and beyond tried to help, and, in our minds, a lot of good people exist in this world," he said. "Sydney just happened to run into someone that wasn't."