Otto Pojoy-Garcia sat in an orange jumpsuit at the defense table in a downtown Lincoln courtroom and tried to explain to the federal judge why he came back from Guatemala after being deported.
It wasn't just to make money, the 39-year-old said in Spanish, an interpreter translating via phone line.
"I was running away to save my life."
John Vanderslice, his federal public defender, said crime is rampant in Guatemala. Pojoy-Garcia's wife was killed there. His father-in-law, too.
Pojoy-Garcia knew he could be locked up for returning to the U.S., but took the risk knowing that at least then he'd be safe, the attorney said.
Roughly one-fourth of the nearly 500 criminal cases that go before federal judges in Nebraska each year involve people in the country illegally. Those men and women come here for a variety of reasons, but many say they fled a bad situation or came to make money or to join family.
* Maria Jimenez-Beza came to be with her 19-year-old son who was in a vegetative state after being shot in the head on a Lincoln sidewalk in a gang-related shooting in May 2011. Her public defender asked U.S. District Judge John Gerrard to consider her motivation. She got time served.
* Manuel Rios-Ramirez is described in court records as the head of a drug distribution gang in the Grand Island area. A search turned up bags of meth and cocaine hanging from his shower and more buried in the backyard. He got two years in prison for illegal re-entry concurrent with a 10-year sentence on a meth distribution charge.
* Miguel Barrera-Yerbabuena said he came to work construction and send money to his kids and wife in Mexico. "I just wanted to support my family," he told a judge at sentencing. But he promised it was the last time. "I just don't like being locked up and being away from my family," he said before being sentenced to 17 months in prison.
When immigrants are arrested in Nebraska for being in the country illegally, they can end up in one of two types of courts -- Immigration Court in Omaha or federal criminal court in either Lincoln or Omaha.
Since 2014, 4,418 have been deported administratively through Immigration Court.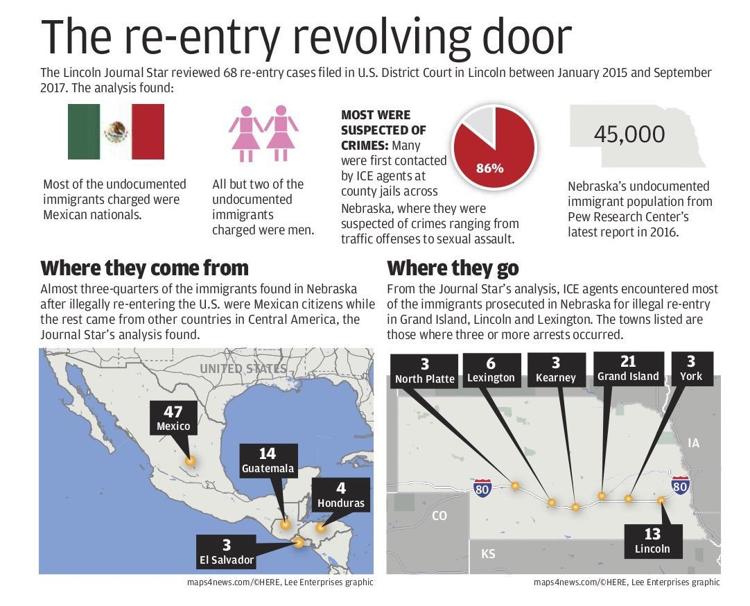 In the same period, the U.S. Attorney's Office has prosecuted 523 people for illegal re-entry, many of them agreeing to take part in a fast-track program so they spend less time locked up if they don't fight deportation.
So far this year in Nebraska, the U.S. Attorney's Office has prosecuted 110 cases for illegal re-entry.
But it's just a sliver of the 45,000 immigrants estimated to be living in Nebraska illegally, according to a Pew Research Center report from last year.
Prosecutions focus on criminals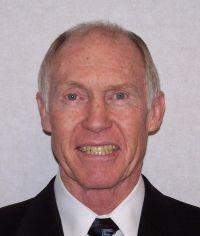 Generally, the Justice Department prosecutes immigrants here illegally who already have records, said Nebraska's Acting U.S. Attorney, Robert Stuart, who transferred to the Omaha office from San Diego in 2009 and took charge when Deborah Gilg retired in March.
"They've been removed; they've been ordered removed by a deportation judge; and they ... typically have a felony conviction or a misdemeanor conviction or two," he said.
Stuart said his office also may prosecute someone who has been busted for something small if they're back after having been deported.
"Why? Because they're not good citizens. They're not contributing to our community. We don't want them," he said.
A Journal Star review of 68 illegal re-entry cases prosecuted in U.S. District Court in Lincoln between January 2015 and September 2017 showed those individuals have been deported an average of two times each. One Honduran man had been removed eight times. 
But, Stuart said, there are many who are in Nebraska illegally "who have been law-abiding individuals for a lengthy period of time and have children and work and pay their taxes and continue on."
Under the Obama Administration, they were left alone. But under the present administration, Stuart said, the directives to Homeland Security and Immigration and Customs Enforcement — better known as ICE — have changed.
Those departments used to focus on immigrants with aggravated felonies, significant misdemeanors and people with gang ties, but President Donald Trump broadly expanded deportation priorities in an executive order five days into his term.
"There are no longer protected classes of aliens," said Shawn Neudauer, a regional ICE spokesman. "We're just doing the job we were formed to do."
According to the National Immigration Law Center, the Jan. 25 executive order called for tripling the number of officers available for immigration enforcement and made it clear anyone violating immigration laws may be subject to arrest, detention and removal from the United States.
In time, that may lead to more administrative cases in immigration courts, and potentially to more criminal prosecutions by Stuart's office.
But, Stuart said, for now they'll continue to focus on prosecuting cases that are referred to them that meet appropriate guidelines.
Stuart said the Department of Homeland Security refers people to his office who have landed on the department's radar, typically by going to jail or from a tip.
But an immigrant here illegally who is stopped for something like speeding might not even be a blip.
"We may not ever know about them," Stuart said, especially if the person hasn't been removed before and doesn't have a criminal record. 
"Our approach here is we want to deal with criminals," Stuart said, particularly getting violent criminals out of the community.
Stuart said one of the things he's loathe on are people arrested several times for DUI, whether they've been convicted of that or a reduced charge.
In some federal districts, they wouldn't land on a prosecutor's radar. Here they do, he said.
"Our belief is that those people ultimately may kill somebody, so those people are high on our list to remove from the United States," Stuart said. "And if they've been removed before, we will prosecute them."
But it doesn't always work seamlessly, as it didn't in the high-profile case of Eswin Mejia, an example President Trump has used to justify cracking down on illegal immigration.
Police say early on Jan. 31, 2016, Mejia was drunk and street racing when he slammed into the back of Sarah Root's SUV in Omaha as she drove home to Council Bluffs, Iowa. The 21-year-old, who had just graduated from Bellevue University, died of her injuries.
Police arrested Mejia, who tested three times the legal limit to drive. The Douglas County Attorney's office charged him in state court.
But he bonded out of jail and disappeared. Now he's on ICE's most-wanted list.
Prior to the crash, Stuart said another state discovered Mejia was in the country illegally, but he was released and ended up in Omaha.
"We didn't know about him," he said.
Part of the problem is sheer numbers.
Stuart said Homeland Security, which could have moved to detain Mejia before he left jail, only can encounter so many who are illegally in the country.
Looking for illegal re-entry
Neudauer said ICE agents in Nebraska routinely check the state's jail rosters, following up when fingerprints match federal databases, and on people who report to jailers during booking that they were born outside the U.S.
But not everyone discovered to have re-entered the U.S. without permission is prosecuted for it, he said.
Some may have been sentenced in state or federal court for other crimes, whether legally in the country or not, like the 214 currently incarcerated in Nebraska prisons who have immigration detainers, according to a Department of Correctional Services spokeswoman.
Some simply are deported again if a previous court order to remove them remains in effect, Neudauer said.
If they haven't been ordered deported before, they may go through Immigration Court and never be charged criminally.
But if they continue to return and get caught, they're likely to face more time locked up, like Juan Barrera-Yerbabuena, who recently found himself in U.S. District Judge John Gerrard's courtroom in back-to-back sentencing hearings with his brother. 
The 27-year-old Mexican national had been living and working in Grand Island until ICE agents encountered him there June 21, according to court records.
They scanned his fingerprints into the EAGLE Directed Identification Environment system, EDDIE for short, a database of people previously arrested by Homeland Security or law enforcement. Then they scanned them into the FBI's Next Generation Identification, NGI, a similar database.
It led to a positive match, an ICE agent wrote in an affidavit to arrest him.
Juan Barerra-Yerbabuena had been removed from the country twice before, the last time in Texas in 2013. It was his first conviction for illegally re-entering the U.S. and landed him in jail for 30 days.
This time, a Nebraska judge gave him five months — and a warning: Should he return and get caught, he'll be incarcerated longer next time.
"Govern yourself accordingly," Gerrard said.
Nebraska's federal judges have increasingly seen cases in which immigrants have been found here and charged with illegal re-entry.
This year, the state jumped into ninth out of all federal districts for criminal prosecutions referred by the Department of Homeland Security relative to population size.
Just a year ago, Nebraska ranked 25th.
But what propelled the state to a higher spot on the list — not far below predictable districts in border states like Texas, Arizona and Southern California — isn't entirely clear.
It may reflect a drop in filings elsewhere or increased referrals here by Immigration and Customs Enforcement, better known as ICE, that have resulted in more prosecutions.
Economics a consideration
In Nebraska, at least for now, who is charged comes down to a matter of priority.
For federal prosecutors, it's more nuanced than just prosecuting all immigrants who don't have permission to be here, Stuart said.
"They're illegally in the United States. That's a crime. But who are they? Are they drug dealers? Have they possessed weapons illegally before? Are they domestic violence criminals? Are they rapists or bank robbers or child molesters? Those are the ones we worry about," he said. "That's law and order."
"Is the rest of it law and order?" posed Stuart, a Marine before he became a prosecutor. "Well, it is. It's enforcing the laws of our nation. But I would suggest in that debate there is more that comes into play than just that notion."
For instance, there's the sheer economics of it, he said. Federal prisons already are crowded. There's no money to increase capacity or hire additional corrections staff.
"Under the present administration the money may be forthcoming for all of those things. We'll see," Stuart said.
He said there's also the question of whether the government should honor its agreement not to remove DACA (Deferred Action for Childhood Arrivals) young people, so-called Dreamers, whose parents brought them into the country illegally.
"These are difficult questions that I think our government and our elected officials need to come to grips with in fashioning laws," Stuart said.
"But I think that equity and who we are as a country and how we came about as a country should also form how we respond to this debate and how we ultimately decide the fate of the DACA children as a good example."