A federal jury has found a 33-year-old Lincoln man guilty of sex trafficking two teenage girls, taking them to Colorado and Iowa to have sex for money.
Devin L. Ashford has been set for sentencing in November on charges of sex trafficking of a minor; production of child pornography; sex trafficking by means of force, threat, fraud or coercion; and interstate travel for prostitution.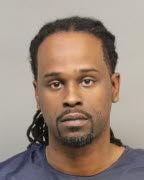 He'll face mandatory minimum sentences of 15 years on three of the charges and up to life on one.
At trial this week, federal prosecutors laid out an investigation by the Lincoln Police, and later the FBI, which started April 9, 2018, after a New York woman reported that her adult daughter had called her to say she was being trafficked out of a home near 11th and A streets.
According to a police report, officers knocked on the door and spoke to Ashford and the daughter, who denied anyone was being trafficked.
But, just over a month later, police arrested a woman in a prostitution sting, got search warrants for the cellphones she had and found a photo of a 17-year-old girl that had been sent to several men with text messages advertising her, the report said.
Investigators later found the girl, who had been reported missing, and interviewed her.
Police said Ashford used social media to recruit young women to engage in prostitution and work for him.
One of the women told police she went on "dates" and performed sex acts for money that went to Ashford. Police say messages between the two on Snapchat showed them discussing money and dates, and Ashford acknowledging that she was 17.
Police said they also found sexually explicit images of another 17-year-old girl on Ashford's Facebook account.
At trial this week, numerous victims testified that Ashford beat, starved and pushed cocaine on them to get them to provide sexual services, U.S. Attorney Joe Kelly said in a news release.
He said Ashford recruited minors to engage in commercial sex acts so that he could get the financial proceeds. The evidence at trial showed that at least three of the minors had either run away from home or were in the foster care system when Ashford targeted them.
"These terrible crimes occur closer to home than we would care to imagine. The jury's verdict sends a strong message to anyone who exploits others in sex trafficking minors or adults that their actions will not be tolerated and will be fully prosecuted," Kelly said.
Kristi Johnson, FBI Omaha's special agent in charge, said the victims of these crimes are some of the most vulnerable members of the community and that agents will continue to work closely with local, state and federal partners to identify human traffickers and disrupt their activity.
Sign up for our Crime & Courts newsletter
Get the latest in local public safety news with this weekly email.