For months, Kam Rokon and his wife tried to piece together what would make his younger brother jump from the 11th floor of a University of Nebraska-Lincoln dormitory to his death.
What Kam and Emily Rokon say they finally learned — that 18-year-old UNL student Rahat Jalil had been subjected to weeks of hazing from his fraternity, Lambda Phi Epsilon, before his death in 2019 — shocked them.
"We'd been grieving for the last year and a half," Kam Rokon said. "We were absolutely disgusted by what we were told."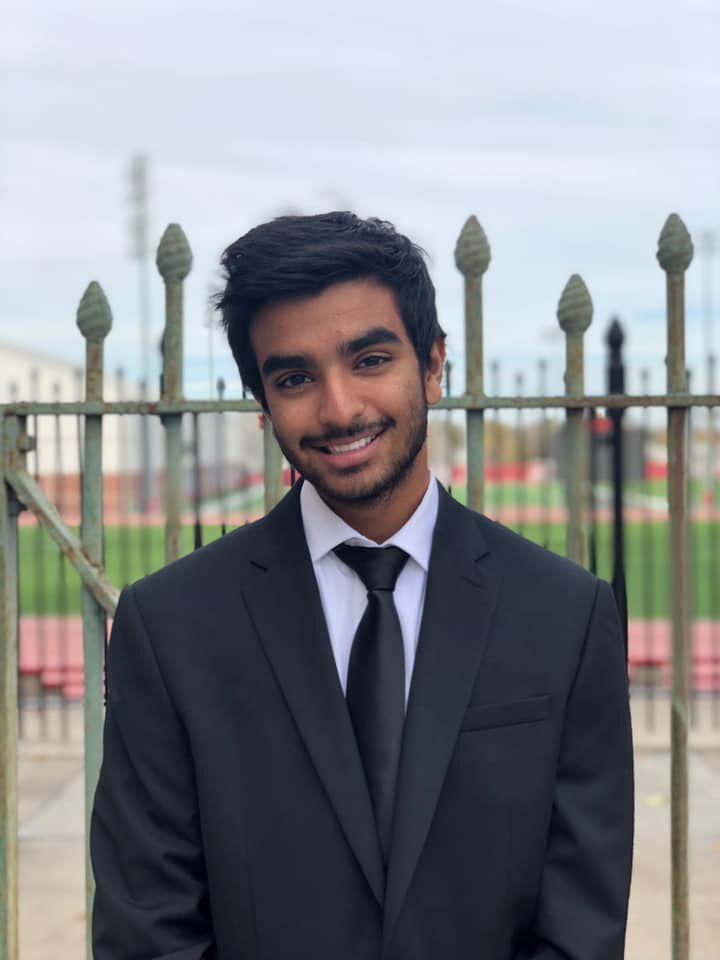 What they say members of the fraternity told them — and the subsequent lack of accountability by the national fraternity — convinced them to file a lawsuit.
Most importantly, they said, they want hazing like they believe Jalil endured to end.
"The bigger picture is this is what happens over years and years and years," said Emily Rokon. "It's not like this group of boys created this power dynamic. They were part of a system. That's why we are here. We can't keep continuing the cycle."
The Lancaster County District Court lawsuit filed by Kam Rokon as administrator of his brother's estate names Lambda Phi Epsilon International and the Nebraska chapter. UNL is not named in the lawsuit.
The local chapter of Lambda Phi Epsilon, an Asian-centered fraternity, was founded in 2016, joining three other chapters in UNL's Multicultural Greek Council.
It does not have a house on campus, and therefore is not subject to university-approved housing rules.
UNL officials declined comment, citing the pending litigation and an ongoing investigation.
The suit seeks unspecified damages for the physical injury and mental anguish Jalil suffered before his death, and damages to the family as a result of his death.
It alleges the international organization has responded to numerous hazing incidents at other chapters across the country and as of 2019, 18 chapters had been closed. The lawsuit mentions several incidents dating back to 2005, including three in which pledges died and two that resulted in chapters being suspended.
The fraternity didn't have policies in place or enforce those it did, nor did it provide the supervision required to ensure Jalil's safety, the lawsuit contends, and did not provide educational programs to raise awareness of the dangers of hazing.
Katie Cheatle, the attorney representing the Nebraska chapter of Lambda Phi Epsilon, said the fraternity members were saddened by the loss of their brother and refute that anything the fraternity did is related to his death.
The Nebraska chapter's Facebook page has posts remembering Jalil and fundraisers in his honor, including one for suicide prevention.
"It's super early on (in the lawsuit), but I can tell you we take this very seriously; we vehemently deny many, if not all, of the allegations in the complaint," Cheatle said.
The lawsuit alleges the hazing led to Jalil's suicide on Jan. 16, 2019, when he was found on the ground unconscious near Abel Hall at about 8:30 a.m. He was taken by rescue workers to the hospital, where he died.
In the weeks before that, the lawsuit alleges, Jalil was subjected to hazing in violation of both state law and UNL policies.
The suit alleges that he was forced to engage in prolonged calisthenics and hang from a rope in a tree without falling; to stand outside all night with no clothes on and was told to urinate on other pledges who didn't follow directions; to chug alcohol forced down his throat by other members; and that he suffered sleep deprivation and verbal harassment.
Jalil was a freshman at UNL, having moved from his home in North Carolina to be closer to his brother and wife.
The Rokons met in college in North Carolina and in 2011 moved to Omaha, closer to Emily's native Iowa. Jalil was 12 years Kam's junior, and he often came to visit the couple in Omaha, staying with them during the summer and other school breaks.
"He fell in love with the city," Rokon said. "He wanted to be near my wife and I (and their two children)."
About two weeks before he died, their parents had moved to Omaha from North Carolina, where they'd emigrated to from their native Bangladesh when Kam was 6. Jalil was born in North Carolina.
He joined the fraternity, and after he died, the Rokons stayed in touch with his fraternity brothers, inviting them to their home several times, wanting to stay connected to the people and an organization important to Jalil.
They asked lots of questions after Jalil's death and scoured his phone and computer. They talked to friends and looked for clues about what led to his death, they said.
Although some of his North Carolina friends had told them he wasn't comfortable with some things happening in the fraternity, such as the drinking, they said they didn't learn much.
Then, in August, a former member who'd left the organization came forward and told them about the hazing incidents.
"At that point, we were livid," Kam Rokon said.
They went back to his friends in the fraternity, this time asking more pointed questions. The Rokons said the members confirmed nearly all of what the former member told them.
They said the hazing incidents happened over a period of eight weeks, and Jalil was installed into the fraternity the weekend before second-semester classes began. Two days later, he died.
Kam Rokon said his brother was outgoing, made friends easily and loved music. He taught himself to play guitar and piano, and there are videos of him singing on the dorm floor.
He did not suffer from depression, they said, and everything seemed normal.
The Rokons said they are also concerned by the lack of support the university offered his friends and people who lived in Abel Hall, and questioned why the windows 11 stories up weren't secured to prevent falls.
But the lack of accountability and adult supervision by the fraternity, the secrecy surrounding the practices reinforced as a part of a "brotherhood," bothers them the most.
"We did not want to file a lawsuit, but the lack of accountability ... left us no choice,'' Kam Rokon said.
LATEST MISSING PERSONS CASES