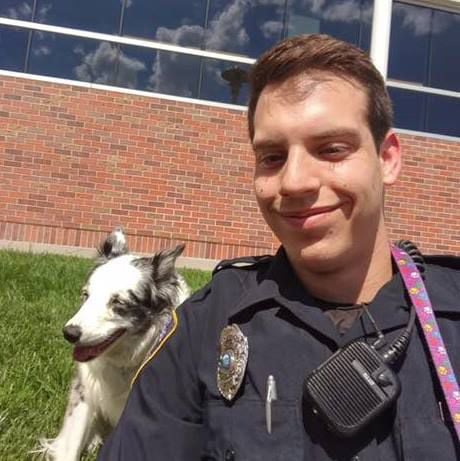 A jury Tuesday afternoon found a former Lincoln police officer guilty of buying alcohol for his then-19-year-old girlfriend at a police Christmas party.
Scott Bierle, 26, denied it, maintaining that he may have paid for the Mike's Hard Lemonade and a shot that his ex-girlfriend drank that night — because he had an open tab — but he didn't intend for her to drink it.
Deputy Lancaster County Attorney Jason Cooper called his actions "brazenly irresponsible."
"Scott Bierle was supposed to be the adult in that relationship," he told the jury. "But Scott Bierle couldn't say no to a 19-year-old girl in a room full of police officers."
Bierle resigned Jan. 29, three weeks after Lancaster County sheriff's investigators cited him with the misdemeanor. He had been an LPD officer for four years.
According to trial testimony, it happened Dec. 16, the night of the third-shift Center Team Christmas party. A group of about 15 officers went to a downtown brewery, a comedy show, then ended up at McKinney's Pub.
Bierle was there with his girlfriend, who was part of the department's Explorer Post for 14- to 20-year-olds interested in a career in law enforcement. Ironically, Cooper said, she would go on stings with officers, testing if businesses would sell her alcohol or cigarettes despite being under age.
On Dec. 16, she sat with Bierle amid a group of officers and their wives and sipped from a Mike's Hard Lemonade that he appeared to have handed to her, according to a black-and-white video played for the jury.
Cooper alleged that Bierle bought her a shot that night, too.
You have free articles remaining.
Defense attorney Bob Creager told the jury there may be evidence that Bierle had the drinks on his tab, but he questioned whether that proved he was guilty of procuring.
Creager said there was a question of who was taking advantage of whom that night. Was Bierle supplying an unwitting minor with alcohol, he asked? Or was the minor "taking unfair advantage of the circumstances" where Bierle was buying alcohol and she took it from him?
"How did she get it? Did he leave it on the table and she drank it? Maybe," Creager said.
The young woman, who already has completed diversion for minor in possession, testified under an immunity agreement with prosecutors.
She said at the Comedy Loft she noticed they weren't checking IDs and asked Bierle if she could get a drink and he said no. But she asked again at McKinney's.
"He wasn't really into it, but I kept pushing so he gave in," she said.
"Did you ask him to buy you a drink?" Cooper asked her.
"Yeah," she said, adding that she drank it as she sat 6 inches from him.
In the end, the jury of four women and two men found Bierle guilty.
Lancaster County Judge Matt Acton set his sentencing in October, when he'll face up to a year in jail and a $1,000 fine.