Drunk-driving charges in Lancaster County dropped by close to one-third between 2012 and 2016, according to a new study.
Total DUI cases fell from 1,880 misdemeanor and felony offenses in 2012 to 1,346 two years ago, the study by Omaha-based Soval Solutions found.
Data analyst Mitch Herian examined DUI court records at the request of the Lancaster County Community Corrections officials, who are re-evaluating programming offered to convicted drunk drivers, he said.
What's behind the drop is uncertain, but Herian and several public safety officials in the Lincoln area believe it might point to the popularity of ride-hailing services such as Uber and Lyft as well as effective public policy, enforcement and education.
"It may (have) taken a long time, but I think we're finally feeling that positive impact" of the "You Drink and Drive. You Lose" campaign, said Lincoln Police Chief Jeff Bliemeister.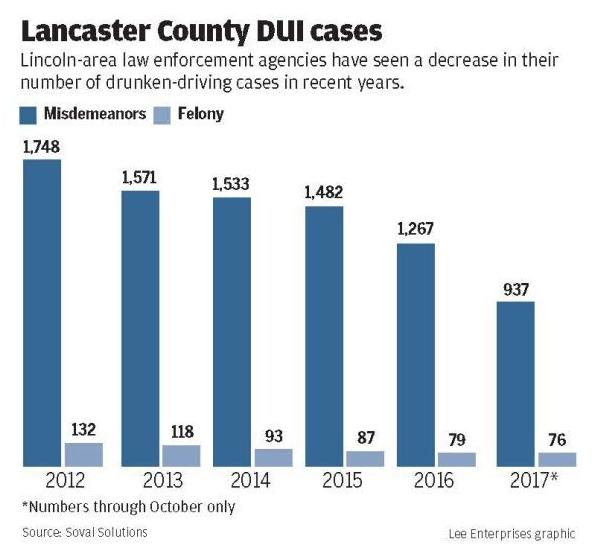 That campaign, which is used by his department and other law enforcement agencies, couples extra patrols and drunk-driving checkpoints with education efforts.
His department's internal research into DUI offenses conducted prior to the passage of Lincoln's ride-sharing ordinances followed the same downward trend, he said.
It's possible some of the decrease is the result of the ever-increasing workload for police, who have become increasingly busy handling other calls for service, such as mental health investigations, Bliemeister said.
Drunk-driving stops are a high priority in traffic enforcement, he said, but the stops take time to complete.
His officers continue to see young adults in Lincoln relying on services such as Uber and Lyft to get home from downtown after bar close, he said.
"It's cheaper than a DUI, for sure, to just get a ride at the end of the night," Herian said.
Have you used a ride-sharing service such as Uber or Lyft after drinking alcohol?
Public safety officials in Lincoln believe the rise in popularity of ride-sharing services like Uber and Lyft have contributed to a decline in DUI cases.
You voted:
The embarrassment of being caught driving drunk might also be a factor, the researcher said: "People don't want the stigma of a DUI on their record."
Andrea Frazier of Mothers Against Drunk Driving Nebraska called the numbers encouraging and said they align with what the organization has seen elsewhere in the state.
MADD applauds ride-hailing services, but organization officials in Nebraska continue to be concerned with a higher trend of deaths in alcohol-related crashes statewide, she said.
Alcohol-related crashes and alcohol-related crash deaths have been up since hitting a low point in 2011, according to the Nebraska Office of Highway Safety.
Herian's study didn't examine crash data, but it did examine how many alleged drunk drivers were cited more than once between 2012 and 2017.
One in 10 people charged with a DUI in the Lancaster County study was charged with drunk driving again, Herian found.
That's much lower than the one-in-three re-offense rate Mothers Against Drunk Driving Nebraska found in its statewide study, Frazier said.
Overall, MADD officials are pleased most people arrested for drunk driving are prosecuted in Lincoln, said Frazier, the organization's program coordinator.
But declines in charges and the lower recidivism rate don't necessarily translate to fewer drunk drivers on the road, Frazier cautioned.
The national organization, which advocates for tougher DUI laws, found in a study that an average person drives impaired 89 times before being arrested for their first DUI offense, she said.
Bliemeister hopes the downward trend in DUI cases continues, and that it coincides with fewer injury crashes involving alcohol, he said.
Adults who plan to drink just need to plan ahead, Frazier said. If they don't pay for a ride, people should designate a sober driver before they go out.
"It's a 100 percent preventable crime," she said.