Investigators do not suspect impaired driving factored into the crash that killed a Cornhusker Marching Band member Friday night, a Lincoln police spokeswoman said Monday.
Officer Angela Sands said a drug-recognition expert concluded Waltrivelish Watson was not impaired when his Dodge Charger hit a Toyota Corolla at Nebraska 2 and Arapahoe Street at about 10:30 p.m.
Tyler Butterfield, a 20-year-old from Norfolk riding in the Corolla, died of his injuries at the scene, a police report said. Five others suffered non-life-threatening injuries in the crash.
A police diagram shows the Corolla, driven by Jenna McCoy of Hickman, had pulled out of a parking lot on the west side of the intersection and went right to avoid the median in an attempt to turn left onto northbound Nebraska 2. Watson said it happened too fast for him to avoid crashing into the Corolla.
[Police diagram of 10th and Arapahoe crash]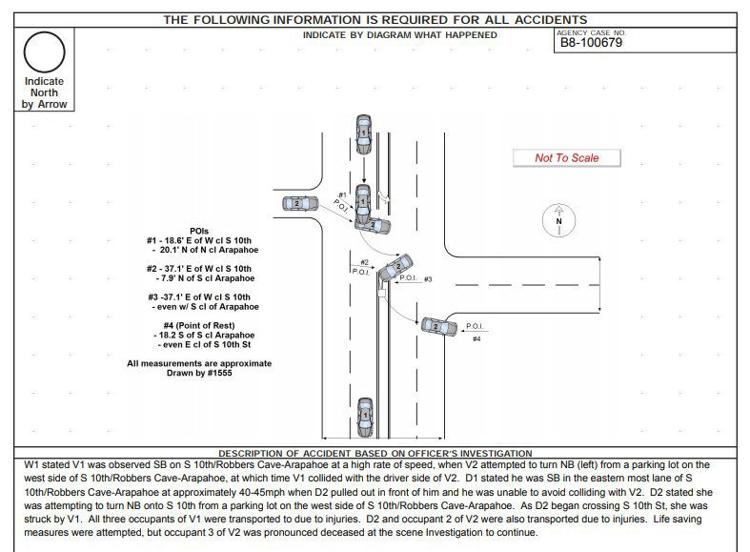 You have free articles remaining.
A witness said the Charger was traveling at a high rate of speed, but Watson estimated his speed at 40 to 45 mph in the 40 mph zone, police wrote in the report.
Citations are pending further investigation, Sands said. 
Some members of the band had performed at nearby Blue Blood Brewing Co. earlier in the evening as part of a regular event before all Nebraska football home games.
Nebraska football coach Scott Frost said Monday that the team and coaches have "heavy hearts" following the deaths of Butterfield and Jack Osborne, the younger brother of legendary coach Tom Osborne. Jack Osborne was killed in a crash near Hastings over the weekend.
"(You) never want to see anybody go before their time, and our hearts and thoughts and prayers are with both of those families," Frost told reporters during the weekly Husker athletics news conference.
[Watch: Scott Frost addresses Butterfield, Osborne deaths and previous game with Ohio State]