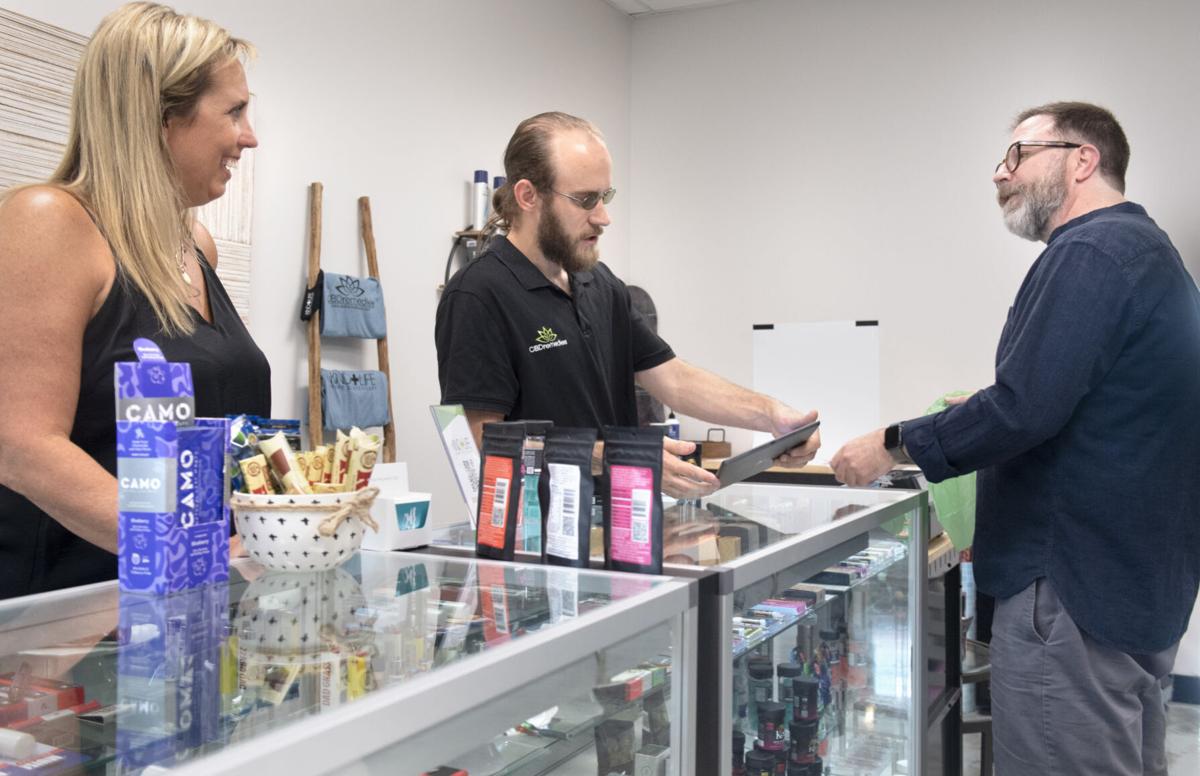 Before the novel coronavirus threw the world into a pandemic, Mike Bratty experienced a health crisis of his own.
Bratty, 49, was diagnosed with epilepsy in February 2020 — it was Leap Day, he remembers — after his wife found him on the floor following a debilitating grand mal seizure.
The small-business owner from Lincoln was put on a series of strong anti-convulsants, but the drugs affected his mood and focal seizures continued — sometimes as many as 15 a month, he said.
"It was kind of a roller coaster ride with me and the neurologist trying to find medications that were stopping my seizures," Bratty said.
Eventually, Bratty turned to gummies infused with cannabidiol, or CBD, he ordered online. CBD is an oil primarily derived from hemp — a cousin to marijuana — that is often used to address pain, anxiety, depression and insomnia.
But the product he ordered didn't seem to work for Bratty.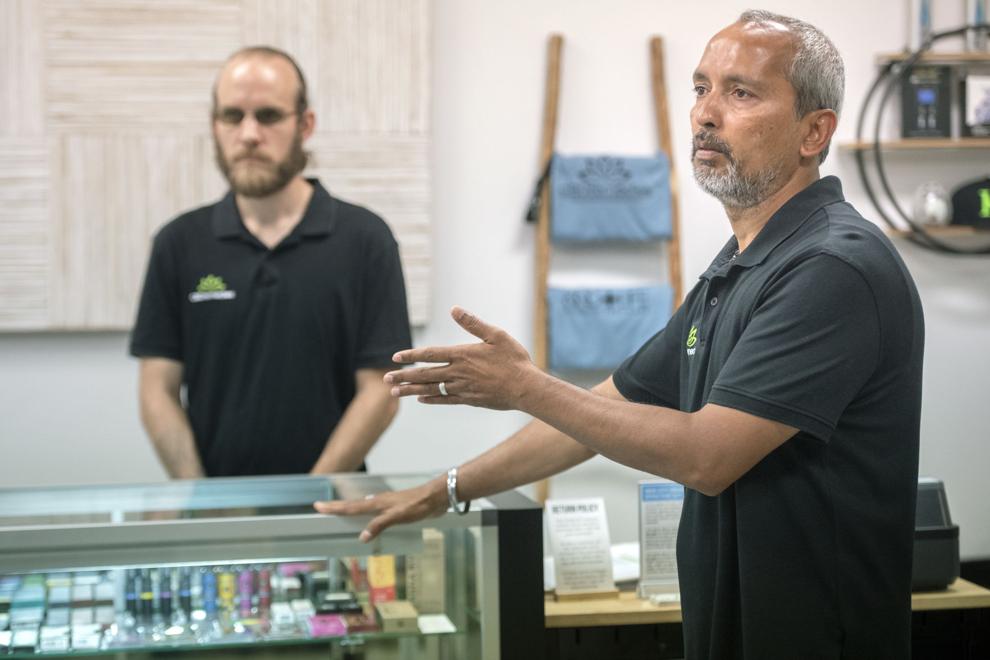 So, about eight months ago, he walked into CBD Remedies' location at 48th Street and Normal Boulevard, where he tried a wholly new product sold through the store's in-store hemp dispensary: Delta-8 tetrahydrocannabinol — THC for short — a federally legal hemp-derived cannabinoid that mimics the psychoactive properties of its cousin Delta-9 THC, found in marijuana, but not to the same extent. Like CBD, it's marketed as a treatment for pain, anxiety and other ailments.
"The Delta 8 seems to kind of relax my mood, which is really important as far as seizures are concerned," said Bratty, who hasn't had a seizure in six months. He credits the Delta 8 gummies he takes alongside only one anti-convulsant now and a stint at the University of Nebraska Medical Center for the remarkable change in his health.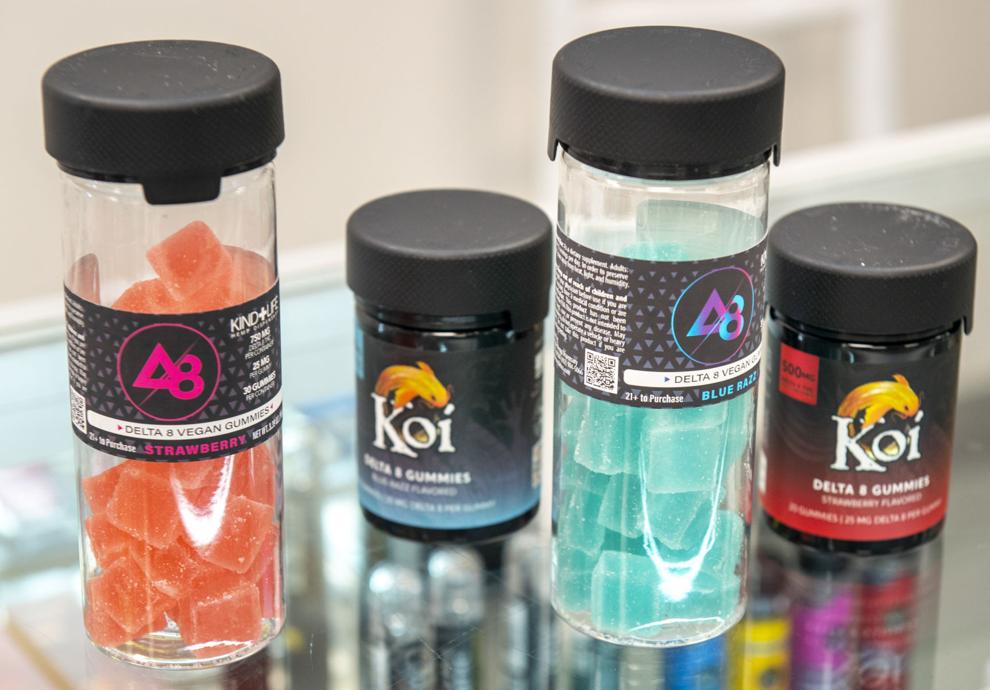 "It's a world of difference between that product (Delta 8) and just CBD."
Delta-8 THC, which some have colloquially dubbed "weed light," is becoming more readily available in Lincoln at smoke shops and specialty CBD stores — like CBD Remedies — following a provision in the 2018 Farm Bill that legalized the regulated production of hemp. The federal law requires that the plant contain no more than 0.3% of Delta-9 THC, but no limits were placed on the hundreds of other cannabinoids present in hemp, including Delta 8, essentially creating a loophole for businesses to sell it.
The Nebraska Hemp Farming Act, which came into effect in 2019, also paved the way for the market, eliminating hemp that tests below the federal THC limits from its list of controlled substances.
Delta 9 and its chemical isomer, Delta 8, work on receptors in the brain in a similar way, said Amanda McKinney, associate dean of health sciences at Doane University. Delta 8, however, does not latch on as strongly to the brain's receptors, owing to a difference in the compounds' molecular structure.
"This is why it resembles the effect of Delta 9, but not to the same degree," McKinney said.
Andrea Holmes, who heads up Doane's cannabis studies program, works alongside McKinney to provide consultations to businesses that sell CBD and Delta 8, including CBD Remedies. She said Delta 8 is an important medicinal tool in a state where Delta-9 THC remains illegal.
"People come in here with pain, debilitating pain, and sleep problems and they're looking for solutions, and they're looking for botanical solutions," Holmes said.
Over a dozen states have banned Delta 8 altogether, while others, such as Michigan, have regulated it alongside Delta 9. And in some states where legal marijuana is already a reality, some cannabis dispensaries have raised alarms about an emerging market that is cutting into their pocketbooks.
The United States Cannabis Council, which advocates for cannabis legalization, says tests it conducted on Delta 8 products still contained illicit amounts of Delta 9, as well as pesticides and toxic metals. Such an unregulated market could lead to another vape crisis, the group claims.
Shiva Kumar, co-owner of CBD Remedies, says his Delta 8 products — which come in forms like gummies, chocolates, vape cartridges and smokable hemp flowers — are thoroughly vetted and backed by third-party testing. He also consults with Holmes, who has a Ph.D in organic chemistry, and McKinney, who is a medical doctor, to find reputable brands. Employees are also educated about the products.
In short, Kumar says his business is about education, science and self-regulation. Customers, for example, must be at least 21 to purchase products, and Holmes and McKinney act as consultants for those with concerns or questions.
"It's more of a consultant approach, which means we don't let every customer walk in like, 'Hey, I have a lot of pain in my body,' and we go 'Oh, yeah, here's Delta 8.' We don't go that route," Kumar said. "We are trying to help the customers understand everything about Delta 8, how it should be used, when it should be used and what are the dosage requirements."
A lot of other plant-based products sold in supermarkets and drug stores are unregulated, like some vitamins and supplements, Holmes said, but they don't draw concern. Delta 8 is the same, she argues. And when combined with CBD, some of the psychoactive effects of THC can often be negated, McKinney added.
"Yes, it does have the three-letter cuss word of THC in there ... but it is very bioactive and a very effective cannabinoid that can help with the control of pain management," Holmes said. 
Just last month, 50 Shades of Green, an Omaha-based dispensary that sells CBD and Delta-8 products, opened up shop on the southeast corner of O Street and Antelope Valley Parkway. A weed leaf dominates its flashy sign, the building outfitted with green lights.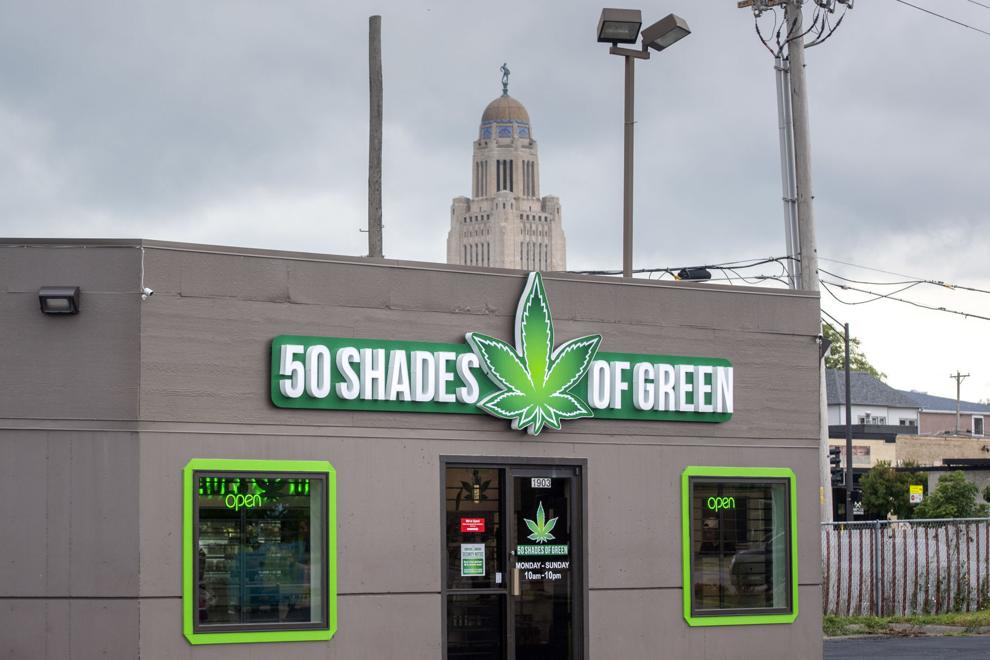 For all intents and purposes, it looks like any dispensary you might find in, say, Colorado, except for the THC isomer it sells.
A company spokesperson said its products, like Delta 8 gummies, are in accordance with state law and have been tested by outside labs.
"The public response has been amazing since we opened in Lincoln," the spokesperson said. "I think that speaks for itself."
Other stores in Lincoln, such as Cloud 9 Smoke Shop and Generation V, also sell Delta 8. Employees from multiple gas stations in Lincoln told the Journal Star they sell CBD, but not Delta 8.
The legality of this burgeoning market, however, remains a gray area. Delta 8 is still included on the federal Drug Enforcement Agency's list of controlled substances, for one.
And before CBD became a ubiquitous gas station and grocery store product in Nebraska, state Attorney General Doug Peterson issued a pair of memos insisting the oil remained illegal to possess, manufacture, distribute or dispense.
When asked about the legality of Delta 8, a spokesperson said the Attorney General's Office had no further comment.
A Lincoln Police Department spokesperson confirmed the compound is indeed legal and police planned to address the issue at a Friday morning news conference.
"It really depends on who you talk to whether it's considered legal or not," Holmes said.
CBD Remedies' Kumar would like to see Nebraska follow the same formula as Michigan in regulating both Delta 8 and Delta 9 at the same time.
But for now, Delta 8 is the only isomer legally available to his clientele, many of whom are over 50. He said COVID-19 led to a big surge in customers willing to explore alternate options to medicine, and the store even opened a drive-thru during the pandemic.
To take that product away from people like Mike Bratty would be the real criminal act, Kumar says.
"The fun part is seeing the impact we make on people's lives," he said.
Andrew Wegley contributed to this report.