UNL Chancellor Ronnie Green announced the move to temporarily suspend the fraternity — its members commonly known as Fijis — at around 3:30 p.m. Wednesday, about 36 hours after a sexual assault was reported to have happened at the fraternity house directly across R Street from the Nebraska Union. 
Green said an investigation into the sexual assault reported by a UNL student continues. 
But the university's swift move did little to quell the demonstrators, who showed up en masse at 10 p.m. on Wednesday, marching in a loop through parts of the downtown Lincoln campus.
They ultimately returned to the fraternity house at 1425 R St., where organizer Dominique Liu-Sang called on Green to attend a third planned gathering on Thursday night. Demonstrators vowed to protest nightly until UNL administrators take further action against the fraternity and the accused student. 
"We will come out every night until they move the letters — letter for letter — off this house," Liu-Sang said into a microphone, calling for the accused to be expelled from the NU system and charged with first-degree sexual assault. "It's not enough that they suspended them." 
A Change.org petition calling on UNL officials to "BAN FIJI FOREVER" that emerged Tuesday night garnered more than 148,000 signatures by 2 a.m. on Thursday. 
Requests for comment Wednesday were directed to the university's communications office.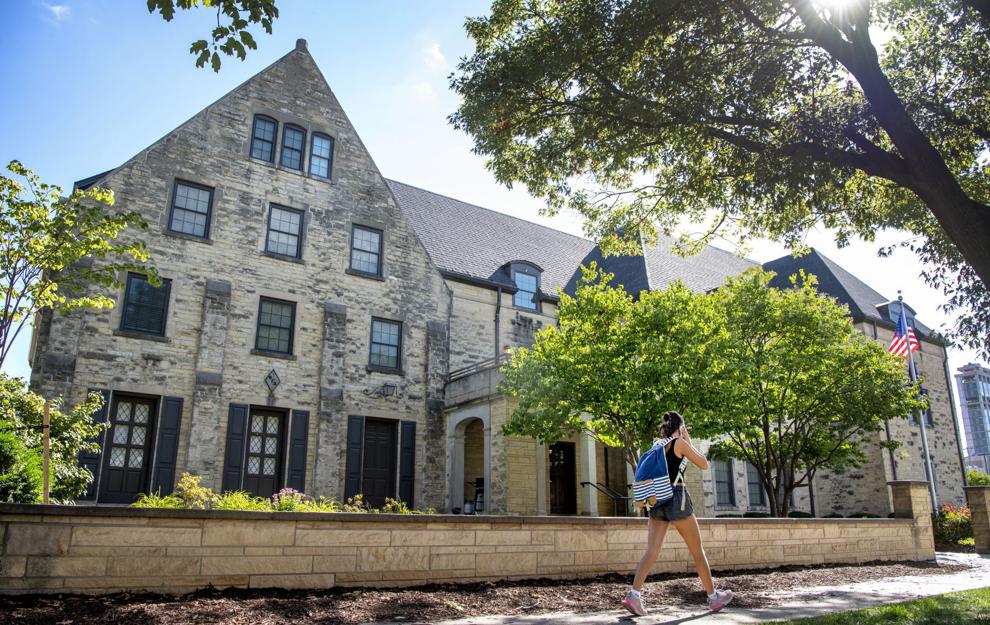 Before the fraternity was suspended on Tuesday, it was on probation for previous violations of university policy, Green said in his announcement. Both the local chapter and national Phi Gamma Delta organization released statements vowing cooperation and condemning sexual violence.
But those sentiments seemed to ring hollow for protesters on Wednesday, who jeered after organizers sought out current Fiji members in the crowd. 
When those in the crowd of more than 1,000 students indicated that there were Fiji members in attendance, none stepped forward to speak, prompting the crowed to again chant "shut it down."
A march headlined Wednesday's demonstration, as those in the large crowd mobilized in a line that stretched longer than 200 yards. Protesters first headed east on R Street from the fraternity house, turned north onto 16th Street, then down Vine Street to 19th. Participants stopped briefly near the Beadle Business Center and University Health Center, where organizers spoke into a bullhorn. 
"No more rapists in our faces," the crowd chanted.
University police officers in cruisers accompanied the crowd, flashing lights to ensure traffic didn't approach the demonstrators. 
From the Beadle Center, the march continued south down 19th Street and back down R Street, where the crowd gathered again in front of the Fiji house.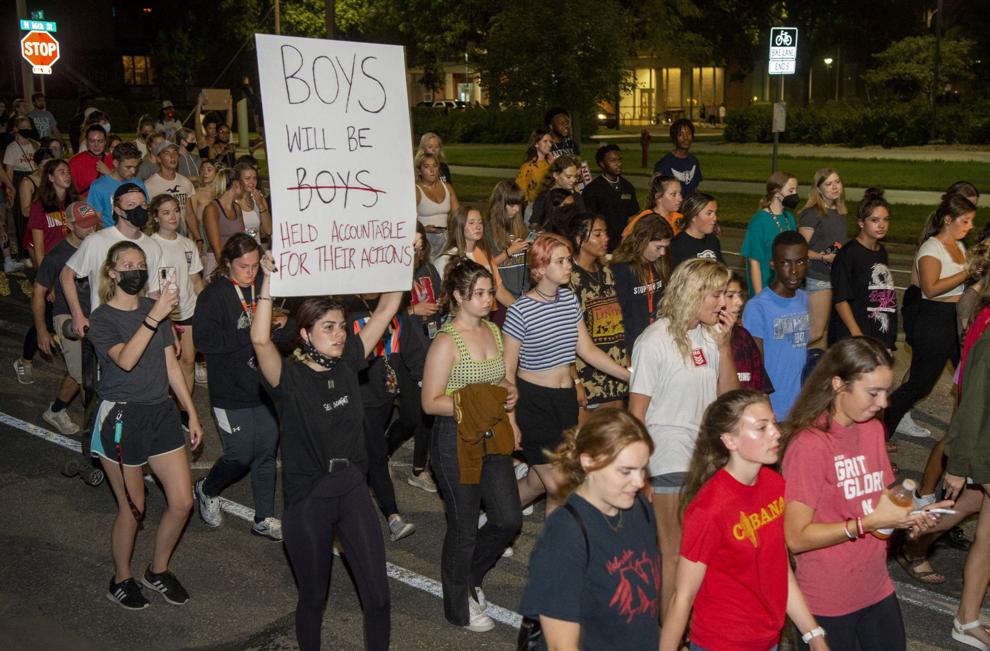 Lincoln Fire and Rescue crews treated and transported two demonstrators to local hospitals, both of whom suffered from ailments brought on by heat, organizers said.
The temperature at the Lincoln Airport at midnight was a muggy 80 degrees.
The alleged assault that prompted the protests was the 103rd rape reported to UNL Police since 2005 — and the 78th such incident reported since 2015, according to data reviewed by the Journal Star. Another rape was reported eight hours after the alleged assault at the Fiji house. 
The actual number of attempted rapes on UNL's campus is likely much higher, according to Marcee Metzger, the executive director of the local victim advocacy organization Voices of Hope. 
In the hours before the second night of protests, Metzger told the Journal Star that most sexual assaults aren't ever reported to campus police, not just at UNL, but at colleges across the country. She said demonstrations like the ongoing gatherings outside of the Fiji house can help prompt sexual assault survivors to make belated reports. 
"I think it's really important that there's accountability," Metzger said in a phone interview. "Voices of Hope stands in solidarity with the survivors of sexual violence who are experiencing this, but also those protesters who are out there saying, 'Please pay attention to this.'"
One speaker at Wednesday's rally shared his story as a sexual assault survivor. Luke Tillery, a UNL freshman, said he skipped the Tuesday night rally at the urging of his parents but felt compelled to attend on Wednesday, briefly sharing his story with the crowd. 
"This is actually the first time I'm really telling anyone about it," he said, as the crowd enveloped him in a roar of applause and later chanting, "We support you." 
Tillery spoke from near the fraternity's front lawn, which was littered with discarded water bottles and protest signs. 
Law enforcement redirected demonstrators who trespassed onto the lawn, protecting a now-empty house. Protesters hope it stays empty. 
"This means war at the end of the day," Liu-Sang said. "Because we will not continue to let these rapists walk on our campus."