A Journal Star analysis of police records from Jan. 1-April 30 revealed how reports of crime in Lincoln relate to the weather. Hover over the points on the graph to see day-by-day details.
When the snowflakes start coming down and Lincoln's roads get icy, crime takes a snow day.
A Journal Star analysis of police records from Jan. 1-April 30 revealed how reports of crime in Lincoln relate to the weather.
As daily temperatures fell in January when a polar vortex moved through the region and began to rise around the beginning of March, the crime rate followed suit, according to daily calls for service data collected from the Lincoln Police Department.
The analysis recorded cases involving alcohol/DUI, theft/larceny, assault, drugs, vandalism, burglary, robbery, prostitution, extortion, weapons, pornography and one case of indecent exposure.
On average, police received 51 reports of crime per day during the first four months of the year. In the first two months especially, relatively warm days consistently resulted in more reports of crime, while cold days or days with heavy snow resulted in far fewer reports.
The phenomenon was perhaps most clear between Jan. 28 and Feb. 5. A quick rise in temperature following a week that was defined by bitter cold resulted in 71 reports of crime on Feb. 3. When temperatures dropped again two days later, reports of crime dipped back down to 38.
It wasn't always just temperature that had an impact on the crime rate, though. On Feb. 24, the day after a blizzard dumped 8 inches of snow on the city, all was quiet with just 32 reports of crime.
You have free articles remaining.
In other cases, the weather had essentially no impact. Police activity in the early morning hours of March 18, the day after St. Patrick's Day, led to the highest volume of reports of crime (82) during the four-month period.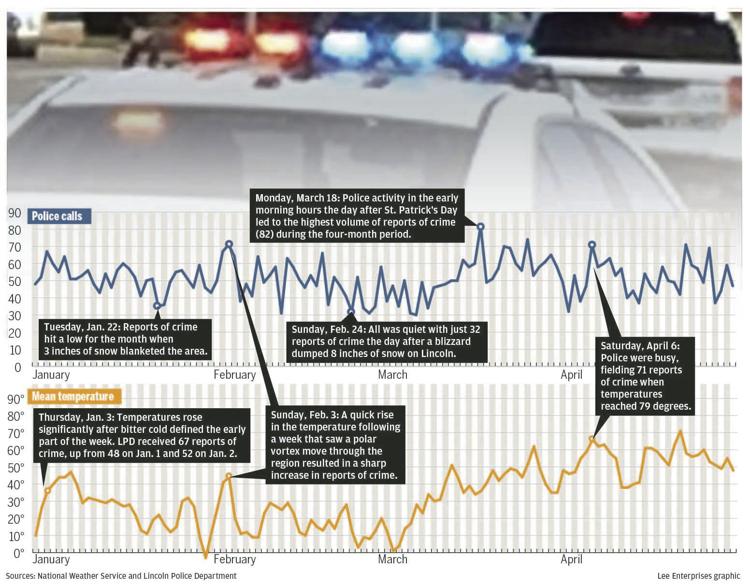 Officer Angela Sands said LPD doesn't take temperature specifically into account when planning street strength numbers for patrols, though she said the department is aware of the trend.
"The type of job we do is very unpredictable, so it's very hard to plan for the unexpected," she said. "Our crime analysis has data going back to the '80s. They use a lot data so we can know what crime trends to expect."
When planning patrols, Sands said LPD officers use detailed information gathered from a series of comprehensive crime analysis reports done by the department. All the data collected from those reports allow officers to formulate patrols with the most efficient street strength levels, according to Sands.
But as the temperatures get warmer and summer approaches, people are eager to get out of the house, which contributes to a higher crime rate than in January or February, according to Sands.
"As far as temperature, calls for service do go up in the summer," she said. "The reasons why really vary. It's warmer so people are outside. Schools are out so kids are out for the summer and college kids are out."
Daily calls for service don't just include crime, though. And the total call volume LPD receives on a given day doesn't normally follow the same temperature trend as reports of crime, according to Sands.
When the winter weather sets in, crime rates generally go down as people stay indoors, but LPD and Lincoln Fire & Rescue are more likely to respond to accidents and other weather-related incidents.
"On days where maybe there is ice and snowfall, maybe there's schools shut down and we'll see an increase in traffic accidents," she said. "Crime calls go down, but hazard calls go up instead. We might be just as busy as usual, but with a different type of call."