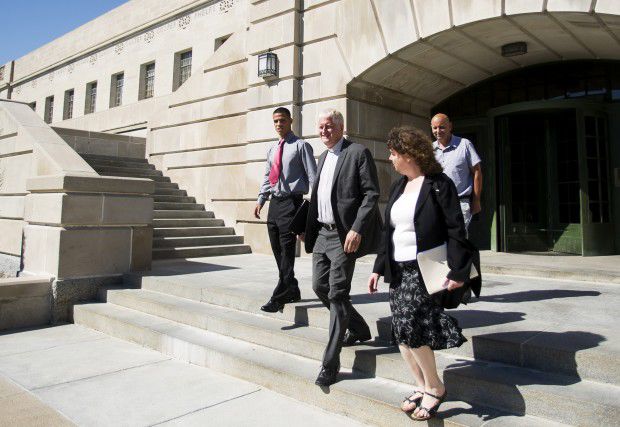 The Nebraska Supreme Court on Friday upheld a Lincoln judge's ruling in favor of three same-sex couples who said a state policy prevented them from adopting foster kids because of their sexual orientation.
The Attorney General's office contended the matter was moot because Memo 1-95, despite being online until February 2015, hadn't been in effect for at least a year before the American Civil Liberties Union of Nebraska filed the lawsuit in 2013. And it contended that the couples lacked standing because they hadn't been denied a foster home license.
Attorneys for Greg and Stillman Stewart, Lisa Blakey and Janet Rodriguez, and Todd Vesley and Joel Busch, said two of the plaintiffs did in fact seek licenses and got letters from the Nebraska Department of Health and Human Services saying they were categorically banned from applying.
Two others called HHS and were told the same by phone, they said.
The license is necessary for anyone who wants to adopt a foster child in Nebraska.
The three couples sued, saying the state was treating them differently in violation of their constitutional rights.
And in September 2015, Lancaster County District Judge John Colborn rescinded the terms of the memo and enjoined the state from enforcing it.
The state appealed, in an apparent effort to avoid attorney fees.
Before the appeal, attorney fees already had added up to just more than $145,000 (the bulk of it going to Sullivan & Cromwell LLC, a New York law firm).
In an opinion Friday, the state's highest court agreed with the district court that the controversy was neither hypothetical nor speculative just because the couples hadn't yet been denied placement of state wards in their homes.
You have free articles remaining.
"The plaintiffs were faced with the unavoidable inability to be treated on equal footing if they wished to pursue being foster parents, and the district court's order effected an immediate resolution of that imminent and serious harm," Justice John Wright wrote.
He said while the state argued that the 1995 memorandum no longer represented official policy of the Nebraska Department of Health and Human Services, the fact that it stayed on the website affirmed a representation to the public that it was the current policy.
Wright said Thomas Pristow, then-director of the Division of Children and Family Services, intentionally avoided formally rescinding the memo and, in fact, avoided creating anything in writing disavowing it.
He said the memo was a published statement that "heterosexuals only" need apply to be foster parents, legally indistinguishable from a sign that says "whites only" on a hiring-office door.
"Memo 1-95 was deliberately maintained on the website in order to give the public the impression that it represented official DHHS policy. The defendants cannot now complain that the plaintiffs believed it so, were deterred by the discriminatory exclusion set forth so clearly therein, and brought this action to challenge it." he wrote.
As for its eleventh-hour removal from the website, which came in February 2015, Wright said a defendant couldn't automatically moot a case simply by ending its unlawful conduct once sued.
And the court affirmed the district court's judgment and award of attorney fees and costs.
ACLU of Nebraska Executive Director Danielle Conrad called it a victory for children in Nebraska and for LGBT Nebraskans.
"Today in Nebraska love wins!" she said in a news release.
Conrad said since the lower court ruling striking down the state's ban on gay and lesbian foster parents, Vesley and Busch have opened their hearts and homes to several children in need.
"There are tens of thousands of LGBT people who call the Cornhusker State home and thousands of Nebraska children in need of a foster care placement. This victory means that Nebraska's motto of 'Equality before the Law' rings out more truly for all in our state," she said.
In an email Friday afternoon, Suzanne Gage, a spokesman for the Attorney General's office, said: "There were legitimate jurisdictional questions that needed to be considered by the Court. The court has ruled."