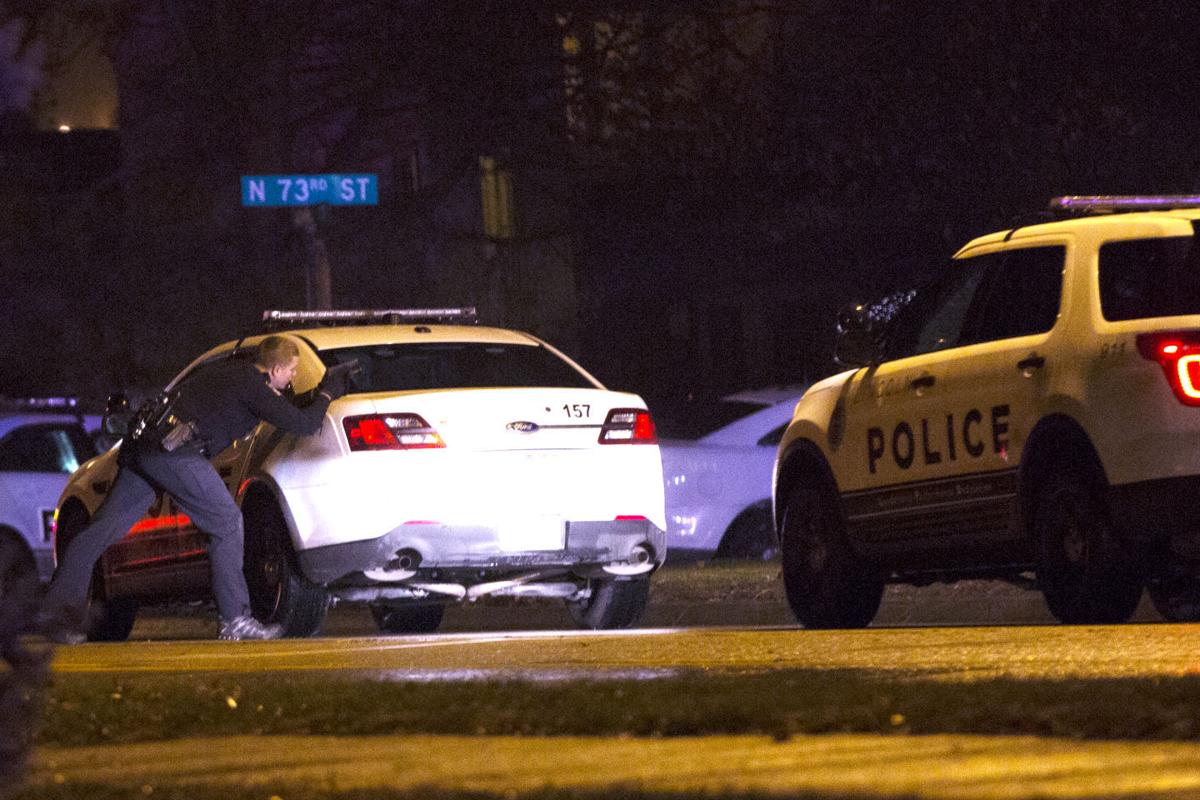 Police Chief Jim Peschong said 11 shots were fired in a Sunday night struggle that left a suspect dead outside a northeast Lincoln home.
Lincoln police officers fired eight times, he said Wednesday, and Zachary Grigsby fired three shots.
Grigsby, 29, of Central City, was hit in the chest, back, head and hand, the chief said. He died at the scene.
Peschong wouldn't say which officers fired their weapons, saying he doesn't want to taint a grand jury pool. A grand jury is required by state law whenever someone dies in custody or while being apprehended.
"And in the grand scope of things, I'm not sure it really matters what officer fired how many shots," the chief said.
Officer Matthew Gilleland was shot, and Officer Angela Morehouse was punched during a struggle with Grigsby. She was released from the hospital Monday, Gilleland on Tuesday.
"I don't know how we survived this without having two officers ending up being killed," Peschong said Wednesday. "Only by the grace of God."
He said he still doesn't know why Grigsby was sitting in a car outside of 2931 N. 73rd St. Sunday evening.
Sgt. Bradley Junker went to the address to investigate a report of suspicious activity and approached Grigsby in the driveway, Peschong said.
You have free articles remaining.
Junker thought the car had stolen plates and planned to cite Grigsby for possession of stolen property when a routine check revealed he was wanted on felony warrants out of Merrick County, Peschong said.
As Gilleland and Morehouse arrived to provide back-up, Junker tried to take Grigsby to the squad car, but Grigsby said he wasn't going to jail.
At some point during the struggle that followed, Grigsby put Morehouse in a headlock and punched her, ultimately pulling a .380-caliber automatic handgun he was carrying, the chief said.
He fired, Peschong said, and hit Gilleland in the right arm.
Two officers shot back, hitting Grigsby three or four times and killing him, Peschong said.
Peschong said he's not aware any dashboard camera video captured the incident.
Neighbors told investigators they heard gunshots, and people inside the house at 2931 N. 73rd St. reported seeing bits and pieces of the event but didn't see the physical fight, Peschong said.
All three officers remain on administrative leave pending an internal investigation, which the chief said he expects could take a few more days. They could return to regular duty if they are cleared in the internal investigation.
Gilleland, 23, joined the department in June 2014; Morehouse, 34, in February 2012. Junker, 40, who wasn't injured, joined the force in December 2005.
All three are members of the department's Northeast Team.
LPD will investigate whether a crime was committed during the shooting, then turn the matter over to the Lancaster County Attorney's Office before the case is presented to a grand jury.
Staff writer Michael Shoro contributed to this report.