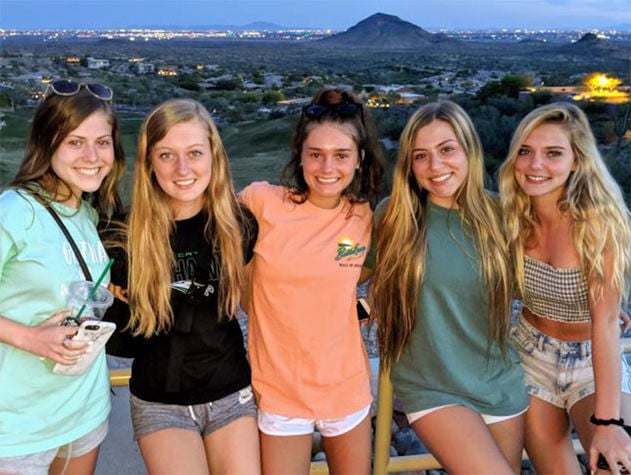 A community that lent its support to the grieving families of four Gretna teenagers killed in a drunk-driving crash in June has clammed up as Sarpy County investigators search for who supplied the girls with alcohol. 
Chief Deputy Sarpy County Sheriff Greg London on Wednesday announced a $7,500 Crime Stoppers reward for information leading to an arrest.
On June 17, 16-year-old driver Abigail Barth, 15-year-old Alexandria Minardi and Kloe Odermatt and Addisyn Pfeifer, both 16, were killed when their car left the road, hit a guardrail and burst into flames.
Roan Brandon, 15, survived the crash. All but Pfeifer had alcohol in their systems, and Barth's blood-alcohol content, measuring .09%, exceeded the legal limit to drive, according to law enforcement.
Brandon has retained an attorney and has not been interviewed by investigators, London said.
Authorities have talked to 20 to 30 people thus far, but none of those interviews has generated information pinpointing who gave the girls alcohol that night. 
Investigators want to talk with two minors, identified as persons of interest, who are believed to know where the alcohol came from, according to the sheriff's office.
"Someone out there knows what's going on," London said, adding there's a "moral obligation" to tell law enforcement who gave them alcohol. 
Surveillance video at Gretna High School showed the girls' car in the parking lot for most of the evening prior to the crash, and investigators believe they left there headed to sleep over at one of the girls' homes, Capt. Kevin Griger said.
Griger said they ruled out that the girls were at a party that night, as some had told deputies.
As deputies have tried to interview other friends and acquaintances of the girls, parents have declined to allow their children to talk to investigators, sheriff's officials said.
Alcohol, along with speed, were considered factors in the crash.
Moments before the crash, the car was traveling 90 mph in a 55 mph stretch of Platteview Road, according to the sheriff's office.
The car struck the end of a guardrail and ended up in a ravine near a creek just west of 180th Street, about 3 miles east of Nebraska Crossing Outlets.
Bob Batt, a retired vice president of Nebraska Furniture Mart and former Nebraska Liquor Control Commissioner, donated $5,000 for a reward in the case, London said. 
Crimestoppers of Sarpy County has also put forward $2,500, and investigators encourage anyone with information to call 402-592-7867, where they can make an anonymous report.
Calling this the biggest case the sheriff's office has worked in a long time, London said his investigators wouldn't drop the case because of the girls' tragic deaths.
"No, we can't let it be," London said. "This is a terrible situation, (and) we just don't want it to happen again."
Sign up for our Crime & Courts newsletter
Get the latest in local public safety news with this weekly email.