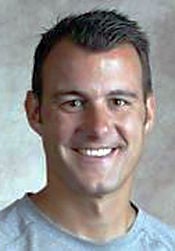 Iowa's Cass County Attorney has filed charges against the driver of a car that killed Husker assistant soccer coach Peter Underwood in May.
Paul William Marshall, 49, of Modale, Iowa, faces a charge of unintentional vehicular homicide while driving intoxicated, according to documents from the Cass County Attorney.
He drove onto Interstate 80 via an off ramp and was westbound in the eastbound lanes when he collided with Underwood's vehicle just after 7 a.m. on May 16, according to the Iowa State Patrol. Underwood died at the scene.
Marshall was taken to a hospital in Atlantic, then to the University of Nebraska Medical Center in Omaha. He uses a wheelchair now and is in physical therapy, County Attorney David L. Wiederstein said.
Marshall was charged Sunday, he said. Wiederstein declined to say what Marshall's blood-alcohol content was at the time of the accident.
He could face as many as 25 years in prison if he is found guilty.
Underwood was a part of the Huskers' regular-season and conference tournament titles in 2013. The Huskers posted a 19-4-1 mark and advanced to the NCAA Tournament that season.
A native of London, he moved to the U.S. and played one season of varsity soccer at Concord University in West Virginia.