It's late in the third quarter against Purdue — cold and rainy and the Huskers are down 35-21 — but the Railyard is still hopping.
The Huskers force a fourth down, and the crowd erupts, spilling drinks in celebration. But a roughing-the-passer call gives the Boilermakers a first down, and the fans groan in unison, followed by some shoving and hostile arguing.
Lincoln Police Officer Patrick Murphy watches the moment unfold from the balcony above.
This isn't a new experience for the officer, who like many others in Lincoln has worked every home game for the past three years.
Murphy is one of four officers assigned to cover the entire Haymarket district on gamedays, while at the same time responding to nearby calls when fellow officers need assistance. The Purdue game, on Sept. 29, was the first home game for which the city allowed the Railyard entertainment district to spill out from its courtyard onto Canopy Street, with fences keeping drinkers in and cars out.
On any Husker gameday, the volume of alcohol-related calls consumes an exceptional amount of time and attention.
"It's not possible to manage that many people, but not everyone is causing fights in bars," Murphy said. "Getting in trouble on gameday means you are standing out."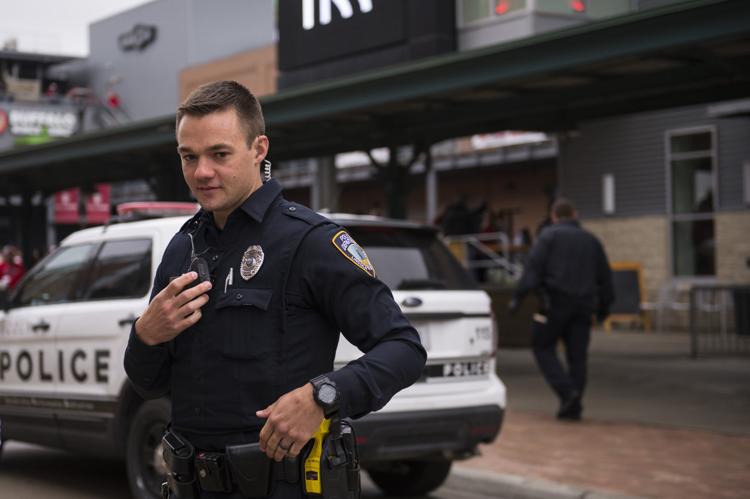 That's the case even with nearly one-third of the police force pulling some kind of gameday duty, with assistance from University police, Lancaster County sheriff's deputies and Nebraska State Patrol troopers.
Lincoln officers aren't allowed to take vacation on individual gamedays. If they need to miss work one of those Saturdays, they're required to use an entire week's worth of paid time off. That's been the department's policy for years and is included in its agreement with the police union, Chief Jeff Bliemeister said.
Murphy knows what to expect from Husker home games. It doesn't change much, even with a losing season.
"You know it is always going to be busy, even until after the bars close."
Officers generally are understanding of people who drink alcohol responsibly, Murphy said. He feels officers are there largely to help and protect people, not arrest them.
"I could sit in the office and do paperwork for my entire shift and I won't make any more money than if I had arrested anyone," Murphy said. "I don't want to take you to detox. If you're walking around and drinking from a can, that's obvious, but I don't want to stop grandma and grandpa drinking from a Solo cup."
The chief said his officers need to set priorities, such as preventing medical emergencies and stopping people who are dangerous to themselves or others.
"Those are the types of individuals that draw our attention, and require some kind of intervention," Bliemeister said.
For others, he said, "it is an awesome experience. We encourage people to come."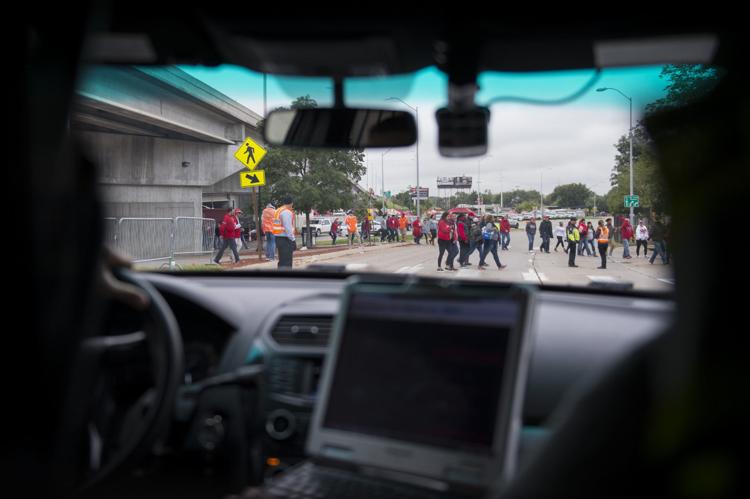 Officer Murphy starts his Purdue gameday shift at 1 p.m., 90 minutes before kickoff. His first call: an incapacitated person at a pregame party at the downtown Embassy Suites. 
The man is already being loaded onto a stretcher when Murphy arrives. 
The officer recognizes the ambulance crew, from Station 3: "I'll see them a couple of times a night, probably five or six times if I had to guess."
Then another familiar sight proves gameday throngs bring more than just problems.
As Murphy leaves the hotel, a young fan with his family shouts "Go Big Red" and gives the officer a high-five.
"Downtown people aren't always the friendliest, but on gameday, people come out with their families and they are nicer," Murphy says. "For the drunks, it depends on the score of the game."
Then he heads for the Railyard, checking his cruiser computer on the way. There are moments on gameday when he can tell that all of the city's on-duty officers are busy with calls.
"The whole entire screen will light up red," he said, pointing out the few remaining officers whose names are green.
He parks at the post office, walks into the Railyard and starts checking IDs.
The crowd noise is near-deafening. "It is rainy, and the weather isn't nice, yet the only way you will hear anything with this crowd at all is through the earpiece," he says.
A young woman without a wristband hands him an Illinois driver's license. He asks for her real one. It shows she's underage.
He tickets her for MIP, one of 12 that police issued that day — a lower-than-average number, according to the chief.
Illinois and Ohio are common states for fake IDs, Murphy says.
It's early in the first quarter by now, and Murphy gets his second call: a vandalism at 12th and Q streets. The game plays on his cruiser radio as he drives.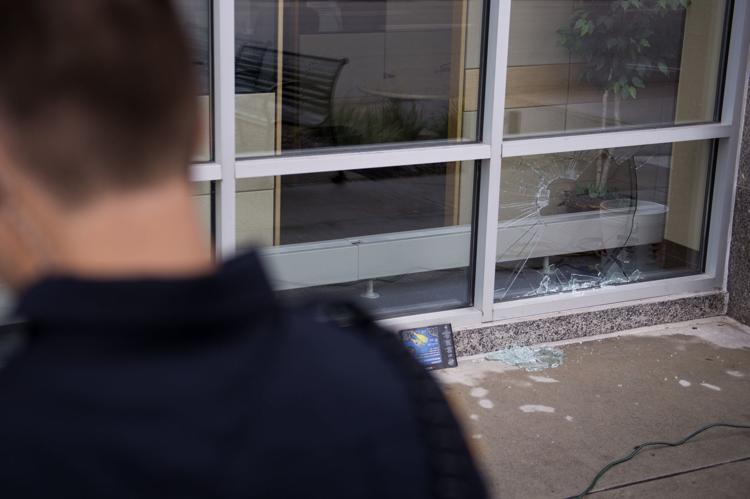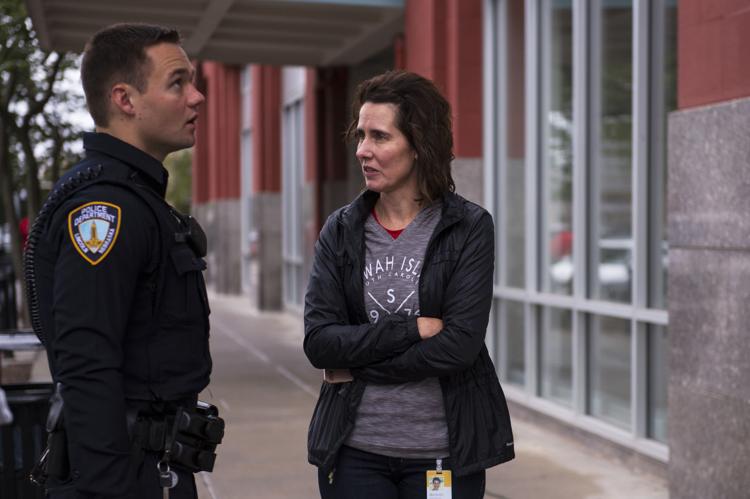 Someone is placing plywood over a broken window at National Research Corp. when he arrives. It doesn't appear to be a break-in attempt, he says: "These things happen, when they weren't trying to break in, but you just throw or kick something."
He drives a bit more, gets another call: a machete-wielding man walking at 10th and L streets at about 2:30 p.m. He's gone by the time Murphy gets there.
On to the second quarter.
Murphy turns his attention to a "tarp party" being held near the North Bottoms, with hundreds of college-aged party-goers, many underage. These parties can get out of hand, he says. The tarps make things easier to clean up. 
"If they are cooperative, it can be cleared out in 10 or 15 minutes," Murphy says.
This one clears out quickly.
Halftime. Back to the Railyard.
The crowd has grown but remains smaller than usual, and the ground is wet, partially from the spotty rain, partially from spilled drinks. Murphy's eyes dart between the screen showing the game and the fans below.
A young woman staggers, and Murphy makes his way toward her, pushing his way through the rambunctious crowd.
She's a minor, and heavily intoxicated. He drives her to detox at The Bridge Behavioral Health, saying afterward that he probably gives about 20 Breathalyzer tests each gameday.
He returns to the Railyard, where a man who'd been kicked out earlier has sneaked back in. 
That man is allowed to leave, but now a group of security guards have a young man in their arms who is fighting to stay on his feet as others in the crowd shout obscenities at him. 
The man slurs his speech as Murphy cards him — another fake ID, this one from Wyoming. 
Third quarter, third minor-in-possession ticket of the day issued by Murphy. And another trip to detox.
Murphy understands, he says: People want to enjoy themselves when the Huskers play. He just asks that they do it safely. 
"We know you are down here to have fun, but you need to be responsible for your actions," Murphy said. "People do a good job of keeping themselves in check.
"It comes down to making reasonable smart decisions. It is not a free-for-all downtown. Be mindful of your actions, because it is only a handful that get out of control and make work for us."