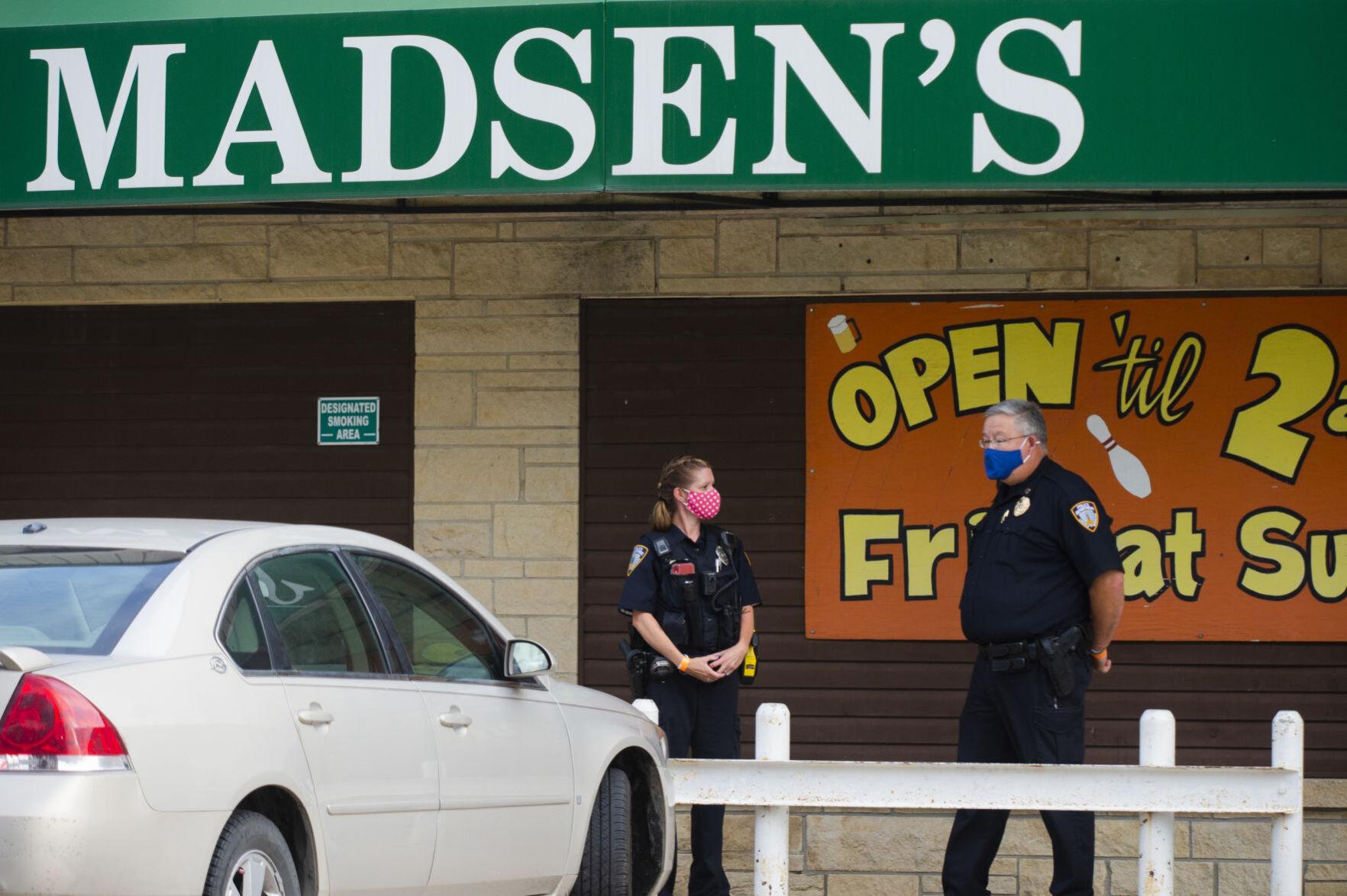 Lincoln bar and restaurant owners accused of violating the directed health measures aimed at preventing the spread of COVID-19 are fighting back against city officials in separate legal challenges.
In one filed Thursday, Rena LLC, owner of the Foxy Gentleman's Club, is asking a federal judge to declare the curfew provisions of the city's coronavirus restrictions unconstitutional and to permanently block the city from enforcing them.
And in state court, an attorney representing Madsen's Bowling & Billiards and 15 other business owners facing a collective 78 criminal charges asked a district court judge to order the city to stop its enforcement while Madsen's civil case filed back in September is litigated.
In the suit, Madsen's is alleging the city, Mayor Leirion Gaylor Baird, Health Director Pat Lopez and Police Chief Jeff Bliemeister are carrying out a mandate without legal authority and threatening businesses with shutdown, civil penalty and criminal enforcement.
"There's a lot of controversy there," Madsen's attorney, Chris Ferdico, said, noting disputes over the so-called uncontroverted science and the validity of studies that health officials are relying on.
He said that's why they're asking the court to "hit pause" as it sorts through the complicated issues.
The city fought the move to halt enforcement at a hearing Thursday.
"Judge, injunctive relief is an extraordinary remedy," City Attorney Yohance Christie said.
He said Madsen's has alleged that the directed health measures, including everything from mask mandates to capacity restrictions to early closing times, are ineffective, setting up a battle of medical opinions that city officials "would embrace."
In the city's corner are James Lawler and Steven Rademacher, both infectious disease physicians. Lawler was hand-selected to organize the military's first medical support team for Ebola response and to help in the mission to rescue Americans from the Diamond Princess cruise ship when COVID-19 spread onboard early last year.
While the Madsen's lawsuit is alone in challenging the efficacy of wearing masks and the latest medical research, both of the cases attack the city's directed health measures as "arbitrary and capricious" in how they target businesses that sell alcohol.
In the lawsuit filed last week in U.S. District Court in Lincoln, attorney Carlos Monzón said Foxy Gentleman's Club shouldn't have to comply with the city's mandated closing time of 11 p.m., given that most of its income is derived between 11 p.m. and 2 a.m.
"There's no factual or legal basis to believe that COVID-19 is more likely to spread during the late-night hours as opposed to daytime hours," he wrote.
Just as there's no reason to believe it is more likely to spread at businesses that only serve alcohol, he said.
Foxy Gentleman's Club is facing seven tickets after racking up three more for alleged violations spotted in the latest sweep of businesses Jan. 1-3.
In all, the City Attorney's Office filed 20 new cases involving alleged violations at 10 Lincoln businesses. Where violations early in the pandemic started over mask-wearing, they now predominantly involve businesses staying open past 11 p.m., often discovered through routine tavern checks.
A vast majority are complying. But some, such as The Night Before, which has gotten 28 tickets, appear to be taking the potential $500 fine that comes with each as a cost of doing business.
Monzón said there are alternatives to the current directed health measures' focus on curfew that wouldn't infringe so severely, such as requiring increased sanitation and security to ensure compliance with masking and social distancing.
The city hasn't yet responded to the federal court challenge in court. But Christie said the city wants local businesses to be able to be open. But it's making decisions about public health with everybody in mind.
"It's a balancing act," he said.
At a hearing in the Madsen's case, Ferdico took issue with what he called the unlawful delegation of police power by making business owners ensure patrons follow the coronavirus restrictions, and he argued the city shouldn't be allowed to have directed health measures that go further than state rules.
He said the city's measures aren't designed to protect the elderly.
"They are creating an undue burden on everybody else when we can isolate the true populations of individuals who are most at risk," Ferdico told Judge Michael A. Smith. "We're not downplaying their risk. We're not suggesting that every person who doesn't die from this disease is not tragic. But the Constitution is set up to say when the government restricts your freedoms, it's got to do so to prevent as much collateral damage as possible. And blanket restrictions by definition do not do that."
He said it's crushing his clients' business and has them facing criminal prosecution.
Andy Barry of Cline Williams law firm, who also represents the city in the case, said he understands how it's hard to be a business and operating in these circumstances.
"But businesses aren't the only thing that someone in (Health Director) Pat Lopez's position has to deal with. She has to think about lives, health, families," he said.
In Lincoln, new case numbers per capita have generally been below the state average, which the evidence suggests is a result of the city's directed health measure, Barry said.
As a result, more hospital beds in Lincoln were open for patients from other parts of the state that didn't have mask mandates or heightened coronavirus restrictions, he said.
"It's a matter of statewide concern, but every part of the state is different," he said.
And the lawyers and the court aren't equipped to come back every two weeks to decide whether the latest directed health measure exceeds state rules, Barry added.
Smith said he would try to have a ruling in a couple of weeks.
TOP NEBRASKA BUSINESS STORIES FROM 2020: