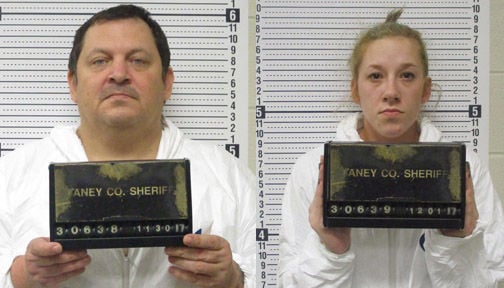 Aubrey Trail confessed Monday that Sydney Loofe died at his hands — the result of accidental asphyxiation, he claims — and that he has offered to give the FBI information about another, similar incident two years ago.
Despite his public admissions of responsibility for Loofe's death, which happened nearly three months ago, it remained unclear Monday when criminal charges might come.
The FBI only has called Trail and his girlfriend, Bailey Boswell, persons of interest in the death of the 24-year-old Lincoln woman, whose remains were found Dec. 4 in Clay County.
While investigators quietly work the case, Trail has taken to the media to claim "responsibility" and "accountability" in recent weeks.
On Monday, he put it bluntly: "I killed Sydney Loofe."
"I am accountable. I physically am the one who caused the end of her life. Me and only me," Trail said in a call to the Journal Star from the private prison in Kansas where he's being held on federal stolen goods charges.
Trail first confessed that he killed Loofe in an interview aired Friday night on Lincoln TV station KOLN/KGIN.
Monday, he told the Journal Star the "incident" started at the Wilber apartment where he and Boswell lived. She brought Loofe there Nov. 15. Trail said they moved around that night, before Loofe died early the next morning in a house elsewhere in Saline County.
He wouldn't say where the house is.
Trail said he was in a room with Loofe and two other women, and that he was holding an unspecified object that restricted Loofe's breathing and — according to him — unintentionally caused her death. Boswell was not in the room, he said.
The Journal Star has chosen to leave out more sensitive details.
Asked why they didn't call 911, Trail said it would not have been treated as an accident, based on how they lived.
"We didn't, I guess, live a fine, upstanding lifestyle," he said.
But, Trail said, he wasn't making excuses: "Sydney Loofe should not have died. I deserve life (in prison) or death."
Trail said there is "no way on this planet" he would be exonerated at trial based on the evidence.
"I'm guilty. I did it," he said.
Trail said he promised Sunday to give investigators information about another case similar to Loofe's almost two years ago, before he met Boswell. But he declined to elaborate in his Monday interview.
Trail said he told the FBI he would continue to provide the media with increasingly "gruesome" details about Loofe's death if he doesn't get what he wants from investigators.
He anticipates prosecutors will charge him and Boswell both in connection with Loofe's death.
Until now, Trail on multiple occasions since his arrest in November has stopped short of confessing.
"I don't want a witch hunt for people who shouldn't be witch-hunted," he told the Journal Star.
Soon after, Trail said, he didn't want anyone to believe a word he said, but to verify.
Trail claims he has given the details to law enforcement as recently as Sunday, when he spoke with Lincoln police and FBI investigators.
Trail has implored prosecutors to charge him in the case and Monday said he would plead guilty, even if facing the death penalty.
An FBI spokesman didn't respond to a request for comment.
Joe Jeanette, a spokesman for the U.S. Attorney's Office in Nebraska, said federal prosecutors are only involved in trying Boswell and Trail for an alleged fraud scheme that bilked a Kansas couple out of more than $400,000.
Loofe's case probably will be prosecuted in state court, not the federal system, Jeanette said.
Neither Saline County Attorney Tad Eickman nor Lancaster County Attorney Joe Kelly immediately responded to a request for comment. One of them likely would make the decision.
Kelly's office has hired a special investigator to look into the case.
Trail's attorney, Korey Reiman, also declined to comment on Trail's statements to the media.