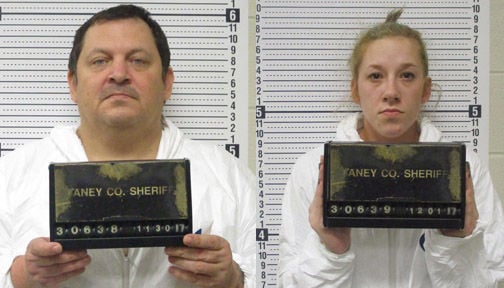 Precisely what happened to Sydney Loofe remains a mystery, but the last two people believed to have seen her alive now face murder charges.
On Monday, the Nebraska Attorney General's Office charged Aubrey Trail and Bailey Boswell with first-degree murder in connection with the 24-year-old Lincoln woman's death.
Investigators identified the pair as persons of interest early on, after Loofe disappeared following a Nov. 15 date with Boswell in Wilber. The two had met on the mobile dating app Tinder.
But publicized developments had been scarce since Loofe's remains were found in rural Clay County on Dec. 4.
By then, Trail and Boswell had been arrested, and federal fraud indictments unrelated to the Loofe case kept them behind bars and took pressure off prosecutors to act immediately.
The seeming quiet followed a furious hunt for Loofe in hopes that she might still have been alive.
Her disappearance garnered statewide attention after her family and friends took to social media and rented billboards pleading for help finding her.
The family had reported her missing Nov. 16 after she didn't show up for work at the north Lincoln Menards. In the meantime, Trail and Boswell had skipped town.
Police also sought help, nearly two weeks after the disappearance, publicly identifying Trail and Boswell as "persons of interest" and saying they were the last people to see Loofe alive.
The pair responded with social media videos denying their involvement. Later, they said they left Loofe at a friend's house after the date in Wilber — a claim Trail later admitted wasn't true.
The FBI arrested Boswell, 24, and Trail, 51, at a hotel near Branson, Missouri, on Nov. 30 and brought them back to Nebraska.
When they found Loofe's remains days later, investigators said they also found evidence of foul play in her death.
And in jailhouse phone calls to reporters in the months since, Trail has claimed responsibility and called on prosecutors to charge him. Ultimately, he said, Loofe's death was an accident. On Feb. 5, he said in a phone call to the Journal Star that Loofe died at his hands, the result of what he called accidental asphyxiation.
While investigators quietly worked the case, Trail told reporters that he claimed "responsibility" and "accountability" before ultimately saying, "I killed Sydney Loofe." 
He said Loofe died early Nov. 16 in a house in Saline County. He wouldn't say where, but said he was in a room with Loofe and two other women, and that he was holding an object that restricted Loofe's breathing and — according to him — unintentionally caused her death.
He said he didn't call 911 because he didn't think police would believe his story.
Despite Trail's statements, state prosecutors kept mum about the investigation until Attorney General Doug Peterson's office released a statement Monday just before 5 p.m. saying his office had charged Trail and Boswell with first-degree murder and improper disposal of human skeletal remains.
Peterson didn't say whether his prosecutors would seek the death penalty, and asked for privacy for Loofe's family members, who didn't want to comment on the charges.
The charges were filed under seal, so further details remain a secret for now.
Trail and Boswell remained at the Saline County jail, where they were served with court papers Monday afternoon.
They are set to make their first appearances Tuesday at 11 a.m., where they will be told the charges and possible penalties and be appointed counsel.
The two are awaiting sentencing in the federal fraud case.