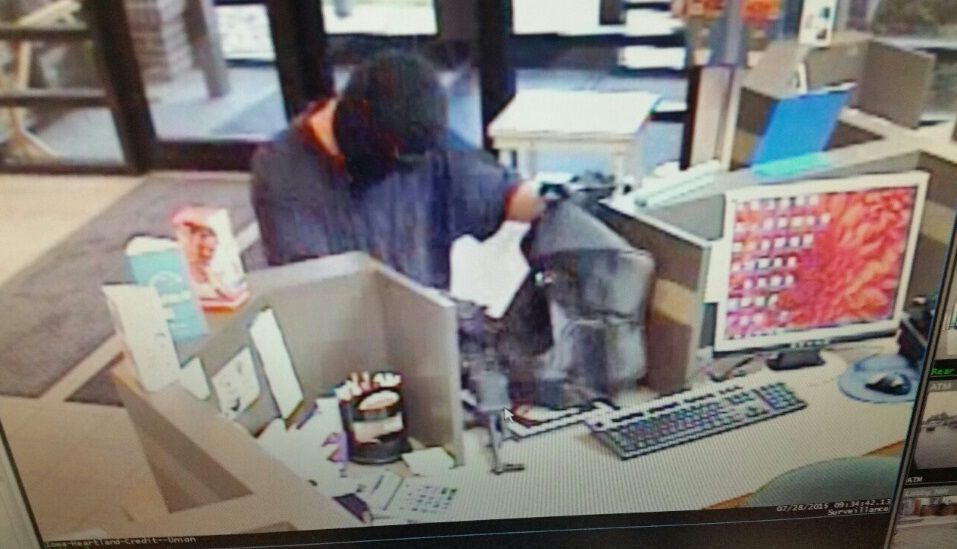 A row of victims watched from the jury box Wednesday as a Montana man dubbed the AK-47 bandit learned he would get 35 years in federal prison for a spree of bank robberies and shootouts across the country that ended with his arrest in Nebraska.
Richard Gathercole, 41, of Roundup, Montana, said little before Senior U.S. District Judge Richard Kopf sentenced him.
He already knew he was getting between 30 and 35 years, according to a deal with prosecutors. Kopf opted for the top end and ordered him to pay $392,392 in restitution to his victims.
In an excerpt from a letter to the judge, defense attorney Jon Braaten said Gathercole recognizes the physical and mental anguish, hardship and difficulty that his victims have faced and knows there's nothing he can do to change the past.
"Mr. Gathercole is aware that he will likely spend the rest of his life in prison," he wrote. "He knows that the victims will suffer daily for the rest of their lives as well, in ways he will never be able to comprehend."
In court, Assistant U.S. Attorney Lesley Woods tried to convey what his victims, many of whom were in the Lincoln courtroom but chose not to speak, had endured.
"Each of them were just everyday heroes," she said.
Woods said they rose to the challenge and contributed to ending a terrible crime spree that had gone on for years.
"These are folks that are very good, law-abiding citizens, several of them members of law enforcement who have chosen to sacrifice throughout their career," she said. "And, in Officer (Mike) Ford's case, paid a very high price for his duty."
Gathercole fired six rounds from an AK-47, hitting the Chino police officer in the leg, after robbing the California Bank and Trust there in 2012.
"The bullet just blew up his leg," Kopf said. "Somehow he was able to drive himself to the hospital. It's just amazing, what he did."
Kopf said the shot severed an artery, and Ford was lucky to be alive.
Woods said it was Kansas State Trooper Scott Baker's first day when he was presented with "a sudden and incredible challenge" of Gathercole in his path on the highway on June 19, 2017.
She said Baker quickly identified issues with the car. If he hadn't, there's every indication another bank was about to be robbed with a claimed explosive device and an AK-47, Woods said.
She said his actions spared those who would have gone through it from being scarred and called his ability to endure a high-speed chase with Gathercole shooting at him "a truly heroic feat."
It was the beginning of the end of his spree.
When Gathercole abandoned his car and weapons, law enforcement matched his AK-47 to the string of bank robberies. Without that, Woods said, "we wouldn't have gotten justice for people in many states."
Gathercole robbed banks in Sacramento, California, on March 9, 2012; in Vacaville, California, on May 12, 2012; in North Bend, Washington, on July 6, 2012; in Rexburg, Idaho, on Nov. 12, 2012; in Nebraska City on Aug. 22, 2014; and in Mason City, Iowa, on July 28, 2015.
Woods said a carjacking victim, approached by Gathercole after the shootout with the Kansas trooper, didn't know the dangerous man he was dealing with.
"His wife sat back at home wondering if he would come back," Woods said, her voice wavering.
Early the next day, a Dawson County Sheriff's deputy spotted the stolen pickup, put two and two together and authorities were able to take Gathercole down while he was away from his weapons.
"Which probably saved their lives," Woods said.
She said 35 years in prison was appropriate given what the victims endured, and "the fact that Mr. Gathercole could so easily, so coldly and so selfishly put all of these people through this, lead law enforcement all over the country for years, terrorize people at banks, do all of that without hesitation and then go back out and do it again over and over for years with no signs of remorse."
Before Kopf gave Gathercole his sentence, he said the word hero is bandied about way too much.
"But in this case it's apt," he said of the many victims.