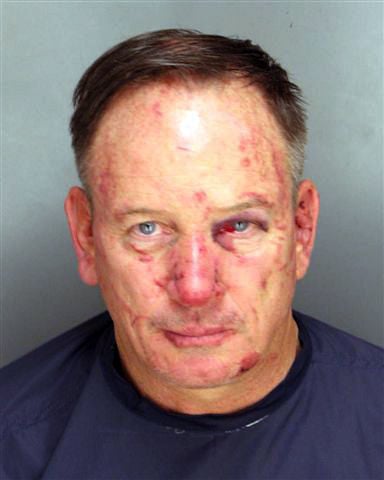 Lincoln police went to Waverly early Sunday to find a man who they say fired a handgun twice following a fight at his girlfriend's Lincoln home.
Edward Watts, 1801 Ridgehaven Drive, Apt. 1 in Waverly, was arrested on suspicion of first-degree assault, strangulation, terroristic threats and use of a weapon to commit a felony after police learned of the incident at the house in the 600 block of Eldora Avenue in Lincoln, Officer Katie Flood said.
Flood said the fight started after Watts' girlfriend called her 21-year-old son and told him Watts was angry and wouldn't leave the house.
Her son came home and told Watts to leave, Flood said. When he refused, the 21-year-old grabbed a machete and again told him to leave. Watts once more refused to do so, Flood said.
The 21-year-old gave the machete to someone who had come to the house with him, and he and Watts got into a fistfight.
Flood said Watts pinned the younger man to the ground, choking him with one hand while grabbing his genitals with the other. Before the man could get up, Flood said, Watts ripped an earring from one of his ears, tearing off part of the ear.
After Watts got up, he pointed a handgun at the man, then went outside, fired two shots and left in his vehicle, Flood said.
When police went to his apartment to arrest him, she said, they found a .357 Smith & Wesson handgun in the glove compartment of his vehicle.